Crockpot 3.5L Sizzle & Stew Manual Slow Cooker review
An easy-to-use, efficient slow cooker by Crockpot. The latest CSC085 model features three heat settings and dishwasher-safe components…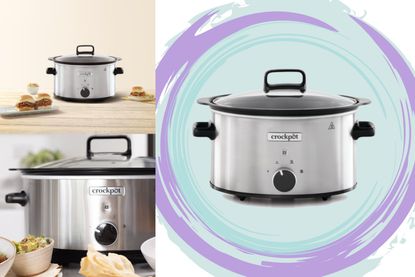 (Image credit: Future / Crockpot)
Simplicity at its finest, the Crockpot 3.5L Sizzle & Stew Manual Slow Cooker features three heat settings including a warming function, its ready to use as soon as it's out of the box and has two basic modes to choose from - low or high cooking. It's a great choice for those who are new to the slow cooking world and it's a good size at 3.5L capacity, which certainly holds more food than you'd think.
Reasons to buy
+

Ready to use as soon as it's out of the box

+

Clear, easy-to-follow instructions for setting up - including useful top tips

+

Compact design so easy to store, or keep on the kitchen counter as it doesn't take up much space

+

Nifty manual keep warm setting

+

Easy to clean with dishwasher-safe parts

+

Lightweight, even with the aluminum cooking bowl
Reasons to avoid
-

Suitable for couples or small families so capacity may be limited for larger families

-

The outer surface of the machine gets very hot to touch
Slow cookers are becoming more and more sought after - not just because of the delicious food you can produce in them, but because they are a cost-effective alternative to using an oven, and the new Crockpot 3.5L Sizzle & Stew Manual Slow Cooker is the perfect example.
Compact, lightweight, easy to use, and easy to clean, what more could you want in a slow cooker? The latest model, Crockpot 3.5L Sizzle & Stew Manual Slow Cooker (opens in new tab), from Crockpot features three heat settings, two ways to cook as well as a nifty guide and top tips on how to really make the most out of your machine - and make sure you're cooking each and every ingredient to perfection.
The Crockpot brand (opens in new tab) started out over four decades ago as a simple bean cooker and over the years has become a more established, convenient way of cooking a variety of things from meat, to veg to even desserts. "Crockpot slow cookers are a part of many fond family memories as a recollection of favorite dishes and cooking aromas from generations past," says Crockpot." The Crockpot brand continues to advance with new innovations that meet the demands of today's modern lifestyles and help fulfill the self-expression of creative cooks at home."
So if you're looking for a new slow cooker or fancy jumping on the slow cooker bandwagon - here's everything you need to know about the 3.5L Sizzle & Stew Manual Slow Cooker from Crockpot.
Design
Capacity: 3.5L | Dimensions: H:24.5 x W:25.6 x D:35.3 cm | Heat settings: 2 | Colour: Silver
A small, oval-shaped machine with a shiny silver exterior, this slow cooker would certainly work in most kitchens - placed either on the kitchen counter for storage or in a cupboard.
"Despite its small size, I managed to make my regular chilli con carne - which is for a family of four, with an adult portion leftover - in this machine with no fuss," says Food Editor, Jessica Dady. "There was more space than I thought in the aluminum cooking bowl and even with my four-person chilli you could have still added more ingredients."
On the front of the machine is a manual dial that can be moved clockwise to either the low heat setting, high heat setting, or the warming function, which keeps warm for up to 4 hours after cooking. This machine is fully manual so you will need to time the cooking process yourself and manually switch over to the keep warm function when you're satisfied with the food being fully cooked.
Complete with a glass lid, ideal for keeping a close eye on food as it cooks, this machine also features carry handles for each maneuvering. The exterior of the machine does get a little hot during the cooking process so that handles make moving it around the kitchen that bit easier and safer if necessary, however, it is recommended to keep the machine in one place during cooking.
"The only thing that I wasn't keen on with this machine was that the exterior of the slow cooker heats up quite a bit - so it was very warm, borderline hot to touch. Of course, this isn't a problem for me but I had to make sure my curious kids were aware not to touch it when the light was on," says Jessica.
Comfort and features
The Crockpot 3.5L Sizzle & Stew Manual Slow Cooker is ready to use as soon as it's out of the foam packaging. It's recommended that you give the cooking bowl and glass lid a clean before use. Alongside the machine, you receive a guide that tells you all about the slow cooker and how it works; from set up to top tips on cooking certain ingredients, etc.
"One of the best things about this slow cooker is just how simple and easy it is to use. It's the perfect model for beginners as it has just two heating functions to choose from - low or high, and isn't overcomplicated with extra features or functions that are sometimes not even used," says Jessica.
The guide to adapting recipes to cook in a slow cooker is a very useful tool that includes a breakdown chart of how long a standard recipe would take and then which function you can choose to cook it on - whether that's low heat for a long period of time or high heat for a shorter period of time. It also includes a breakdown of individual ingredients and the best way to cook them in the slow cooker. A few examples of top tips in this guide include;
For best results add the pasta during the last 30-60 minutes of cooking
Dried beans like kidney beans should be boiled before slow cooking
Place vegetables near the sides and bottom of the cooking bowl to help even cooking
Reduce the amount of liquid before cooking when adaptinga recipe for your slow cooker
Swipe to scroll horizontally
| | | |
| --- | --- | --- |
| Recipe time | Cook on low | Cook on high |
| 15 - 30 mins | 4 - 6 hours | 1.5 - 2 hours |
| 30 - 45 mins | 6 - 10 hours | 3 - 4 hours |
| 50 mins - 3 hours | 8 - 10 hours | 4 - 6 hours |
"As this slow cooker is predominantly an aluminum cooking bowl and a glass lid it is super easy to wash up and clean - you can even pop both in the dishwasher to save yourself some more time. A slow cooker really does take a lot of stress out of everyday cooking," says Jessica.
The Crockpot 3.5L Sizzle & Stew Manual Slow Cooker also comes with a 2-year guarantee.
Value for money
if you're looking for a slow cooker that takes all the hassle and fuss out of everyday cooking, that does exactly what you want it to do - slow cook - and is super easy to clean and store, this is the model for you.
At the time of writing this Crockpot 3.5L Sizzle & Stew Manual Slow Cooker is priced at £62.90 on Amazon making it a great buy if you're on a low budget and looking for a model well under the £100 mark.
"I was surprised by the price. Compared to some of the other slow cookers out there it's a bargain from a great, well-established brand that prides itself on producing high-quality slow cookers. Despite being small in size, this machine cooked a meal for a family of four (with leftovers) to perfection. Simple, affordable, and compact. Very much recommended," says Jessica.
Jessica Dady is Senior Content Editor at Goodto.com and has over 10 years of experience as a digital journalist, specialising in all things food, recipes, and SEO. From the best food hampers to cookbooks, from the best cake stands to baking sets, Jessica has a wealth of knowledge when it comes to must-have food products. A passionate baker, she spends much of her time creating celebration cakes for friends and family - particularly for her two lucky children.