Proscenic T31 air fryer oven review
This Proscenic T31 air fryer oven is super easy to use - and can be operated via your smartphone. Yes, really...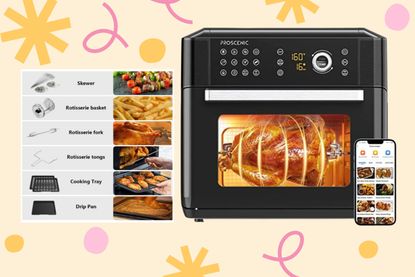 (Image credit: Prosenic)
A larger version of its predecessors, the T31 air fryer oven is ideal for anyone keen to incorporate healthier ways of cooking into their lifestyle, as it features TurboAir technology, which is supposedly seven times more effective than normal air circulation technology. This means it uses less energy than a standard oven and requires less oil for cooking food, which reduces the fat consumed and increases cooking efficiency by 30%.
Reasons to buy
+

Large 15L capacity

+

12 handy preset options

+

TurboAir technology means less oil

+

Over 100 recipes on the app
Reasons to avoid
-

Size - it takes up lots of space

-

You need to spend some time reading the manual
Air fryers are the must-have gadget of the moment. As well as a healthier alternative to deep-frying food, using an air fryer is a quick and convenient way to cook, potentially reducing both energy costs and cooking time.
Since 2013 the US tech company Prosenic has been creating appliances such as air purifiers, cordless vacuum cleaners, and more. They recently joined the air fryer market by releasing T21 and T22 and this, the T31, is their newest air frying oven - what I believe is certainly one of the best air fryers for a family of four or more.
Let me start this Proscenic T31 air fryer oven review by saying that I only recently learned that there are two different types of air fryers out there - basket air fryers and air fryer ovens. And since I never deep fry food at home, I didn't really see the appeal of a basket air fryer. Sure, if you're rustling up fried food on a regular basis then I can see that a cheaper and healthier way of doing so might appeal. But that's not me.
What I didn't realize, however, is that an air fryer is so much more than an alternative to deep-frying food. It's a whole other way of cooking - and an air fryer oven in particular is a game-changer for family meals in a fast-paced, hectic household such as mine.
As a working mum with three kids to feed - two of whom are teens in the throes of the biggest exams of their lives - meal times can be super stressful. We don't all eat the same food for a start (two out of five of us are veggies...) and we rarely ever eat at the same time as a family, what with teens dashing out to part-time jobs, my husband having overseas work calls in the evenings, and my youngest child dashing to sports commitments practically every day of the week.
Design
Capacity: 15L| Dimensions: 41 cm x 39 cm x 34 cm | Wattage: 1700W| Colour: Black
The Proscenic T31 air fryer oven is big. Bigger than your average air fryer. In fact, it's so big that I actually had to buy a whole new shelf unit for the kitchen to accommodate it - I'm not even kidding.
The air fryer itself measures a whopping 41 cm x 39 cm x 34 cm but it has a capacity of up to 15 litres. The downside is obviously how much space it takes up. But, if you can find the space for it, you'll benefit from the fact that it can cook more food than other smaller air fryers can handle. And while it's pretty bulky to look at, the roomy two-level cooking space is dreamy when you're cooking for five.
We put this air fryer to the test over a period of several months, using it to cook food for a family of five on a regular basis. We also tested it out on everything from baking homemade cinnamon rolls (from the recipe book that came with it) to rustling up some French Toast - and it's even tastier air fried - and is one of my best air fryer recipes. Perhaps our fave tip is to buy frozen croissants and pop them in for 5 mins in the morning though...
It's easy to operate with a control panel that is a delight to use. First, let's talk about the 12 handy preset buttons. At first, they seemed overwhelming - I couldn't work out what each symbol was supposed to represent but a quick glance at the manual soon cleared that up. And now I love the ease and convenience of the preset buttons. Cooking pizza? Press the relevant button. Bacon? There's a button for that. It takes all the guesswork out of using an air fryer. Best of all, with easily-distracted teens in the house, there's even a keep warm button.
Come to think of it, that sense of not really understanding how an air fryer works - or how to get the best out of it - is what really put me off buying an air fryer. After a long day at work with five hungry stomachs to fill, I can't face fiddling around with a gadget or - worse - risking a burnt offering. But the preset buttons take all that hassle out of using an air fryer. Press the corresponding button and bingo, dinner is almost ready. And if you prefer to set your own temperature or cooking time, simply ignore the preset buttons and turn the dial to control it manually.
The T31 also comes with lots of extras including a cooking tray, a drip pan, and lots of fiddly-looking rotisserie accessories from a skewer and tongs to a rotisserie basket and fork. I admit these are a bit overwhelming and I was initially concerned that they'd end up lost in one of my many untidy kitchen drawers. Instead, we found an empty kitchen basket and popped it beneath the air fryer. So, should we ever get around to using those fancy extras, we'll definitely know where to find them.
Edited to add: I braved using the rotisserie basket to cook some chips tonight - and WOW. it's fiddly to assemble - at one point there were three of us trying to work out how to attach the basket safely inside the air fryer without frozen chips spilling everywhere. But once you've figured it out you can leave the basket gently rotating in the air fry with no need to even check on the progress - I cam back 20 minutes later to the best oven chips I've tasted.
Features
It took me a while to discover that the T31 is supported by an app, and this actually lets you operate the air fryer via remote control. I'm not joking. We were driving home from work one evening when my husband whipped out his phone and, as if by magic, declared that he was pre-heating the air fryer ready for dinner. Now that's clever. (The T31 air fryer connects to the app using Wi-Fi, so factor that in.)
Indeed, we got home to find the air fryer oven delightfully warm and ready for the pizza and garlic bread that we tossed straight into it from the shopping bag.
You can do more than pre-heat the oven too - the app lets you control the air fryer, track your cooking progress, and even pause cooking. It sounds gimmicky but it's actually really clever in practice. Whilst typing this, I pre-heated the air fryer without having to leave my desk.
Designed to be easy to clean, the T31 basket is made of food-safe materials, free of BPA and PFOA.
The non-stick Teflon that it is covered in can also be cleaned in the dishwasher to really save time for users. Coming with plenty of accessories, the T31 air fryer oven helps users to cook easily.
I also love that the app is full of recipes. You get access to over 100 recipes online as well as the option to upload personal recipes and access recipes from other Proscenic users so there's a bank of meal inspiration waiting for you - super helpful if you're new to air frying.
One small bugbear - the light seems to have broken and while it's possible I just need to replace the bulb, I was a little disappointed at having to do so soon.
Value for money
Overall, this is a large air fryer that probably won't suit small kitchens. And it's more than you need if there are less than four of you to cook for. But if you can spare the space, you'll be rewarded with all the extra food it can make. Where it really excels is in cooking a Sunday roast.
With a family of five and close relatives living nearby, it's pretty normal for there to be 7 people at my dinner table. Factor in that two of those are vegetarians while the rest are committed meat-eaters, and you'll understand that a standard oven sometimes struggles to cope with everything I want to put in it on a Sunday afternoon.
The 1700W engine makes sure that food never burns when cooking - we've literally never yet managed to burn anything in it - and the 360° air circulation heats food evenly so that it is both tender on the inside and crisp on the outside. My son experimented with a crispy air-fried tofu recipe he'd found on Tik Tok and I can confirm it was one of the most delightful things I've ever eaten - and I don't even like tofu!
In fact, I'm popping an air fryer oven on my list of things to buy when he moves into University accommodation - anything that encourages a student to eat healthily and spend less cash is a must-have in my book, and worth every penny.
Related Features:
As a parenting specialist for more than 15 years, Heidi has written for most national newspapers and for a wide range of consumer magazines, including Mother & Baby where she was the Shopping Editor for six years, looking after regular consumer features including buying guides and gift roundups.