Kate Middleton and Jill Biden call for better 'early childhood care' in moving letter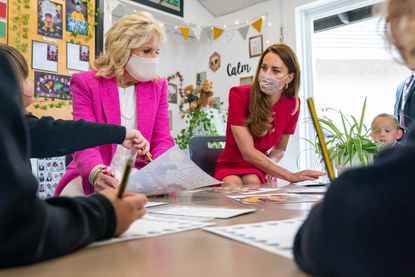 GoodTo newsletter
Sign up to the GoodTo Newsletter. You can unsubscribe at any time. For more information about how to do this, and how we hold your data, please see our privacy policy
Thank you for signing up to . You will receive a verification email shortly.
There was a problem. Please refresh the page and try again.
The Duchess of Cambridge and First Lady Jill Biden came together to write a moving open letter about the importance of "early childhood care".


Kate Middleton and First Lady Jill Biden (opens in new tab) have called for better care and education for young children in a moving joint opinion piece written for CNN.
The duo called for Britons and Americans to make sure caregivers "feel valued, supported, and cared for", as they detailed their hopes to continue "championing this work in the years to come".
Kate Middleton has focused for 10 years on the critical role early childhood has on lifelong outcomes, while Jill is a community college educator, with more than 30 years of classroom teaching experience.
"We both believe that part of this vision for the future must include a fundamental shift in how our countries approach the earliest years of life," they wrote.
"If we care about how children perform at school, how they succeed in their careers when they are older, and about their lifelong mental and physical health, then we have to care about how we are nurturing their brains, their experiences and relationships in the early years before school."
They added: "The two of us believe that early childhood care and education should be seen as among the defining, strategic issues of our time.
"What would happen if we really followed the science of early childhood and started focusing on the things that would make the biggest difference for children and those who guide them? We could transform the prospects of an entire generation.
"We both have work to do in our own countries, but we also hope that we can work together across borders and oceans on how to elevate the importance of early care and learning for children.
"We should undertake new, international research projects and highlight the most successful, innovative examples of early years interventions that we can all share and learn from."
They ended: "As we look to a post-pandemic future, there are few issues more worthy of our attention than the transformative power of early childhood care and education for our communities and nations. We look forward to championing this work in the years to come."
Roxy James is a freelance Celebrity Writer at GoodTo, covering all things royal, entertainment and reality TV. Be it the latest Royal Family happenings, behind-the-scenes gossip at Strictly Come Dancing or breaking engagement, divorce or baby news - Roxy has it covered.