Prince Charles' awkward blunder over gift for the Queen had him in fits of laughter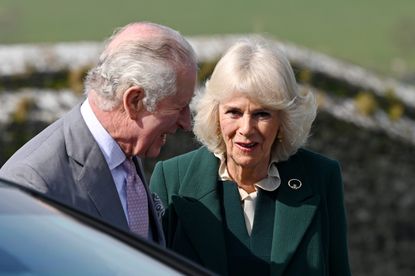 (Image credit: Getty Images)
Prince Charles shared a hilarious moment with a royal fan who gave him a special gift as a touching tribute to his mother, the Queen.
The royal supporter who shared the amusing moment with Prince Charles took to social media to post a video of the sweet moment that she handed the King-to-be, who is first in the royal line of succession (opens in new tab), a bunch of flowers.
The footage, posted by Instagram content creator @all.thats.pretty (opens in new tab), showed the moment Laura-Anne was greeted by Charles, handing him a sweet bouquet.
@allthatspretty (opens in new tab) @wearelittlebuds royal warrant pending.. So realistic the royals even give them a good old sniff 👃🏻😂💀🌸🤪 #royal (opens in new tab) #royalfamily (opens in new tab) #princecharles (opens in new tab) #royals (opens in new tab) ♬ original sound - Laura-Ann Barr (opens in new tab)
"These are for yourself and Camilla. There's some Lily of the Valley, I heard it's her Majesty the Queen's favourite flower so we brought it out for her Jubilee," she can be heard telling Charles in the clip.
Prince Charles can then be seen sticking his nose into the flowers to take a big whiff, before being told the flowers are fake.
"Oh, they're actually artificial," Laura-Anne tells him, prompting an outburst of laughter from the Prince of Wales.
"Thank you very much, you're very kind," Charles added through his laughter, before walking away with a smile on his face.
Related video: