We earn a commission for products purchased through some links in this article.
We love giving existing soft furnishings a little tweak here and there, to give an entirely new look.
This gorgeous blanket could be made from any style of throw or quilt you already have, it's just about placing the pom poms in the right place according to the pattern of your blanket.
As the fabric we used already had lovely neat lines, imbedded in the plaid pattern, it was easy to follow these to emphasise its original pattern. However, whatever pattern you've got on your blanket you can work these pretty little pom poms into itg. We even love a scattered finish, where the pom poms look like little polka dots.
We've used plain white pom poms but you could of course use whichever colours suit your interior. Multi coloured ones would look great for a child's bedroom.
You can pick up a pack of pom poms from any craft shop without breaking the bank and it will give your blanket a whole new look.
If you've made this, or any of our other crafts, then we would love to see how you got on.
Send us a picture via our Facebook page.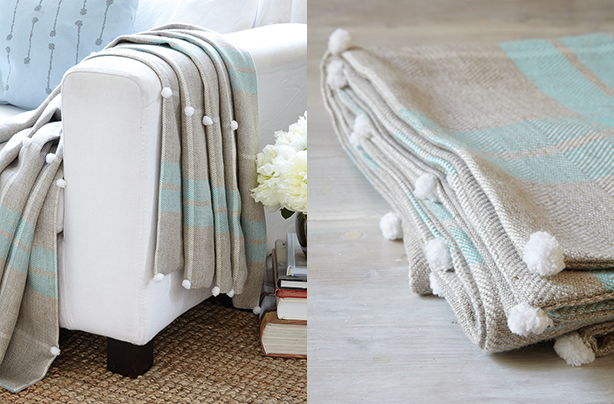 You will need
-Cardboard
-Scissors
-Wool
-Throw/blanket
Step 1
Cut out two cardboard circles the same size. Cut out holes in the middle of each disc large enough for the wool to thread through.
Step 2
Wind wool around the two discs. When complete, hold the discs securely and cut around the edges of the wool.
Step 3
Thread a piece of wool between two discs. Pull tightly and tie in a knot. Gently remove the discs from the pom pom. Trim excess bits of wool and fluff up.
Step 4
Sew the pom poms around the edges of a neutral throw to give it a designer style.