How to make a simple cotton bag
Think making a bag is too hard? Think again, craft expert Christine Leech shows how to make one in just a few simple steps, here.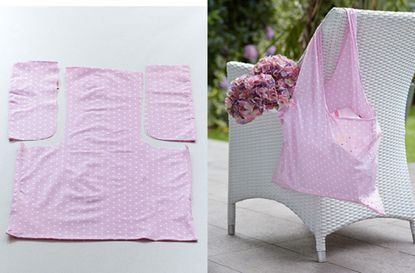 Making your own beach bag or tote is really easy when you follow our simple guide from craft expert Christine Leech.
This simple style of bag is cut from one pillow case, meaning minimum waste of your lovely craft supplies. If you have a sewing machine then you'll be able to whip these up in just minutes.
Not to worry if you don't have a sewing machine though, you can always hand sew your bag. We quite like having a hand sewing project on the side, it makes a relaxing craft to do a little bit of here and there, in the evenings or quiet moments.
Pretty enough to sell, these bags are strong and sturdy as they're made from one large piece of fabric. If you want it to be even stronger try using a calico or canvas-like fabric instead of a pillow case.
You can then sell them as shoppers, totes or beach bags. People love personalised goods so why not offer embroidered initials or name tags to go with your bags, too?
If you already sell your crafts you could always offer these for a small amount extra with another purchase, as a stylish plastic bag alternative.
You will need
-A patterned pillowcase
-Scissors
-Pins
-Sewing machine
-Threads
-Newspaper
-Sequins
-Glue
Step 1
Iron your pillowcase, so it's nice and flat, then fold it in half lengthways. Cut away the top edges at the end where the pillowcase opens (see the photo above). Turn the pillowcase inside out, then pin and sew the top edges of the case where the handle is formed.
Step 2
Turn over the raw edges of the bag's openings twice and pin in place. Sew along the edges, then iron them flat.
Step 3
Put newspaper inside the bag (to stop the insides getting stuck together) and glue sequins on the outside to decorate. Or sew them on.
Jessica Dady is Food Editor at Goodto.com and has over 10 years of experience as a digital editor, specialising in all things food, recipes, and SEO. From the best food hampers to cookbooks, from the best cake stands to kitchen appliances, Jessica has a wealth of knowledge when it comes to must-have food products. A passionate baker, she spends some of her time creating celebration cakes for friends and family including her two lucky children.