We tried Aldi's new cult beauty makeup collection – here's what we REALLY thought…
We have mixed feelings...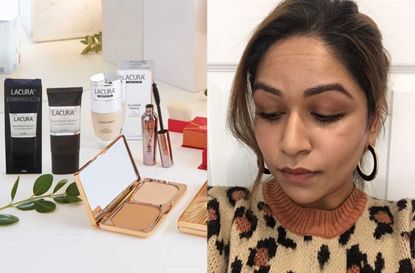 Aldi has launched a brand new makeup range, so naturally we had to try it ourselves to see if it's any good...
When it comes to buying your makeup you probably frequent the likes of Boots, Superdrug or any number of department store beauty counters.
Or maybe you prefer to shop online in one of the many high-end beauty websites that have popped up in the last few years – Lookfantastic, Beauty Bay, Feelunique – to name a few.
But when was the last time you bought your makeup alongside your weekly shop?
Sure, you might have popped the odd concealer in the trolley after running out unexpectedly or grabbed a nude nail polish before a last-minute dinner. But a full face of makeup? Probably not.
Well, now everyone's favourite budget supermarket Aldi has added to their iconic beauty line (opens in new tab) with a range of makeup products based on classic beauty pieces.
And being the biggest Aldi fans around, of course we had to put it to the test. Here's how it went…
ALDI makeup review
Aldi makeup: Lacura Snapshot Ready Primer, £5.99
Primer is my number one must-have when it comes to makeup.
My naturally oily skin means that, even on days when I'm not wearing makeup, I have to pop on a dab of primer to stop my skin looking like the bottom of a fry-up pan (opens in new tab) on a Sunday morning. So I was excited to see how this measured up to the many other primers I've tried, particularly the Smashbox Photo Finish primer that it has so obviously taken its inspiration from.
On applying the silky gel-like formula I was pleasantly surprised at how smoothly it glided onto my skin.
However, on spreading it around my whole face it became quite slippery and didn't quite cover up my shiny skin. It did blur my pores slightly, which was a plus, but it wasn't quite thick or mattifying enough to give my face that 'snapshot ready' look.
Though if you've got dry skin, this could be a hydrating enough layer just to prep your face for makeup.
Aldi makeup: Lacura Illusion Touch 2 In 1 Foundation, £5.99
On application, this thick foundation was exactly what I was looking for from a full-coverage product.
It blended nicely without drying out or sliding around my face and didn't sink into my pores at all, leaving a nice flawless finish. It also stayed put when I applied contour, bronzer and blusher products on top of it, which is a feat in itself.
Plus the hidden concealer in the lid managed to cover up my under-eye bags and even the recent chickenpox (opens in new tab) marks on my cheeks. Win.
However, by the time midday rolled around it had already started to slide off my face like I'd been traipsing around Disney World in the Florida humidity.
Perhaps the lack of staying power was due to the slippery primer base, so I would be open to trying it again with another primer to see whether it lasts any longer.
Aldi makeup: Lacura Broadway Shape & Glow, £6.99
Who doesn't want the chiselled cheekbones of a Victoria's Secret (opens in new tab) angel? Well, this palette will give you the definition to rival even Rosie Huntington-Whiteley (if only it could do the same for the shapely pins).
The 'shape' shade goes on perfectly with just the right amount of pigment. The shade is just dark enough to give a good natural contour, but not so dark that it starts to look like you've just got a bit of a beard going…
The 'highlight' gives a nice glow, though it's a tad gold so go easy with the brush. Rather than brushing this onto your cheekbones, it might be best with this strong highlighter to use a fan brush and just dust it around your face for a nice glow.
Aldi makeup: Lacura Aloha Bronzer, £5.99
With a nod to tropical Hawaii (and of course Benefit's cult Hoola bronzer), this cute little box was probably my favourite product of the line.
It wasn't glittery like most bronzers and just a couple of swipes gave me enough colour to give off the impression that I'd had a couple of days in the south of Spain.
And the mini kabuki brush that came in the box makes it perfect for carrying around in your handbag for a quick sunkissed top-up during the day.
But if you have anything lighter than olive skin I'd go easy with how much you use, as more than one swipe might leave you looking more fake-tan-gone-wrong than just-caught-the-sun.
Aldi makeup: Lacura Blush, £5.99
Designed to emulate the Queen of the blush world – Nars iconic Orgasm blush – this blush had a big reputation to live up to.
But unfortunately, live up it did not.
Rather than giving me the natural rosy flush that I was hoping for, this blush left me looking more like I was heading to a New Year's Eve party, as it was more gold and glittery than pink and glowy.
It would great as a night-on-the-town highlighter across your cheekbones, forehead and down the bridge of your nose, but didn't really work as a blush.
I ended up sweeping it over my eyelids for a quick and easy eye look.
Aldi makeup: Lacura Too Legit Mascara, £5.99
If there's one mascara that every single female has tried at least one point in her life, it's probably Benefit's They're Real. It has a cult following that is forever loyal, but I think Aldi's version might just win over those hard-core devotees.
The tapered comb is pretty much a twin of Benefit's and gives lashes the same level of length, lift and separation as the worldwide icon. I also love the dome bristles at the end of the brush, as they allow me to target different lashes separately so that I can capture smaller lashes and accentuate the outside ones for a fluttery look.
Personally, I prefer mascaras that are a little more volumising, so if that's what you're looking for then this probably isn't for you. But I reckon if I try it with a sweep of something thicker on top I'll have the fluttery fake lash look I generally go for.
Aldi makeup review: Our verdict
Overall I thought the range was a pretty good offering. It might not completely sway me from all of my makeup bag favourites, but there are a few items that will definitely be making their way into my daily routine. And for with the £252.56 cheaper price tag than the products they're based on, it's a no-brainer...
Have you tried Aldi's new range? Head over to our Facebook page and let us know your thoughts!
Aleesha Badkar is a lifestyle writer who specialises in health, beauty - and the royals. After completing her MA in Magazine Journalism at the City, the University of London in 2017, she interned at Women's Health, Stylist, and Harper's Bazaar, creating features and news pieces on health, beauty, and fitness, wellbeing, and food. She loves to practice what she preaches in her everyday life with copious amounts of herbal tea, Pilates, and hyaluronic acid.