What is detoxing? What to eat during a 5 day detox
Fancy trying a detox diet plan that promises results in just two weeks? We show you how to detox for the best results - fast!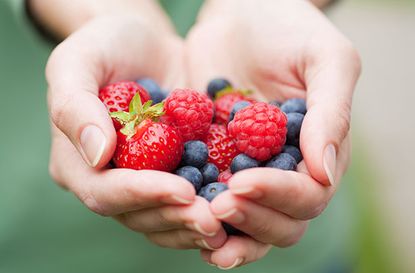 GoodTo newsletter
Sign up to the GoodTo Newsletter. You can unsubscribe at any time. For more information about how to do this, and how we hold your data, please see our privacy policy
Thank you for signing up to . You will receive a verification email shortly.
There was a problem. Please refresh the page and try again.
'I think I need to go on a detox' - it's a phrase we either hear or say regularly, but do you really know what detoxing is, and what it involves?
Advocates of the detox diet (opens in new tab) believe it's good to give your body a detox a few times a year to help flush out toxins and detox the liver. (opens in new tab) It doesn't have to involve fasting, hardcore diet, colonic irrigation, or fad foods (we're not talking living off spinach-coloured smoothies here!)
According to nutritionist Dr Sarah Brewer, a detox doesn't have to be that drastic and can have many benefits, like helping you to beat stress, get more energy and lose weight without exercise (opens in new tab). Trying a detox should be a pleasurable experience - helping you to adopt a healthier lifestyle that you can carry on after you've finished.
Our five-day detox diet, below, isn't just for summer and it will help you lose 3lb in less than a week by eating lots of fruit and veg.
What is detoxing?
Detoxing is all about cleansing and nourishing your body from the inside out. Because you'll be removing toxins and giving your body healthy nutrients, detoxing could help protect you from disease, as well as help you lose weight and give you a healthier complexion (opens in new tab). You'll need to cut out anything processed and fatty, so your body is getting nothing but goodness - including plenty of fruit and vegetables, water, fibre and protein.
Why detox?
Following a detox diet is especially helpful for those who feel stressed, run down, tired all the time or have a tendency towards recurrent infections, headaches, poor concentration or digestive discomfort.
Most people would benefit from a detox after the festive season (although it can be done at any time of year). As well as helping you lose any weight you gained, it also helps to support your body's own elimination systems after over indulging.
Sarah Brewer's 3 simple steps to detox:
Nutritionist Dr Sarah Brewer shares her simple steps to successfully detoxing
1. Select a wholefood diet supplying fresh fruit, vegetables, pulses, wholegrains and lean protein sources. 2. Drink water, juices, smoothies and herbal teas. 3. Take supporting supplements such as probiotics, antioxidants, milk thistle and globe artichoke.
What to eat when you're detoxing
Eat as much or as little of the following foods as you like. You don't necessarily have to lose weight if you're within the healthy weight range for your height.
During your detox diet you should mainly eat fresh or dried fruit, raw or lightly steamed vegetables, homemade juices. You should also include:
Protein: Eat more pulses such as soy beans, chickpeas and lentils. If you want to eat meat, select fish and lean cuts (skinned chicken). Wholegrains: Such as oatmeal and brown rice provide fibre and energy. Fluids: Drink water and non-caffeinated herbal teas. Supporting supplements: Supplements to support liver function (like milk thistle or globe artichoke) and supplements to aid digestion (like aloe vera or psyllium) will help in a detox diet.
You could also combine with our ideas for detox recipes (opens in new tab), as well as Jason Vale juice diet (opens in new tab) recipes, and our detox soup diet (opens in new tab) ideas.
You should also include cottage cheese and probiotic yoghurt or drinks in your diet, which help to increase the amount of good bacteria in your bowel (they help digestion and play a role in boosting immunity). For example, the yoghurt drink Actimel contains the probiotic Lactobacillus Casei which has been shown to boost cellular immunity in young, health women as well as middle-aged adults.
What to avoid
What you don't eat is just as important as what you do. Many detox diets call for a complete caffeine ban, whilst you should also avoid added salt, artificial sweeteners and alcohol. If you normal drink more than three caffeinated drinks per day, cut back gradually a week or so before you start your detox diet so you don't experience caffeine withdrawal symptoms like headaches, jitteriness and irritability.
The five day detox diet plan
This detox diet is a two-week, low-fat plan that could help you lose weight and make your skin appear healthier and firmer. It's packed with fresh foods including loads of fruit and veg that will detox your system as you go.
If you follow the five day plan, you can expect to lose up to 7lb. If you repeat it straight afterwards, you could lose another 3-4lb. Each day comes with a motivating thought to spur you on!
The meal plans are low-fat and low-calorie while still being filling so you won't go hungry. This means you won't be tempted to snack and the low-calorie intake means you'll lose weight.
The detox diet is designed to release a steady stream of energy so you won't get slumps after meals. In fact, after a few days you should find you've stopped craving sugary and fatty foods. Foods like berries and oily fish will give your skin a boost leaving it looking firmer and possibly even more toned!
Who is the detox diet good for?
It's great if you have a holiday or special event coming up in a few weeks that you want to feel fab for! The detox is also really good for anyone who thinks their skin needs a boost.
What are the drawbacks?
You've got to really enjoy fruit and veg to follow this plan. Some of the lunch options might leave you hungry.
What do you do on the detox diet?
Follow the menu plans closely, but swap meals around if you don't like something. On top of one breakfast, lunch, dinner and snack a day, you're allowed 300ml skimmed milk in addition to any milk in the plans. Avoid alcohol and stick to water, diet drinks, tea and coffee (with milk from your 300ml allowance).
Detox Diet: Day 1
Breakfast: Half a chopped mango, topped with 150g of low fat plain yogurt
Lunch: Bagged leaf salad with 1 level tbsp toasted pine nuts, 1 level tbsp grated Parmesan. 1 slice of granary bread (no spread). An orange
Dinner: Grilled fresh sardines, served with one medium boiled sweet potato, broccoli, wedges of lemon. Fresh fruit salad
Snacks: 4 chocolate-coated Brazil nuts or 6 cocoa-dusted almonds
Detox Diet: Day 2
Breakfast: Bowl of blueberries. 1 slice of wholemeal toast, spread with 1tsp low fat spread
Lunch: Chopped peppers, carrots and cucumber, with 2tbsp houmous and 4 sesame seed breadsticks. 1 banana
Dinner: Chicken and veg stir-fry: 2tsp olive oil, 1 small chicken breast, carrots, spinach, peppers and sweetcorn. One small or half a large jacket potato
Snacks: 4 squares of dark chocolate
Detox Diet: Day 3
Breakfast: 5tbsp Bran Flakes, 125ml skimmed milk, 6 prunes
Lunch: Tuna & avocado salad: 6 large lettuce leaves, 6 quarters of tomato, cucumber, grated carrot, half an avocado, 50g drained tuna in brine. 1 slice of multigrain bread
Dinner: Small chicken breast with 3tbsp salsa. Small jacket potato, salad with radishes. Two kiwi fruits
Snacks: Handful of dried cranberries
Detox Diet: Day 4
Breakfast: Nutty fruit shake: blend 200ml skimmed milk, 1tbsp wheatgerm, 100g of fresh or frozen raspberries (or other berries), 2tsp clear honey and 1tbsp of smooth peanut butter
Lunch: Medium jacket potato with 2tbsp canned kidney beans in chilli sauce, mixed with 2tbsp of sweetcorn
Dinner: Vegetable curry and brown rice. Melon
Snacks: Strawberries and squirty cream
Detox Diet: Day 5
Breakfast: 2 slices of toast, 2tsp low fat spread, 2tsp Marmite. An apple
Lunch: 85g of reduced fat guacamole, carrot and celery crudités, 2 oatcakes
Dinner: Thread a skinless, chopped chicken breast onto 2 kebab skewers with chopped pepper, mushroom and onion. Grill until cooked through. Serve with 3 heaped tbsp of couscous
Snacks: Small handful of tortilla chips with 1tbsp guacamole