The Medicinal Chef: Everything you need to know about Dale Pinnock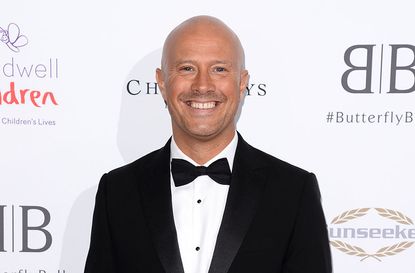 (Image credit: Getty)
Dale Pinnock has released a new cookbook, Eat Shop Save: 8 Weeks to Better Health, which aims to help families eat healthier while saving money.
Here is everything you need to know about The Medicinal Chef.
Who is Dale Pinnock?
Dale Pinnock, aka The Medicinal Chef, is a nutritionist, chef, author and TV presenter whose love of nutrition began in childhood. At the tender age of 11, Dale faced his own health issues with acne and found conventional treatment did little for him. He decided to do his own research, embarking on a 5-year obsession reading over 1000 books on the topic and gaining a degree in Human Nutrition and postgraduate diploma in Nutritional Medicine at the University of Surrey.
Also an avid cook, Dale worked in kitchens, being everything from kitchen porter to head chef to support his studies. Nowadays, Dale juggles a busy schedule of TV presenting, podcast hosting and course teaching, not to mention writing over 14 books on health and nutrition, including popular titles such as Medicinal Chef: The Power of Three and The Medicinal Chef: Eat Your Way to Better Health.
His latest book, Eat Shop Save: 8 Weeks to Better Health (opens in new tab) accompanies a new four-part series on ITV that follows families who need extra help with their food budgeting.
The Medicinal Chef's cookbooks: what are they all about?
Dale's biggest passion is teaching others about the power of good nutrition. After 25 years in the industry, he's not one for faddy diets, but instead promotes simple, delicious and wholesome food to improve your health.
His books feature recipes for every ailment, from respiratory problems to anxiety to skin blemishes.
The Medicinal Chef: Healthy Every Day
For quick and easy weekday meals, The Medicinal Chef: Healthy Every Day (opens in new tab) offers fast yet nourishing recipe ideas for the whole family.
A special index lists recipes by the area of body they aid, with meals that will help tackle all kinds of ailments, from achy joints to respiratory problems. Easy-to-use symbols show which bodily systems and conditions correlate to each recipe.
Eat Shop Save: 8 Weeks to Better Health
Released in July of this year, Eat Shop Save is Dale's latest cookbook that ties in with the second series of Eat Shop Save on ITV. Dale's mission is to show families (opens in new tab) that healthy eating needn't be expensive and that by making easy swaps you can make long-term healthy habits AND save money off your food bill.
The emphasis is on piling on the veggies, swapping refined carbs for unrefined and making your plate as colourful as possible.
The Clear Skin Cookbook: The vital vitamins and magic minerals you need for smooth, blemish-free, younger-looking skin
Dale's struggles with acne are what fuelled his interest in nutrition from an early age. Dale was far from the perfect eater when he struggled with skin issues. After going from doctor to doctor to heal his acne with no luck, he was given a book about nutrition that inspired him to give up smoking, eating meat and most dairy products.
Instead, he based his meals around fruits, veggies (opens in new tab) and whole grains packed with vitamins and minerals.
In the revised version of The Clear Skin Cookbook (opens in new tab), published in May 2018, he outlines ways in which we can improve our skin just by making a few diet swaps. The book covers everything from psoriasis to eczema, and includes delicious recipes for breakfast (opens in new tab), lunch (opens in new tab), dinner (opens in new tab) and snacks (opens in new tab). We love the sound of king prawns in satay sauce with coconut rice or Moroccan-style veggie tagine – yum!
The Medicinal Chef's recipes
This warming dish brings the flavours of the Med right to your kitchen and, the best bit is, it's so easy to throw together, taking just half an hour to rustle up. A fabulous mid-week meal the whole family will love.
These are a delicious and healthy alternative to a hearty fish and chips takeaway. Tuna is an excellent source of Omega 3 and protein - while sweet potato a much lower glycaemic load than regular white potatoes, meaning they raise blood sugar more slowly and provide more energy. A great dish all round!
Enjoy a taste of Spain with this traditional one-pot recipe, full of vibrant flavours. This recipe uses mainly store cupboard ingredients you may already have in. Handy!
The Medicinal Chef's Nutritional Nuggets podcast
If you want to learn more from the Medicinal Chef, he hosts his own podcast available (opens in new tab) on iTunes and other podcast platforms.
In each episode, Dale covers nutrition questions from listeners, foods for certain ailments and so much more.
Read more: The Doctor's Kitchen: Everything you need to know about Dr Rupy Aujla
Read more: Lean in 15 recipes: Joe Wicks' Body Coach meal ideas
Each episode is under 20 minutes long, making them the perfect quick listen when you're on the go.
Amy is Senior Digital Writer across Woman & Home, GoodTo and Woman, writing about everything from celebrity news to health, fashion and beauty features. When she isn't obsessing over the latest dress drop from Marks & Spencer, you'll most likely find Amy out running, or with a cup of tea in hand ready to dive into a gripping new Netflix series.