How energy drinks affect children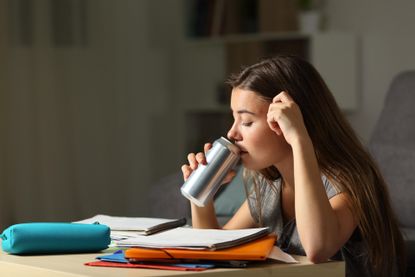 Young people are consuming record numbers of energy drinks that are putting their health at risk.
New government plans will see children in England banned from buying energy drinks.
Prime Minister Theresa May revealed new plans on Wednesday (August 29) to restrict young people in England from purchasing energy drinks.
The plans come amid growing concerns that high-caffeine, high-sugar drinks lead to disruptive behaviour in classrooms, and have other detrimental effects on childrens' health.
A consultation will be unveiled later this week to decide whether the ban will apply to under-16s or under-18s.
Public Health Minister Steven Brine said: 'We all have a responsibility to protect children from products that are damaging to their health and education, and we know that drinks packed to the brim with caffeine, and often sugar, are becoming a common fixture of their diet.
'Our children already consume 50 per cent more of these drinks than our European counterparts, and teachers have made worrying links between energy drinks and poor behaviour in the classroom.'
Theresa May added: 'Childhood obesity is one of the greatest health challenges this country faces, and that's why we are taking significant action to reduce the amounts of sugar consumed by young people and to help families make healthier choices.'
Around 21 per cent of UK retailers, including corner shops, have already signed up to voluntary restrictions that ban under-16s from buying energy drinks, but the Government intends to introduce a nationwide ban.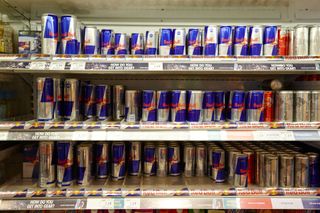 The statistics for the UK show that energy drinks have become increasingly popular among children and teens, which has many parents and high-profile campaigners like Jamie Oliver concerned for young people's health.
According to market researchers Mintel, UK energy drink sales increased by a fifth between 2012 and 2017, and around 669 million litres were sold last year, totaling around £1.65 billion.
According to European Food Safety Authority research, a shocking 18 per cent of three to 10-year-olds, along with two-thirds of 10 to 16-year olds, regularly consume energy drinks.
How much caffeine do energy drinks contain?
Energy drinks contain around 80mg of caffeine per 250ml, which is more than three times the level of a standard can of Coca-Cola (32mg/330ml can).
Some smaller energy 'shot' products can contain as much as 160mg of caffeine per 60ml bottle.
Energy drinks also contain high amounts of sugar as well as added vitamins, minerals and herbal ingredients.
Here's how much caffeine and sugar can be found in some of the most popular brands:
Red Bull (250ml can) – 80mg caffeine, 27g sugar
Monster Energy (500ml can) – 160mg caffeine, 55g sugar
Relentless (500ml can) – 160mg caffeine, 24g sugar
Lucozade (380ml bottle) – 60.5mg caffeine, 22.6g sugar
Coca-Cola (330ml can) – 32mg caffeine, 35g sugar
What are the risks to children?
Research from the World Health Organization states the following health risks associated with energy drink consumption…
Caffeine overdose with symptoms including palpitations, high blood pressure, nausea and vomiting, among others
Type 2 diabetes – high consumption of caffeine reduces insulin sensitivity
Neurological and cardiovascular effects in children and teenagers
Poor dental health
Obesity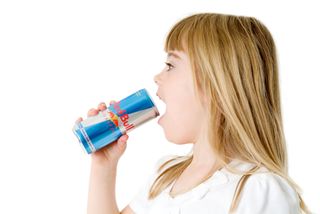 Why energy drinks are more dangerous for children
Colourful packaging, sweet flavourings and low prices make energy drinks highly appealing to young consumers, as well as having easy access to the beverages in corner shops and vending machines.
Children are also regularly exposed via the Internet and TV to many of the big drink brands that are heavily associated with Formula One racing, extreme sports, gaming and music.
Energy drinks aren't just full of caffeine and sugar, however. Ingredients such as guanine and taurine are viewed as 'healthy' additives, although there isn't much evidence on their effects on children and adults.
Professor Russell Viner, president of the Royal College of Paediatrics and Child Health, said: "There is no evidence that energy drinks have any nutritional value or place in the diet of children and young people.
"It's therefore worrying that so many young people are buying these drinks at low prices and consuming them on a regular basis.'
When initial reports into the effects of energy drinks were released in 2016, Kawther Hashem, a registered nutritionist and researcher at charity Action on Sugar, said: 'Children and teenagers are being deceived into drinking large cans of energy drinks, thinking they are going to improve their performance at school, during sports, or even on a night out.
'In reality it is more likely increasing their risk of developing obesity, type 2 diabetes and dental caries, which will have lifelong implications on their health.'
A review of academic literature on energy drinks conducted in 2016 at Teeside University found associations between consumption and symptoms such as headaches, stomachaches, hyperactivity, insomnia, fatigue and irritation.
Parenting advice, hot topics, best buys and family finance tips delivered straight to your inbox.
Trusted, informative, and empathetic – GoodTo is the ultimate online destination for mums. Established in 2007, our 15-year-strong archive of content includes more than 18,000 articles, 1,500 how-to videos, and 7,000 recipes.