Do children have to wear masks and how should you talk to them about face coverings?
They might seem scary, but they could be good for their health...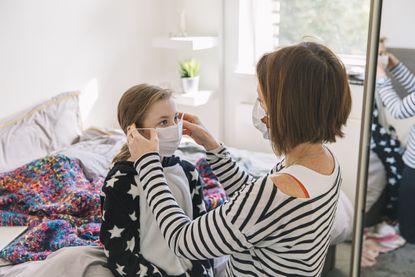 (Image credit: Getty Images)
Masks have been a topic of debate during the coronavirus (opens in new tab) pandemic, with people in the UK only being advised to wear one from the middle of May - while other countries had been wearing them for months prior. But when will face coverings be compulsory and do children have to wear masks?
But from next week - Friday 24th July to be exact - face masks will become compulsory in shops (opens in new tab). While you might be relaxed about buying and wearing a face mask yourself, you may still have some questions about kids' face masks, and whether kids have to wear them.
And, now that we're allowed to meet up inside and outside (opens in new tab) and the NHS is preparing for the combined impact of flu season (opens in new tab) and coronavirus, it's very important to stick to the rules.
Do children have to wear masks?
Yes - although current research suggests that children are less likely to suffer serious symtoms of the coronavirus (opens in new tab), it's thought that they can still spread it, and so it is important that they wear them too. However, only children over the age of 11 have to wear masks. Children younger than 11, and those with respiratory problems or other conditions, are exempt from wearing face masks in shops.
MORE: How to become a volunteer for the coronavirus vaccine trials UK (opens in new tab)
It means that most children will have to wear face masks in shop if they visit them with adults. People who do not wear masks - and are not exempt - will be subject to a £100 fine that will decrease to £50 if the fine is paid within 14 days.
How to talk to your kids about wearing face masks
Of course, it can be tricky to get your little ones to wear something that isn't massively comfortable - especially if they are a lot younger, and less able to understand the reasons why people are wearing them.
In order to get them to wear one, it's important to talk to them about why they are important.
Babylon Health's general practitioner (opens in new tab), Dr Claudia Pastides, said, "Although some children are happy to wear a face mask, others might be scared or apprehensive. Talking to a child in a way that is appropriate for their age and understanding is really important to help them see why it is a good idea to wear one."
Dr. Florencia Segura, a pediatrician at Einstein Pediatrics told care.com that she recommends keeping the conversation very simple, and in terms they can understand, if talking to much younger kids. She said, you could say, "We are washing our hands, wearing masks and not getting too close to others so that we can keep the germs away."
It could also help to make it a game, to get them used to the idea. Dr Claudia said, "Having some spare masks for children to play with and put on their dolls/cuddly toys can help them adjust to the idea."
For older kids, you can be more specific, and explain the benefits in more detail. Let them know that wearing one could reduce the chances of you spreading the coronavirus if you have it but have no symptoms. It's important to tell your older children the facts, so they don't get confused by any conflicting advice they may see online.
MORE: The 36+ cities, towns and counties in the UK at risk of facing a localised lockdown (opens in new tab)
It can also be helpful to be consistent in wearing face masks yourself, in order for your little ones to see that they don't need to be strange or scary to wear. Making it a normal part of life whilst popping to the shops can help to encourage your kids to wear face masks.
As ever, practise makes perfect, too. Dr Claudia advised, "Practicing wearing a mask at home will help make it more comfortable. Some children won't like the sensation of certain fabrics - others may find their ears get sore. By practicing at home you can find out what it is that bothers your little one and either explain that what they're feeling is normal or change whatever can be changed."
Making your own as a family can also make the idea easier. Dr Claudia told GoodtoKnow, "If you're making your own, they may get excited about what fabric to choose or if you're buying ready-made, grab some fabric pens or markers and they can personalise them.
Also, your kids might also be more inclined to wear masks if they get to choose them. Picking out a fun and colourful face masks can turn the task from a chore into a fun chance to be creative.
If your child wears glasses and struggles with them fogging up when they wear a mask (opens in new tab), there are lots of ways to prevent this from happening.
Where to buy kids' face masks
There are plenty of places you can pick up kids' face masks ahead of them becoming compulsory next week.
There are so many fun face masks for kids to choose from that you can make wearing one less of a chore and more of a game!
Amy is Senior Digital Writer across Woman & Home, GoodTo and Woman, writing about everything from celebrity news to health, fashion and beauty features. When she isn't obsessing over the latest dress drop from Marks & Spencer, you'll most likely find Amy out running, or with a cup of tea in hand ready to dive into a gripping new Netflix series.