How to stop glasses from steaming up when wearing a face mask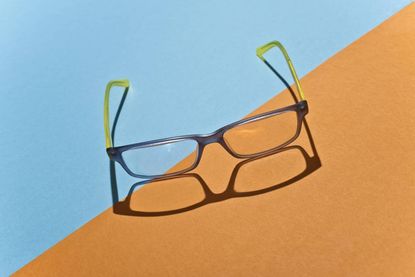 The developing coronavirus pandemic means that the government guidelines for lockdown (opens in new tab) and safety measures are changing often, but many glasses wearers continue to face the struggle of how to stop glasses steaming up when wearing a face mask on the train (opens in new tab) or in shops.
And with more changes to where to have to wear a face mask in public (opens in new tab), it's even more important to ensure that your face mask fits you properly and you can wear it. From late September, those working in retail environments and anyone in a pub or restaurant, not seated at a table, have to wear a face mask at all times. It comes as more areas of the country are going into a local lockdown (opens in new tab) after a surge in cases seen across the UK. New rules have also been put into place to ensure the safety of children at school and the recently added 'rule of six' (opens in new tab) has also been given more perimeters.
For some glasses wearers, having to wear a face mask has been somewhat of an uphill struggle as wearing both glasses and a face mask together can lead to an (almost) complete lack of vision.
As one Twitter user put it, 'Glasses + face mask = WORST COMBO EVER'.
Others have given up and are choosing between one or the other...
But it seems to be a problem that's affecting everyone. Even Micheal Gove himself was pictured on Good Morning Britain back in July with foggy glasses he could barely see out of. So how can we stop glasses steaming up while wearing a face mask?
Why do glasses steam up when wearing a face mask?
If you wear glasses, you might be finding that they fog up when you wear a face mask. This is because warm breath escapes from the top of your mask as you breathe out, directly onto the cool lens of your glasses.
But don't worry, as we say, it's a common problem that anyone wearing either sun glasses or normal glasses will be experiencing over the coming months if they haven't already.
There are some things you can do to ensure that your glasses stay fog-free whenever you're out and about...
How to stop glasses from steaming up when wearing a face mask
There are a few simple thing you can do you can do to stop glasses steaming up when wearing a face mask.
Wear your glasses over your mask on the bridge of your nose, to prevent them fogging up.
Wash glasses with soap and water, then leave to dry, to reduce fogginess.
Pop a small square of tissue paper on the bridge of your nose to soak up excess moisture.
We asked an expert to explain what the best methods are to the glasses from steaming up when wearing a face mask. Babylon Health (opens in new tab)'s general practitioner, Dr. Claudia Pastides explained, "To avoid your glasses fogging up every time you breathe out, make sure the upper part of your mask comes up as high as possible, under your eyes, and rest your glasses on top.
READ MORE: Can kids go to school with a cold? And other back to school safety questions answered
"Research carried out to find a solution for spectacle-wearing surgeons found that dipping your glasses in soapy water and leaving them to dry with a soapy film on the lenses reduces the fogginess."
You can also opt for a face mask that comes with a strong sewn-in wire over the nose bridge to securely fix your face mask to your face. For this option, we love the Vistaprint face masks (opens in new tab) (£17, available in adult and children's sizes) as they might be pricier than the standard, but they offer tight support so the air doesn't escape and fog up your glasses.
Dr Hilary (opens in new tab) shared this tip on Good Morning Britain recently, much to host Lorraine's approval.
Dr Hilary agrees with Dr. Claudia Pastides that if you dip your glasses in the solution of soapy water and let them dry naturally, it acts as a 'sort of anti-fog screen'.
So now you know how to stop glasses from fogging up when wearing a face mask, but is there a face mask you can buy that can prevent this from happening in the first place?
Mask fabrics to avoid if you have glasses
With so many different types of masks on sale now, you don't have to settle for something that doesn't work for you. And if you wear glasses, heavier materials like sturdy cotton or thick neoprene are likely to cause you problems. To combat this, go for a lighter neoprene fabric that you can just tuck underneath your lenses, a fine cotton or silk will also do the job nicely - it's just got to be thinner than regular masks.
So while your nose and mouth need to be covered, by opting for a lighter material that will let your breath escape through it, you can make sure that your glasses don't fog up. Scroll down for some of our favourite types of masks to wear if you have glasses.
Best face mask for glasses
Now that face masks are being sold everywhere, there are more options out there for people who wear glasses - but the best face mask for glasses wearers has always got to be one with a metal nose strip across the top. Such as triple layered filter face masks with a metal nose strip that hugs to your face, so your breath doesn't escape and fog up your glasses. But you can also buy a separate face mask 'glasses de-fogger' which you attach to any standard face mask or covering and it will help to hug the material to your face so that your breath doesn't escape.
So whatever you're looking for, there's bound to be a solution for your glasses steaming up when you wear a face mask. Have a look at these options...
Etsy UK triple layer face mask with nose wire
While any face covering will help to prevent the spread of Covid-19, back in June, the World Health Organisation (WHO) suggested that triple layer face masks were the safest. This one from Etsy comes in a couple of fun designs and has a wire strip over the nose to keep it tight on your face, so you can wear glasses over the top.
Why customers love it: "They are well shaped over the nose which is good for wearers of glasses and the included nose wire is very handy for shaping."
"Very well made, fast delivery, fits perfect nose wire stops my glasses steaming up."
Boots disposable face masks with nose wire - 50 pack
If you're more of a fan of disposable face masks, whether that's because of your work or comfort, then these ones are great for glasses wearers. Along with being 3-ply, they have a nose wire that helps to shape the mask to your face and avoid your glasses steaming up.
Why customers love them: "I struggle with heavier masks so these were perfect. Glasses don't fog up either because of the nose wire over the top. Will definitely be buying again!"
"I have to go on public transport everyday so I bought these. Much better quality from Boots than others I've seen."
Gap UK cotton face masks with nose wire
Other good options include a cotton face covering with a nose wire, as it's perhaps a little more breathable than other materials and serves the same purpose in staying close to your face.
This one from Gap comes in two varieties of colours and is made from triple layer cotton, with pockets for filter inserts. They are sized for adults but some reviews suggest that they also fit children.
Why customers love them: "These masks are super comfortable and stylish. I can wear them all day without any ear pain."
"I had about 20 masks prior to these and comparably they cover my face the way they should and they do not move after adjusting the straps. My face is on the small-medium. They work for my husband too thanks to the adjustable straps."
Washable face mask with metal nose wire and filter pocket
For a fresher design or an update to your mask collection, we love these ones from Not On The High Street retailer, Nervous Stitch. They come inbuilt with a metal nose wire and can be made even safer by adding your own filter into the pocket.
Why customers love them: "The perfect face mask for glasses wearers and people who have to wear a mask all day at work. Washes really well (holds it's shape afterwards) and comfortable enough to not become irritating during the day."
"Wonderful product, so well made, looks great but also really practical, thank you!"
Face mask glasses defogger clip
Already got the perfect face mask but still having trouble with your glasses steaming up? Try this genius glasses de-fogging clip, available to buy on Etsy. It simply fits over your nose just as a in-built wire would and prevents your breath from escaping and fogging up your glasses.
Why customers love them: "Finally a solution to fogging up glasses when wearing a mask!! I've tried every mask I could find and even bought new glasses! Thought I'd give these ago as a last resort and wow!! I've been telling and showing everyone about them!"
"Thank you so much for having this wonderful idea. I bought 2, and they're awesome. They really do the job."
Grace Walsh is a Features Writer for Goodto.com, covering breaking news health stories during the Covid-19 pandemic as well as lifestyle and entertainment topics. She has worked in media since graduating from the University of Warwick in 2019 with a degree in Classical Civilisation and a year spent abroad in Italy. It was here that Grace caught the bug for journalism, after becoming involved in the university's student newspaper and radio station.