How to start running - an easy guide for beginners
If the London Marathon has inspired you to get your trainers on and go for a jog, we'll show you how to get started, plus the benefits are that it's free and a great way to lose weight - good luck!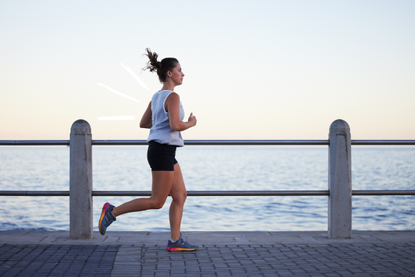 If you've set yourself a goal recently and are looking to learn how to start running, you're certainly not the only one.
The number of people heading out to pound the pavements increased by a huge 63% around the world at the height of the pandemic, according to data from Run Repeat (opens in new tab). Outdoor running became the most popular type as gyms closed, and some cyclists even traded in their bikes for trainers with almost 6% of them changing sports. While fitness apps like Couch to 5K saw a massive surge in downloads with people keen to give themselves a daily goal.
But this is hardly surprising, explains StrongHer (opens in new tab) co-founder and running extraordinaire Tig Hodson. "Running at any time is a saving grace but especially now, given the uncertainty of lockdowns, its benefits are highlighted," she says. "It has the power to completely reshape your day. Not to mention its benefits as low-impact cardio, which can help towards keeping our heart healthy and stress levels where they need to be for us to thrive."
If you're a beginner and looking to get started with running in 2022, this is what the experts want you to know.
How to start running when you're a beginner
Choose the time you want to run for and see how far you can go, Tig says.
By starting with the basics, you're avoiding the pressure of running a certain distance and the potential disappointment of failing to meet that target, she adds. "It can be daunting to think about 3K, 5K, 10K so let's select a time that feels okay with you for now and see what you can do in that time."
So this might mean setting your timer for 20 minutes and going for a slow jog down the road or it might be seeing how far you can get in 10 minutes. The most important thing, our expert says, is that you're going at a pace you're comfortable with to start.
You can only embrace the run-walk method when starting out, running specialist and global trainer at Tone & Sculpt App (opens in new tab) Melissa Kendter says. "A lot of people expect too much of themselves too soon, either running too fast or too long of a distance too soon. I always like to say as a beginner, or starting up again, start slow and low: slow pace, low mileage, gradually building your running musculature system and aerobic base.
"You'll get there if you are consistent, but don't set yourself up to fail," she adds. "Therefore, I suggest you embrace the run/ walk method. Start small and allow your body to adapt and improve its running economy, efficiency and muscle strength appropriately. Your body will progress over time and you'll begin to run more and walk less. That being said, progress slowly. You want to get comfortable before you progress to longer durations, higher speeds or increasing the number of runs you do per week."
Many of those who want to lose weight through running try walking for weight loss (opens in new tab) first to build up cardiovascular fitness.
How to start running - your weekly plan
"My advice is to start with three to four runs per week," Tig says, "And of these runs, you only do one longer run. The other runs would be made up of sprints, pace work and maybe some hills or technical strength work."
This is what you plan could look like:
Your weekly running plan:
Monday: 20 minute easy pace run
Wednesday: 6 to 8 20 second sprints followed by 40 seconds of rest
Friday: 20 minute medium pace or hill runs
Sunday: A longer run day, i.e. your 5K day
If you want to start running now and want to see some improvement in a month, look at how many times a week you're willing to commit. If this seems like too much, Tig suggests breaking it down even more and just beginning with the easy pace run, alternating between walking and jogging. "Remember running, like all other fitness, is about you - your pace. Don't feel you need to be a certain speed but make sure the runs you're doing are serving your goals."
Then once you've got some minutes under your belt, you may want to move onto looking at distance. "I would suggest starting at 3K and aiming to hit a pace of between 6 to 7 minutes per KM. After you've done that, take it to 5K at the same pace. When you are comfortable being at that pace for 5K then you can start to build on your pace per KM."
For this, you'll undoubtedly need a 5K training plan (opens in new tab). While there are thousands on the internet, the one that runners say works time and time again is NHS-created app Couch to 5K (opens in new tab). As the name suggests, the programme aims to take anyone from sitting on the sofa to running a decent distance in just nine weeks.
How to start running when overweight
Before starting to run, it's important to ensure you are medically cleared to do so, have the right supportive footwear and start off by walking.
As nutritional coach and personal trainer Nathalie Lennon (opens in new tab) says, "Running is a fantastic form of exercise to help you improve your health and build confidence. However, it can be daunting when we first begin, as well as extremely difficult if you are overweight as you may become breathless very easily - especially if cardiovascular exercise is new to you. But do not let this dishearten or discourage you, we all start somewhere. "
A good place to start is walking for just 10 minutes a day, she says. "Build this up to at least 30 minutes a day at a fast but comfortable pace and you'll see your fitness levels improving. I would give this 2-3 weeks before then beginning a run/walk interval spilt. This interval style training is then the most efficient way to begin running. Start by performing a 5 minute fast paced walk to warm up, then running & walking in intervals. For example:
Run for a 30-second interval then walk for 2-minute interval. Aim to repeat this for 10-20 minutes, then finish with 5 minutes walking to cool down.
Over time you can increase your running interval slowly, and start to reduce your walking interval. For example, you may build up to 3 minutes running & 1 minute walking over time.
This process is not to be rushed, slow and steady wins the race. Remember everyone's pace of progression will vary."
And try to avoid the one mistake that almost everyone makes when they start running: expecting too much too soon. "We have to learn to crawl before we can walk," our expert says. "You'll become discouraged and lack motivation otherwise, perhaps burning out or getting an injury.
"If you have been inactive for some time, you need to begin with walking."
What to wear when running
When running, the most important items of clothing you'll need will be: leggings, trainers and possibly a sports bra.
"Essential kit for me is a decent pair of leggings that have the phone pouch in the side of the leg," Tig says, recommending Under Armour Rush leggings (opens in new tab) as a great choice for those just starting out. "And a solid pair of running shoes that support how much running you will be doing and what your feet need."
Melissa agrees, "You'll need a good pair of running shoes that are the right fit for you. Don't pick a pair just because you like the brand, colour or price. I suggest visiting a running speciality store where experts can evaluate your foot and running style, then recommend the right shoes for you. Also, it's recommended to go at least half-size bigger for running shoes."
But while you don't need to spend an arm and a leg on workout gear, she adds, some materials are better than others for running. "Moisture-wicking clothes are ideal. It's a smart idea to avoid wearing 100% cotton clothing and socks as well. If you wear cotton socks, the moisture won't get wicked away if your feet sweat or if you step in a puddle, and same with clothing tops.
"Running-specific clothes are lightweight and designed to move with your body. You want to look for running gear that is moisture wicking. During cold weather running, running fabrics will help keep you dry and warm and on hot weather runs, they will wick the sweat away from your body and help prevent chafing. Running gear may incorporate vents or zips to increase breathability which is important for longer duration runs."
These are a couple of recommended must-haves for beginners to get started: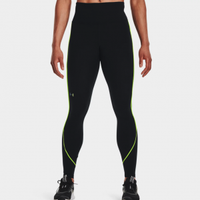 (opens in new tab)
Under Armour Rush Full-Length Leggings - £60 | Under Armour (opens in new tab)
As recommended by Tig, Under Armour's Rush Leggings ideal. They're made of material that wicks away sweat and dries fast while also staying put around your waist, no matter how fast you run. The side drop-in pocket gives you easy-access to your phone throughout your workout.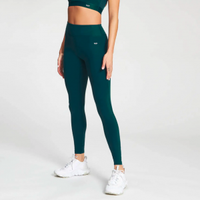 (opens in new tab)
Women's Power Leggings - £24.99 | MyProtein (opens in new tab)
For a lower price point, check out these Power Leggings from MyProtein. Available in several different colours, these leggings are run-proof and have a secret back pocket on the waistband to carry your valuables.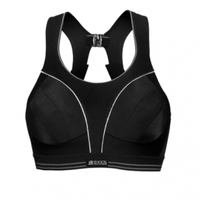 (opens in new tab)
Shock Absorber Ultimate Run Non-Wired Sports Bra - £39 | John Lewis (opens in new tab)
When it comes to sports bras, it doesn't get better than Shock Absorber. Built for high-impact sport, this full-coverage bra has a seam-free lining for comfort and offers support with its tight elastic material and padded non-slip straps. For those with a largest bust, Shock Absorber also have a
D+ option
(opens in new tab)
.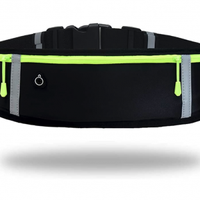 (opens in new tab)
Gorwrich Running Belt - £9.99 | Amazon (opens in new tab)
More easily accessible than an armband, a running belt is an essential on any outdoor adventure if you haven't got the pockets for valuables. This one from Amazon is particularly good as it also has a high-vis strap, perfect for running in the evenings or early mornings.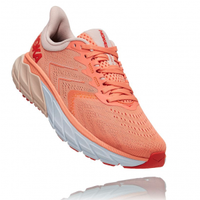 (opens in new tab)
Hoka Arahi 5 Running Trainers - £160 | Hoka (opens in new tab)
If you've struggled with stability in the past while running, Hoka Arahi 5 are brilliant trainers. Created for a hard road surface, they have maximum cushioning with minimum weight so you'll be light on your feet. Built into a refined shape that takes the pressure off your Achilles heel, you can help avoid injury from your very first run.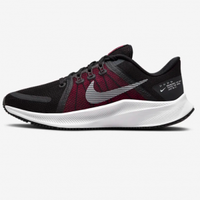 (opens in new tab)
Nike Quest 4 Road Running Shoes - £69.95 | Nike (opens in new tab)
These are some of the best running shoes at a lower price range, ideal for those who want to try before they really invest in running. They're lightweight and have strong cushioning to keep you comfortable on the move. A great option for beginners who want to run daily.
How to start running outside
From the hardness of the ground to changeable weather, running outside is certainly harder than running on a treadmill. Here's what Tone & Sculpt's running expert has to say about starting out:
Remember to warm-up
"Never neglect your warm-up," Melissa says. "Treat yourself like a runner from day one. Take time to properly warm-up."
The benefits of this include:
Raising your body temperature
Kickstarting the neuromuscular system which helps your brain tell your muscles how to contract
Helping to prevent injury
Assisting your aerobic system in working more efficiently
Scroll down for the best warm-up and cool-down tutorials.
Wear the right clothes
"You really don't need a lot of fancy running gear or expensive clothing to be a successful runner, but you do want to run comfortable. So knowing how to dress from head to toe is important."
Melissa also recommends regulating your core temperature during your outdoor run so you don't get too cold - or too hot. "Be careful not to overdress. Once you warm up, your extra body heat will make it feel about 15 to 20 degrees warmer. For example, if the temperature is above 10 degrees outside, you'll probably be find running in a t-shirt and shorts."
Consider your technique and your form
"Focus on remaining upright with a slight lean from the ankles - not the hips! Take quick and light steps with your feet landing under your centre of mass and pull your heels up behind you," she says. "You will want to focus on keeping your core braced, arms bent around 90 degrees at your sides - don't clench your fists.
"Proper running form will help you be a more efficient and effect runner; it will also help avoid injury," she says.
The best stretches for runners
The best stretches for runners include dynamic movements pre-workout and static movements post-workout.
Dynamic stretches include:
Side lunge
Front lunge
Lateral straight leg swing
Lateral bent leg swing
Bent leg forward swing
But it's often easier to follow along with a stretching programme when you're first starting out.
https://www.youtube.com/watch?v=Z0xtYX1Nf5c
While the best stretches for runners post-workout include static poses, such as:
Knee hug
Child's pose
Kneeling hip flexor stretch
Seated/kneeling quadricep stretch
Toe touches
Seated hamstring stretch
And similarly, following along with a tutorial will be an easy way to get into a post-workout routine as a beginner:
https://www.youtube.com/watch?v=d4ZJXhCmORA
While it's tempting not to bother stretching after your run, especially if you're busy and trying to exercise around working hours, our experts say it's essential for preventing injuries and reducing stiffness the next day.
What to eat before and after running
The best foods to eat both before and after running are those high in carbohydrates and moderate in protein. They should also be relatively low in nutrients that are difficult to digest quickly, such as fat and fibre, as these will sit uncomfortably while you're running.
Carbohydrates are ultimately best before your workout, research from Massey University Albany (opens in new tab) explains, as they help to maintain the flow of oxygen to your muscles as well as keeping your blood sugar levels up during exercise. Following a high protein diet (opens in new tab) and eating high protein foods (opens in new tab) beforehand will also help your muscles adapt and develop to the regime in the longer term.
Some good pre-run meal examples include:
3 scrambled egg whites on white toast and a banana
White bagel with ham or turkey and non-dairy spread of choice (e.g. mustard)
Porridge with blueberries, honey and banana
Pasta with tomato sauce and shredded grilled chicken
Hydration is also key before your run, with studies from the American College of Sports Medicine (opens in new tab) advising between 500 and 600ml of water before going on a run to make sure that you're suitably hydrated.
After your run, you'll need carbohydrates to replenish the energy you lost during your workout as well as protein to help your muscles recover.
Good post-run meal examples include:
Protein-based energy balls (opens in new tab)
Peanut butter and jam sandwich
Porridge with mixed berries and a banana
Chicken club sandwich
You can also supplement your diet with snacks that are high in protein, such as energy balls (opens in new tab), if you still feel hungry after your post-run meal as these will help you stay fuller for longer.
Also as you run, your body loses important chemicals through sweat known as electrolytes. These help the body to function in various ways, including helping muscles to contract, according to new 2021 research by scientists Isha Shrimanker and Sandeep Bhattarai (opens in new tab). They mainly include sodium and chloride, along with lower amounts of potassium, magnesium and calcium.
Unfortunately though, electrolytes can't be replenished by drinking water alone post-workout. One of the only ways to replenish lost electrolytes is by drinking a sports-drink or adding a mineral supplement to your water.
Grace Walsh is a Features Writer for Goodto.com, covering breaking news health stories during the Covid-19 pandemic as well as lifestyle and entertainment topics. She has worked in media since graduating from the University of Warwick in 2019 with a degree in Classical Civilisation and a year spent abroad in Italy. It was here that Grace caught the bug for journalism, after becoming involved in the university's student newspaper and radio station.