Jane McDonald's diet and exercise secrets - how DOES she look so fab at 52?
There's no denying that the 52 year old is looking particularly fit and healthy these days - so what's the secret to Jane's incredible look?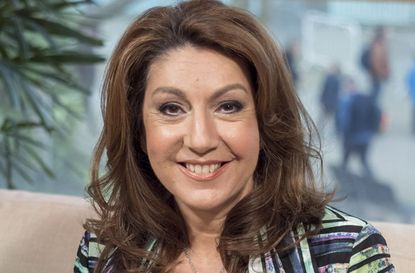 Singer and former Loose Women star Jane McDonald has certainly been busy since leaving the show in 2014.
Throughout her career, Jane has been a range of sizes, and she's looked stunning throughout - but there's no denying that the 52 year old is looking particularly fit and healthy these days.
So what's behind Jane's incredible look? We take a look at her diet and exercise secrets!
Saying no to sugar
Jane was one of the stars of ITV's Sugar Free Farm, which saw celebs relocating to a rural workshop and learning to replace their sugar-filled diets with natural meals made from healthy ingredients.
'I was a bit offended actually!' Jane explained to the Mirror, as she recalled the moment when she was first asked to take part. 'My first thought was, well it's just a fat farm – why do they think I need to lose weight? I'm a size 12/14, I didn't think I was that bad.'
Jane and the cast of Sugar Free Farm
'But then they explained it was more about cutting out sugar than actually dieting, and that they wanted someone like me who was an average type of woman with a busy life and not much routine when it came to eating properly.'
'We had to cut out alcohol, cakes, biscuits, convenience food... everything,' she added. 'The hardest thing for me was missing red wine. Oh, I love my wine! But now I've completely cut down on it, and only have a glass once a week. That's a HUGE deal for me!'
However, since completing the programme, Jane can now fit back into a pair of size 8 jeans.
'I've got a new lease of life,' she said. 'Appearing on this programme is the best thing I've ever done.'
Ditching the ready meals
Jane's appearance on the show also taught her a thing or two about her cooking habits, having previously lived on ready-prepared options.
'I worked long hours and would grab whatever I could on tour, or I'd just eat microwave meals. What made me so angry was when I found out just how much added sugar there is in pre-prepared food. It's literally in everything. I'd been consuming it for years, without even knowing it.'
It may have been a little more effort, but after being taught how to cook healthy meals from scratch, Jane revolutionized her meal plan, and now makes nutritious dinners that are loaded with veg.
'Now [my fridge] is stuffed from top to bottom with lean meat and chopped veg in boxes of Tupperware: peppers, spinach, things like that. Not kale though, as my partner Ed couldn't take to it!'
Jane with her partner Ed in 2015
Preparing for success
As a result of her overhauled diet, Jane now spends much more time in the kitchen - but her busy work schedule means she has to priortise meal prep when she has the time.
When asked by the Mirror whether she'd rather have 'an early night or a night on the tiles', Jane replied: 'We don't go out at all now; our ideal night is a night in at our house in Wakefield. We watch movies or TV, and then I spend half my evenings prepping all my meals for the week ahead.'
It looks like, as with many healthy eating regimes, forward planning is half the battle! After all, if you spend most of the time being organised, you can afford to indulge in meals out like this:
Pilates - with added cat moves!
Jane's starring role in the West End musical Cats keeps her fit and active, and she claims that her perfomance has had a dramatic impact on both her body and her voice.
'I didn't realise how unfit I was before I started this, my body's had a fair transformation, it took me all my time to get down on all fours!' Jane told Northern Life magazine.
'The warm-up is Pilates based with plenty of cat movements thrown in, it's all about strengthening the core, and by doing that it's enabled me to 'belt the songs out, like I've never done before!'
Trusted, informative, and empathetic – GoodTo is the ultimate online destination for mums. Established in 2007, our 15-year-strong archive of content includes more than 18,000 articles, 1,500 how-to videos, and 7,000 recipes.