18 low calorie fruits that are best for weight loss and dieting
Did you know that some fruits are lower in calories than others? From apples to raspberries, we've rounded up low calorie fruits all under 100 calories...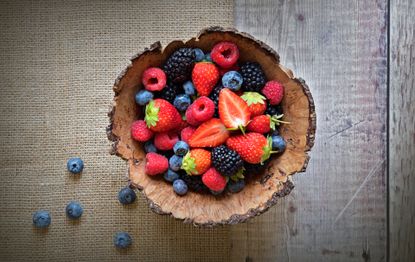 (Image credit: Jacky Parker/Getty)
This round-up of low calorie fruits are all under 100 calories and ideal for weight loss. From apples to raspberries, from strawberries to pineapple, there are plenty of lower calorie fruit to choose from.
If you're looking for a low calorie snack (opens in new tab), simple desserts option, or quick low calorie breakfast (opens in new tab) idea, these low calorie fruits are a perfect choice. Not only are they low in calories and great if you're keeping track of how many calories you burn (opens in new tab) but they also count towards your five-a-day making them healthy all around.
Fruit is a great source of vitamins and minerals including things like fiber, antioxidants, potassium, vitamin C, and more. It is also the best and most natural way to get your sugar fix and as fruits are healthy sugar substitutes (opens in new tab).
We spoke to nutritionist Mina Khan, who has been providing nutritional advice for over 25 years, to find out more about the health benefits of these low calorie fruits.
Here's our roundup of low calorie fruits all under 100 calories…
Low calorie fruits
1. Apples
Calories: 32 per apple | Five-a-day count: One apple = one
An apple a day keeps the doctor away, and the weight off. Nutrient-rich apples contain a flavonoid called quercetin, which is thought to lower the risk of chronic disease. And one small apple is just around 32 calories.
"One medium-sized apple counts as one of your five a day, so this is a really easy option to just grab when you're on the go. Apples are high in fiber, vitamin C, and numerous antioxidants," says Mina, founder of nutraceutical company Formulate Health (opens in new tab). Just remember that there tends to be more vitamin in raw vs cooked food (opens in new tab) because of the way the nutrient reacts to heat and processing methods.
"As well as being a tasty snack, apples can also be used in breakfasts either mixed in with some homemade granola (opens in new tab) or enjoyed as a porridge topping. If you're looking to lose weight, stewed apples (opens in new tab) can be a great option for desserts, too, providing you with the sweetness of an apple crumble (opens in new tab) or pie, without the high-fat contents," Mina adds.
2. Blackberries
Calories: One per blackberry | Five-a-day count: Nine blackberries = one
Not only are blackberries good for you, but they're also low in calories. Full of fiber, blackberries are also one of the best sources of antioxidants, which may reduce the risk of many diseases. And they contain a single calorie per berry.
"A serving of nine blackberries has more than 30mg of vitamin C which is half the daily recommended amount. Vitamin C is really important for collagen formation in bones, connective tissue, and blood vessels, helping to strengthen joints, heal wounds and regenerate the skin," says Mina.
"Vitamin C has also been shown to help the body absorb iron, reduce the length of common cold and even reduce free radicals in the body. Plus, they're delicious. Especially in a smoothie or blended to make a blackberry coulis for drizzling over melon."
3. Blueberries
Calories: Eight per heaped tablespoon | Five-a-day count: Four heaped tablespoons = one
Known for being low in calories but exceptionally high in nutrients, one heaped tablespoon of blueberries contains just eight calories, so you can have three tablespoons and not even hit 30 calories.
"Blueberries are low in calories and fat and provide a really substantial amount of healthy fiber. They're also an excellent source of vitamin K1 which has been found to help reduce blood clotting, promote bone health and balance out calcium levels in the blood," says nutritional expert Mina Khan.
"Blueberries are also packed with potassium, which is great for helping to reduce blood pressure and water retention, alongside vitamin C, which is crucial for skin health and immune function. These small but powerful berries also contain magnesium, which is great for those suffering from sleep problems and stress. There's a reason why so many people refer to blueberries as a superfood."
4. Cherries
Calories: 43 per 10 cherries | Five-a-day count: 14 cherries = one
These juicy red stone fruits have a short season in early summer so take advantage while you can because they're rich in fiber, antioxidants, vitamin C and contain more potassium (that helps nerve function) than apples or strawberries.
Mina comments; "Fresh cherries contain generous amounts of fiber, which we know is great for promoting a healthy digestive system, reducing cholesterol, and balancing blood sugar levels. Cherries also contain C, A, and K vitamins which help aid an array of functions in the body. They also contain antioxidants such as beta-carotene, and the essential nutrient choline, which play key roles in cell growth, neuron communication and the maintenance of vital organs such as the heart, lungs, and kidneys."
5. Dragon fruit
Calories: 60 per fruit | Five-a-day count: One cup full of dragon fruit = one
This stunning-looking fruit contains around 60 calories per fruit. It's packed with dietary fiber and antioxidants and is a great plant source of magnesium, which helps convert food into energy.
Mina says; "Dragon fruit is becoming more and more readily available in the UK, and contains a large amount of fiber and magnesium as well as numerous antioxidants including betalains which help to reduce cholesterol, flavonoids which can reduce the risk of heart disease and hydroxycinnamates which have anti-cancer properties. What's more, they look so pretty and are fantastic for adding to a smoothie bowl (opens in new tab) or fruit salad (opens in new tab)."
6. Grapefruit
Calories: 52 per half a grapefruit | Five-a-day count: Half a grapefruit = one
Not everyone likes the sourness of grapefruit but this citrus fruit is low in calories and high in nutrients. It's an excellent source of antioxidants and vitamins A and C, as well as potassium that helps regulate blood pressure. It's thought to curb appetite but can react with certain drugs such as statins, so if you're taking medication check before eating.
"Grapefruits are rich in fiber, which helps maintain a healthy digestive system and promotes greater feelings of fullness, which is excellent for weight loss, especially considering its low calorie total. Grapefruits also contain substantial amounts of vitamin C, vitamin A, magnesium, thiamine, and folate, which work together to improve general feelings of wellness in the body and mind," says nutritionist Mina Khan.
7. Kiwi fruit
Calories: 42 per kiwi | Five-a-day count: Two kiwis = one
One peeled kiwi fruit contains just 42 calories. Kiwi fruit also contains dietary fiber and will provide you with more vitamin C than oranges.
Mina explains; "Kiwis contain a really high amount of vitamin C, more than the daily recommended amount in fact. They're also high in fiber and low in calories, making them an excellent snack choice to keep you going during the day. The antioxidants found in kiwis also help contribute to a healthy, strong immune system. So eating kiwi regularly could help prevent the onset of viruses, colds, and other common illnesses."
8. Oranges
Calories: 62 per orange | Five-a-day count: One orange = one
A thirst-quenching, medium-sized orange contains around 62 calories and is a good source of fiber, calcium, and vitamins A and C.
"Oranges are also a great source of vitamin C, with one orange providing 100% of your recommended daily intake. On top of this, they're also high in potassium which has been found to help lower blood pressure and even reduce symptoms of anxiety and stress. If you're a fan of oranges," says Mina.
Mina adds; "I'd recommend eating them whole as opposed to pressing them to make a juice or smoothie. This is because when they're blended, they're really easy to overeat, as a single glass of freshly squeezed orange juice can contain four or five oranges, which of course means you're consuming four or five times as much calories and sugar, without benefitting from the feelings of fullness you'd get from eating the fruit whole."
9. Peaches
Calories: 50 per peach | Five-a-day count: One peach = one
You'll find around 50 calories in a medium peach. Like many other fruits, peaches are a great source of antioxidants, including caffeic acid and carotenoids – which are thought to have cancer-fighting properties – and vitamins A and C.
Nutritionist Mina shares; "Peaches contain a broad range of vitamins, including vitamin C, A, E, and K as well as potassium, copper, and manganese. These vitamins provide many health benefits including skin health, digestion, blood pressure, and more. One of my favourite peach recipes is a feta and peach salad (opens in new tab). Simply throw together some lettuce leaves, spinach, or rocket with some crumbled feta cheese and top with sliced peaches. Although it sounds simple - trust me - it's one of the yummiest salads you'll try."
10. Pears
Calories: 85 per pear | Five-a-day count: One pear = one
A small pear provides 85 calories. Like apples, they contain pectin – a type of plant fiber that's good for gut bacteria – and copper, which helps the body make red blood cells.
"Pears provide small amounts of folate, provitamin A, and niacin. Folate and niacin are important for cellular function and energy production, whereas provitamin A supports skin health and wound healing. Pears also contain copper and potassium," says Mina.
"Copper boosts immunity, cholesterol metabolism, and nerve function, while potassium improves muscle contractions and heart function. Honey poached pears are great when paired with a nice thick natural yogurt, and a great go-to dessert when trying to keep an eye on your weight." Mina adds.
11. Pineapple
Calories: 84 in two thick slices | Five-a-day count: One large slice = one
This delicious exotic fruit is a little more calorific than others but you can still enjoy two fat slices of fresh pineapple and only consume 84 calories. Its enzymes are good for digestion, too.
Mina explains; "Pineapples are packed with a variety of vitamins and minerals. They are especially rich in vitamin C and manganese which support an array of key functions in the body. Pineapples are also a great source of antioxidants, which can reduce the risk of chronic diseases such as heart disease, diabetes, and certain cancers. There are so many things you can do with pineapples, from blending into a smoothie to grilling and topping with a sprinkle of cinnamon."
12. Plums
Calories: 35 per plum | Five-a-day count: Two plums = one
With around 35 calories in one plum, you can treat yourself to a couple and still come in well under the 100 calorie mark. Plums contain vitamins A, C, and K as well as some essential minerals, including calcium, magnesium, and potassium.
"Plums contain significant amounts of sorbitol, a sugar alcohol which functions as a natural laxative in the body. For this reason, plums can be a great choice for those suffering from constipation or other digestive issues. Healthy plum crumbles are also really easy to make and provide a hearty dessert option. Simply bake some oats, honey, and cinnamon on a baking sheet with your choice of oil and sprinkle on top of a bowl of stewed plums," says Mina.
13. Pomegranate
Calories: 39 per ½ pomegranate | Five-a-day count: One cup of pomegranate seeds = one
Truly a food of the gods, pomegranates are regarded as one of the healthiest fruits on the planet. The juice is exceptionally high in antioxidants, which protect your cells against free radicals that can be harmful.
Nutritionist Mina comments; "Pomegranate seeds contain plenty of fiber, vitamins, minerals and bioactive plant compounds which have a range of anti-inflammatory and antifungal properties, as well as skin brightening and memory-boosting functions. As well as all of these excellent health benefits, pomegranate seeds are extremely versatile. From sprinkling over salads or fish to adding to smoothies and sauces, pomegranate seeds are a great addition to a wide variety of dishes."
14. Raspberries
Calories: One per raspberry | Five-a-day count: 12 raspberries = one
One of these bright little berries contains just 1 calorie so you can eat until you're full and not even get to 100 cals. Not only that, raspberries contain powerful antioxidants that are thought to fight inflammation in the body.
"Raspberries contain high amounts of fiber and vitamin C and also contain many other important vitamins and minerals in smaller quantities, too. They're great to snack on during the day or to use in healthy cookie recipes or sprinkle on top of your breakfast. Raspberry extracts have also been found to inhibit the growth of certain cancer cells, making them some of the most powerful fruits you can have," says Mina.
15. Seedless grapes
Calories: Two per grapes | Five-a-day count: 14 grapes = one
Containing just two calories per grape, you can eat a small bunch and still not get to 100 calories. A good source of vitamins C & K, the darker the skin of the grapes the more of the heart-healthy antioxidant resveratrol they contain.
"Grapes contain many important vitamins and minerals, including more than one-quarter of the recommended daily intake for vitamins C and K. Vitamin K has been found to lower the chance of blood clotting and promote healthier bone growth, whilst vitamin C is known for its benefits in skin health and immunity," states Mina.
"If you enjoy grapes but are looking for another way to eat them, try freezing them and covering them in sugar-free jelly crystals. They're a great option for a low calorie treat, especially for those with a sweet tooth."
16. Strawberries
Calories: Three per strawberry | Five-a-day count: Seven strawberries = one
A firm favourite, these berries are not only hydrating they're enriched with fiber and high levels of polyphenols – antioxidants that can lower your heart disease risk and reduce blood sugar levels – plus vitamins C and B9 (folate), manganese, and potassium.
"Strawberries are an excellent source of vitamin C and manganese and also contain considerable amounts of folate (vitamin B9) and potassium. Strawberries also contain antioxidants and plant compounds, which may have benefits when it comes to heart health and blood sugar control. Homemade strawberry frozen yogurt or even strawberries dipped in dark chocolate are delicious healthy dessert options, which feel really indulgent." Mina says.
17. Watermelon
Calories: 87 calories per wedge | Five-a-day count: One slice of watermelon (5cm) = one
A generous wedge of juicy watermelon (about 1/16th of a whole melon) is not only intensely hydrating – due to its high water content – but low in calories. It's also a good source of vitamins A and C and some B vitamins, and the minerals potassium and magnesium.
"One slice of watermelon contains a decent amount of vitamin A and C. As its name suggests, watermelon consists mostly of water (91%). This low calorie fruit is an excellent way to stay hydrated, especially for those who struggle to get their water intake each day. Watermelon salads, sorbets, and ice pops are great ideas for staying on track and in control of your calorie intake during the summer months." Mina comments.
18. Cherry tomatoes
Calories: Three per tomato | Five-a-day count: Seven cherry tomatoes = one
Technically a fruit, cherry tomatoes are bite-sized spheres of goodness. They contain lycopene, which keeps the heart healthy and protects the skin from UV damage. One cherry tomato contains just three calories, so a large handful of 10 will only set you back 30 calories.
"Tomatoes are an excellent source of the antioxidant lycopene, which has been linked to many health benefits, including a reduced risk of heart disease and cancer. They're also a great source of vitamin C, potassium, folate, and vitamin K which work together to boost energy levels and leave you feeling refreshed and revitalised," explains Mina.
"Cooking tomatoes are also a great way to increase the availability of the nutrients they provide, so throwing a handful into a tomato pasta sauce (opens in new tab) or curry, or serving them on toasted bruschetta (opens in new tab) is not only going to help boost your intake of vital vitamins and minerals, but also give your dish some natural sweetness and flavour."
Video of the week
Freelance Lifestyle Writer
Debra Waters is an experienced online editor and lifestyle writer with a focus on health, wellbeing, beauty, food and parenting. She currently writes for Goodto and Woman&Home, and print publications Woman, Woman's Own and Woman's Weekly. Previously, Debra was digital food editor at delicious magazine and MSN. She's written for M&S Food, Great British Chefs, loveFOOD, What to Expect, Everyday Health and Time Out, and has had articles published in The Telegraph and The Big Issue.