Russell Brand confirms he's married partner Laura Gallacher
The pair welcomed their first child last year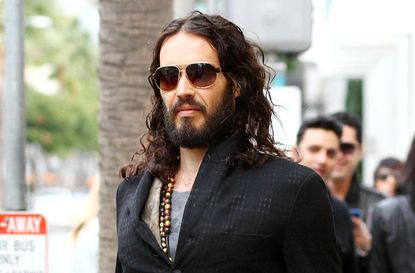 Russell Brand has confirmed he has tied the knot with his partner Laura Gallacher, in an intimate service near their home in Henley-on-Thames.
The comedian has been keeping his personal life very private following his past high profile relationships, which include his 14-month-long marriage to popstar Katy Perry.
But Russell, 42, made an exception to reveal the happy news of his marriage to Laura, who's the daughter of golf star Bernard Gallacher and sister of TV presenter Kirsty Gallacher, on his Radio X podcast.
'I'm living a married life now...I'm domestic', he told listeners of his show.
Following his discreet announcement, some listeners took to his Instagram account to congratulate the star.
One wrote: 'Congrats on your marriage 🎉💕💍', while another commented 'Congratulations Russell 💒💖😊'.
The couple reportedly got engaged (opens in new tab) in June last year, while Laura was pregnant with their first child, and The Sun has reported that the guest list for the small celebration included fellow celebs including Noel Gallagher, Jonathan Ross and David Baddiel.
Russell became a dad (opens in new tab) for the first time at the end of last year, after he confirmed he was expecting a child with girlfriend Laura in July.
Sharing a snap of himself reading 'The Expectant Dad's Handbook', he wrote on his Instagram account at the time: 'Right then. My Mum bought me this. Time to get ready! #trewlit #bookstagram #parenting'
After making the reveal, he spoke frequently about his excitement about becoming a dad, revealing he was reading a lot of parenting books to prepare himself for his first baby.
'I read a different book every week and I read one on preparation for fatherhood to mentally prepare me for it,' Russell explained on The Jonathan Ross Show. 'I've painted the room, I've done the things that you're supposed to do, I've accepted the idea that that person will be more important than me.'
Much like the way he announced he's a married man, he also chose to discreetly announced he was a dad at one of his gigs, telling fans that he 'needed to get down the f***ing M21 as my girlfriend has just had a baby'.
Congratulations to the happy couple!