Davina's relationship honesty might just save your marriage
The presenter revealed her marriage was in a 'tough place' ahead of her Sport Relief challenge, and that had the couple not been married, it may well have split them up...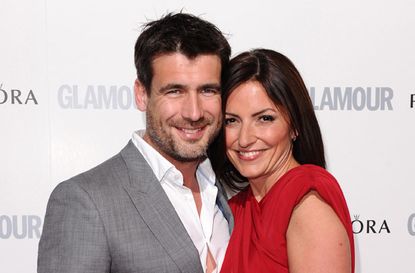 GoodTo newsletter
Sign up to the GoodTo Newsletter. You can unsubscribe at any time. For more information about how to do this, and how we hold your data, please see our privacy policy
Thank you for signing up to . You will receive a verification email shortly.
There was a problem. Please refresh the page and try again.
Davina McCall has spoken out about facing a really rough patch in her marriage just before her gruelling Sport Relief challenge, and how marriage kept the couple together through a time that might have split them up in their younger days.
Which left us wondering - does marriage hold us together through tough times for the right reasons? How do we know if an experience can make us stronger as a couple, or if it's too much to cope with? We take a look at Davina's experience and hear what the experts have to say on the matter.
Davina, 46, who's been married for 14 years to her husband Matthew Robertson, told The Mirror that the couple were in a 'tough place' in the run up to her Sport Relief challenge, which saw her run, cycle and swim from Edinburgh to London to raise money for the charity.
Davina, 46, and her husband, Matthew, 45, wed in 2000 and have three children together, Holly, Tilly and Chester
She also spoke of how marriage holds you together through times that may have split you up pre-marriage. She said: 'When you're in your twenties and you have a tough six months, then that's a break up. But when you're married it's nothing.'
Despite this the presenter said that going through rocky patches in a marriage only helps to bring you closer together. She said (and we love this): 'If you never give it a chance to get through something difficult, you never get to that step where you think, "I know you, and you know me"'.
But is staying together for the sake of your marriage a healthy thing? Or does it just mean that you sweep your problems under the carpet in order to keep things from getting messy? No marriage is ever going to be plain sailing. There'll be times when you feel unhappy, for whatever reason, and it can be tough to get through.
Emotional reunion: Matthew meets his wife at the end of her gruelling challenge
But Davina believes it's getting through those patches that make you stronger as a couple: 'Getting through stuff like that makes the next step better... You always have to think when you are in a relationship that if you have a tough six months then it's nothing in the grand scheme of things.'
goodtoknow's relationship expert, Dr. Pam Spurr (follow her @DrPamSpurr (opens in new tab)) believes that keeping strong through the low points of a marriage will make you even stronger through the high points: 'I'm delighted to see Davina's comments about difficult patches in marriages. She's spot on in her honesty about coping with the troubled times her own marriage went through.
'I only wish everyone would apply this down to earth approach to their long-term relationships. Because even the best, most solid marriage will face difficulties and if you bury your head in the sand hoping these will go away, they don't - they only get worse. Or if you've got unrealistic expectations for your marriage you may get panic stricken when it hits a difficult time.
'Far too many people misguidedly expect marriage - or long-term relationships - to be easy, and that the romance will flow, because you're soul-mates after all. And soul-mates don't get in bad moods, argue or criticise each other, right? Wrong!
'It's far healthier to know that in the great scheme of things, as Davina understands, facing difficulties is something to be expected. You become stronger and your love becomes deeper as you face these and realise that together you really are a team.
'Going through these successfully means that your good times feel even better and it establishes optimism in both of you that the next bad patch won't destroy you.'
Pam's top tips for surviving a rough patch
Keep calm and don't over-dramatise things because deep down you're anxious and worried.


Listen to each other carefully as there are always more than two sides to a story - there are many and together you can create a solution through compromise.


Keep focused on the good things you share and don't let the issue overwhelm the positives in your life.


And never in anger use the 'D' word - divorce - as a threat. Relationship research found that once couples start chucking in the 'D' word it makes it more likely they'll head for the divorce courts.
Where to next?
Conscious uncoupling: What's so different about Chris and Gwynnie's divorce?
Bringing back the intimacy - little tips to try with your man
Gemma Chandler is a lifestyle writer specialising in kids' educational media across a range of topics including nature, history, science and geography across digital, print, social media and video channels. She joined Creature & Co. at 2015, shortly becoming Digital Editor of National Geographic Kids magazine.