Cot death charity finds 40 per cent of parents are putting their baby at risk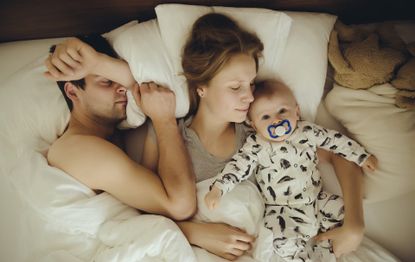 (Image credit: REX/Shutterstock)
The Lullaby Trust has published new guidelines on co-sleeping after a survey found 40 per cent of parents could be putting their child at risk of SIDS.
The cot death charity surveyed more than 8,500 parents, finding that over three-quarters have co-slept with their baby at some point.
This comes after experts said they were 'concerned' by a rise in SIDS (sudden infant death syndrome) in England and Wales last year.
SIDS is the sudden and unexplained death of an infant. Experts don't know exactly what causes it, but around 133 babies die in co-sleeping situations each year.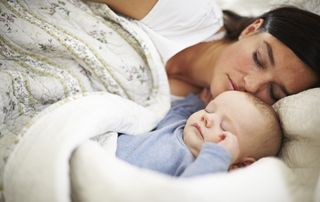 The Lullaby Trust survey found that a third of parents have dozed off with their baby in unplanned circumstances, which can increase the risk.
Being prepared for unplanned co-sleeping and staying aware of the risk factors is key, says the charity.
For example, 40 per cent of parents have slept on a sofa or armchair with their baby, which increases the risk of SIDS by up to 50 times.
The new Lullaby Trust guide includes key advice for safer co-sleeping:
Keep the space around your baby clear of pillows and duvets
Always sleep your baby on their back
Avoid letting pets or other children in the bed
Make sure your baby cannot fall out of bed or become trapped between the mattress and wall
Never leave baby alone in the bed
Never sleep with your baby on a sofa or armchair
You should avoid co-sleeping if you or your partner smokes. 60 per cent of sudden infant deaths can be avoided by keeping your baby smoke-free during pregnancy and after birth. Last year a study warned that vaping or using e-cigarettes or nicotine patches could also be harmful.
Don't share a bed with your baby if you or your partner has recently drunk alcohol or taken drugs that make you feel drowsy, or if your baby was born prematurely or weighed less than 2.5kg at birth.
However, sharing a room with your baby for the first six months of their life is important, as this can halve the risk of SIDS.
Parenting advice, hot topics, best buys and family finance tips delivered straight to your inbox.
Samantha is a freelance writer at Goodto who has been with team since 2019. Initially trained in psychology, she specialises in health and wellbeing and has additionally written for magazines such as Women's Health, Health & Wellbeing, Top Santé, Healthy, Refinery29, Cosmopolitan, Yahoo, CelebsNow, Good Housekeeping and Woman&Home.