Mum shares genius eco-friendly hack for washing your laundry for free
A thrifty mum-of-two Lucie Mann, 50 has shared a clever and environmentally friendly way to wash her clothes - using conkers.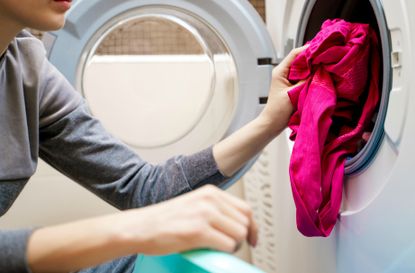 (Image credit: Alamy)
A thrifty mum has found a clever and environmentally friendly way to wash her clothes - using conkers.
Washing powder can be expensive, but not for mum-of-two Lucie Mann, 50, who never spends a penny on it.
Instead, she picks up conkers and using a special method, turns them into a soapy liquid.
This alternative way to wash her family's clothes has saved her at least £60 a year on cleaning detergents.
https://www.facebook.com/lucie.mann.18/posts/10156186911261557
Lucie, from the New Forest, cuts the nuts in half and uses a food blender to chop them up.
She recommends using up to 40g of conkers at a time, leaving the rest to store for up to a year without going mouldy. Around 40g will work for around four washes.
The conkers are then dried out, before being placed in boiling hot water for 30 minutes.
The liquid is then sieved into another jar and the process is repeated twice again.
Lucie told The Sun: "I've spent no money on washing my clothes all year.
"I was probably spending £5 a month before because I stopped using fabric conditioner years ago.
"I would tend to buy what was the largest amount for the least amount of money."
She says the conker detergent produces a scent which "doesn't have the artificial smell" like a usual washing powder.
Lucie added: "I have a mucky eight-year-old and it works well for him and the clothes don't have any artificial smell which is nice.
"But if you have tough stains on white things, it might struggle a bit more."
Lucie, her partner David Green, 53, and their two children James, 8, and Robert, 16, are also planting horse chestnut trees.
They hope to plant at least 30-40 this year.
Another mum Ashley Baxter shared her own hack for getting stains out of white washing, (opens in new tab) with a bargain product costing just £2.
For even more tips to get every room in your home sparkling, check out our 55 cleaning hacks. (opens in new tab)
And, don't miss Mrs Hinch's cleaning tips (opens in new tab) and top product recommendations.
Do you have any unusual cleaning tips or hacks? Head over to our Facebook page and let us know.