'My only escape was sleep' Peter Andre opens up about crippling anxiety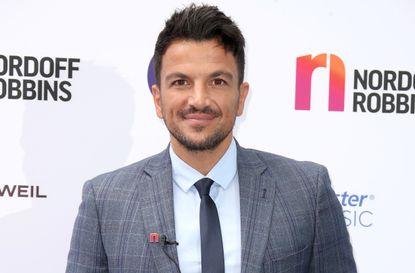 (Image credit: Mike Marsland)
You'd be forgiven for thinking Peter Andre has the perfect life with his gorgeous wife Emily MacDonagh, four children and a great career. But, for Peter becoming a household name brought on anxiety so bad that he ended up hospitalised.
In fact, the singer confesses that he's only recently learned to manage his panic attacks, which are caused by a deep-rooted fear of death. He may have found a way to deal with the crippling anxiety (opens in new tab) now, but Peter has opened about how, in his darkest moments, he was left praying just to get through the day.
Dealing with fame
Even before his time on I'm a Celebrity… in 2004, Peter had already experienced the highs and lows of being a pop star. In fact, it was at his peak – around the time when he released hit song Mysterious Girl – when he began struggling to keep his feet on the ground.
https://www.youtube.com/watch?v=iqIq4B1rgl4
He said, 'I felt like I was an icon, and I started living like one. The worst thing you can do is start believing the hype surrounding you… all the signs were showing that mentally I wasn't in the best shape.
'During a family meal with my parents… I started shaking. Out of nowhere, my mind became flooded with images of me hurting myself. It was terrifying. I ran to my room crying and shaking… I was rushed to hospital. For two years, I suffered up to 20 panic attacks a day. My only escape was when I was sleeping, so I would often spend up to 18 hours a day asleep.'But it was a terrible threat on his life that would later push Peter over the edge…
Dark times
Peter has revealed that, during his early 20s, he was attacked and held at knifepoint. He explained, 'This guy grabbed me in a nightclub in Sydney. He pushed me into the bathroom, pulled out a knife and put it on my neck and said, "Give me a reason I shouldn't finish you off." He kept picking at me with the knife. He said, "You better watch your every step because when we decide the time's right, we're going to finish you."'
Unsurprisingly, the attack had a lasting negative affect on Peter's mental health, making his panic attacks worse than they'd ever been before. Reflecting on the incident, Peter added, 'Years later, after therapy, I realised it all stemmed from that fear of being killed.'
Moving on
After his time in the jungle, during his relationship with Katie Price (opens in new tab) – mum to his elder children, Junior and Princess (opens in new tab) – Peter was still struggling, admitting that when his new music wasn't performing as well as he'd hoped, he was 'going through a very difficult time'.
He said, 'You can go a number of ways when this happens. One person might turn to the alternate reality – drugs. My parents were Jehovah's Witnesses, very anti-drugs, I didn't want to break their hearts. You've got the option of doing therapy or doing nothing and just hoping it's going to sort itself out, or you can top yourself.'
In 2012, Peter had reached a pivotal point in his recovery when his brother Andrew died at just 54. Peter returned to such a dark place that he advised Emily to leave him (opens in new tab) – but, of course, she stuck by her man.
Since working through his issues with the help of Emily, Peter has managed to control his panic attacks and anxiety. 'I said, "You can either stay and stick with me through this, which I personally wouldn't, or you can go." And she said, "It's not even a question. We're going to get through this together."'
Celebrity Content Director
Jack White is Celebrity Content Director at Future, working across Women's Lifestyle brands such as Woman&Home, Woman, Woman's Own, Women's Weekly and GoodtoKnow. When he's not interviewing your favourite stars or writing about the latest make-up/break up, you'll find Jack searching for new Gemma Collins memes, singing (badly) in the office or binge-watching crime dramas.