Andrew Tate release date - and could he go to jail if convicted?
Your update on the influencer's detention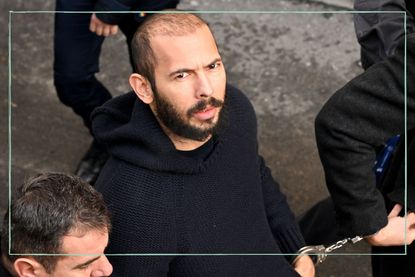 (Image credit: Future/Getty)
Andrew Tate's release date has been extended for a third time by Romanian authorities.
Andrew Tate (opens in new tab) is no stranger to controversy, but certain events of the last few months have led to the influencer coming under more scrutiny than ever. The 36-year-old is currently being detained in a Romanian prison cell alongside his brother Tristan, as an investigation into human trafficking, rape and organised crime claims continues by authorities.
Lawyers have failed three times in their appeal to overturn an arrest warrant for the Tate brothers - first in late January 2023, second on February 1, and again on February 21. Each time has led to a further 30 days detainment. We've shared when Andrew Tate's next proposed release date is, plus details of the arrest and claims against him - which he strongly denies.
When is Andrew Tate's release date?
Andrew Tate, and brother Tristan remain behind bars until at least March 29, 2023. A Romanian judge extended the previous release date by another 30 days on February 21.
Since their arrest in December last year, the brothers have spent almost 2 months being held in prison. Prosecutors can ask the court to extend the suspects' detention for up to 180 days. The two were being held alongside Georgiana Naghel and Luana Radu - personal assistants to the pair who are being investigated for the same accusations. In the latest ruling, however, the two Romanian nationals were granted house arrest, whilst the brothers remain inside.
The detention period was requested by the Romanian organised crime agency DIICOT (opens in new tab) whilst their investigation into the brothers and their two alleged accomplices continues. It's important to note that whilst currently being held in prison cells, all four individuals have not been formally charged as yet.
Tina Glandian (opens in new tab), the US legal attorney hired by the brothers, has claimed that Romanian police have detained the men without any evidence. Speaking after their second appeal was unsuccessful (opens in new tab), she said: "We dispute the allegations. The brothers vehemently deny the allegations.
"I emphasise the fact that we're in February and they've been investigating since April (of last year). If they had sufficient evidence of that, if they had sufficient evidence of anything, they would have filed charges by now.
"Instead they're just detaining them, they're prolonging the detention. They're hoping in the interim - while they're in custody - they find some evidence to keep them on something. But as we sit here today, there is no proof of anything."
The judge who rejected the third appeal on February 21, meanwhile, claimed that Tate was too dangerous to be released still. During the second appeal on February 1, they explained that the detention was down to Tate and Tristan's alleged explotation of vulnerable women. He referenced "the capacity… of the defendants to exercise permanent psychological control over the victims, including by resorting to constant acts of violence".
Romanian authorities investigating Tate have since claimed they have identified six alleged victims who were mentally coerced, physically attacked and sexually exploited by the brothers. According to investigators, the foursome formed an organised crime group to allegedy "recruit.. shelter and transport victims…in order to obtain large sums of money by forcing victims to perform pornographic events" that were intended for TikTok and Only Fans.
When was Andrew Tate arrested?
Andrew and Tristan Tate and their two alleged co-conspirators were arrested on December 29, 2022. The basis of the arrest was an ongoing investigation into suspected human trafficking, rape and the formation of an organised crime group.
On December 30, a Romanian court ruled that Tate and the three others would remain in custody for 30 days. An initial plea to overturn the detention order was refused on January 10, with a second appeal rejected on February 1. Then came February 21 and the news that the release date would be extended again by another 30 days.
Andrew Tate's arrest came after the influencer posted a video on social media in which he hit back at Greta Thunberg as part of an online dispute. In the video Tate was seen with pizza boxes from Jerry's Pizza, which many believed led Romanian authorities to the influencer's location - though this theory has since been debunked.
this is what happens when you don't recycle your pizza boxesDecember 30, 2022
See more
Romanian officials allege (opens in new tab) the four individuals set up an "organised crime group with the purpose of recruiting, housing and exploiting women by forcing them to create pornographic content meant to be seen on specialised websites for a cost."
Could Andrew Tate go to jail?
Charges have yet to be formally made against Andrew Tate by Romanian authorities. However, if police do decide to press charges, then yes, Andrew Tate could potentially face jail time - but only if found guilty of the crimes against him.
Digital sports media publication The Sports Rush (opens in new tab) claim that Tate could be looking at "up to 15 years" if convicted of the crimes he's being investigated for. This being said, Andrew Tate, brother Tristan, and Romanian nationals Georgiana Naghel and Luana Radu have vehemently denied all allegations against them.
"Ask them for evidence and they will give you none. Because it doesn't exist. You'll find out the truth of this case soon," Tate shouted to reporters whilst being escorted to a police van after a court appearance on February 1.
On February 18, Andrew Tate threatened legal action against at least one of the women who has made rape and human trafficking claims against him.
Per the BBC (opens in new tab), lawyers for the woman in America say a "cease-and-desist" letter was sent by a US law firm in December, on behalf of Andrew Tate and brother Tristan. It threatened to sue the woman and her parents for $300m (£249m) if she did not retract her statements.
Andrew Tate arrest timeline - so far
29 December 2022 - Tate brothers are arrested at their Bucharest home
30 December 2022 - A Romanian Court rules that the Tate brothers will stay in detention for 30 days
10 January 2023 - The first appeal against their detention is unsuccessful
15 January 2023 - Romanian Police seize Tate's luxury cars
20 January 2023 - A Romanian Judge extends the detention period until February 27
1 February 2023 - Second appeal against detention extension is rejected by judges
21 February 2023 - Romanian Judge extends the detention another 30 days
Video of the Week
Emily Stedman is the Features Editor for GoodTo covering all things TV, entertainment, royal, lifestyle, health and wellbeing. Boasting an encyclopaedic knowledge on all things TV, celebrity and royals, career highlights include working at HELLO! Magazine and as a royal researcher to Diana biographer Andrew Morton on his book Meghan: A Hollywood Princess. In her spare time, Emily can be found eating her way around London, swimming at her local Lido or curled up on the sofa binging the next best Netflix show.