Did Spencer Matthews find his brother? Finding Michael ending explained
The documentary follows Spencer Matthews on his journey to Mount Everest to try and recover his brother's body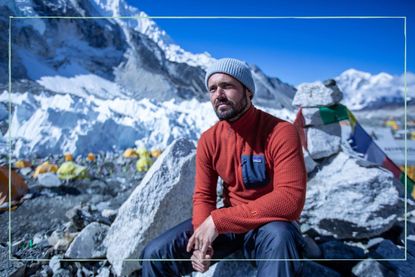 (Image credit: Disney+)
The new Disney+ documentary attempts to explain what happened to Made in Chelsea star Spencer Matthews' brother on Mount Everest in 1999 - but did Spencer find his brother?
Finding Michael first got TV fans talking earlier this month when the documentary failed to appear on Disney+ on its advertised release date - leaving many wondering why Finding Michael was delayed (opens in new tab). Finally the film has landed on the streaming service, recounting the tragic loss that Spencer Matthews and his family dealt with when his older brother, Michael, went missing on Everest in 1999. Fronted by the reality star, the documentary follows Spencer as he organised a search and recue mission for his brother's body, more than two decades after he died.
Much like the release of Netflix's The Plane that Disappeared has people wondering what happened to Malaysia Airlines flight MH370 (opens in new tab), while Channel 4's George Michael: Outed has others asking what did George Michael do to get arrested (opens in new tab), Finding Michael viewers want to know more about what happens in the documentary - inculding if Spencer found his brother.
Did Spencer Matthews find his brother?
Sadly, Spencer did not find his brother's body in Finding Michael. Though the search and rescue crew found several bodies in the area where Spencer's body is believed to have gone missing, none of them matched the description of Michael Matthews.
Spencer was just 10-years-old when Michael died, and has always struggled to accept his death without a body to mourn. His decision to search for Michael on Mount Everest was prompted in when, in 2017, Spencer's family was sent a picture by a climber that showed what appeared to be a dead body buried in the snow, wearing similar clothing and in a similar location on the mountain to where Michael went missing.
What happened to Michael Matthews?
On 13 May 1999, Michael Matthews became the youngest Briton to climb Mount Everest at the age of 22. However, on the way down he went missing and has never been found.
Michael set out on the journey to the summit with a group of fellow climbers, but while making his descent they were hit with heavy snow and strong gales while in what's known as the mountain's Death Zone, more than 8,000 metres above sea level.
Though he was an experienced climber, having already scaled the Swiss Alps, the Pyrenees and Kilimanjaro, he is said to have been struggling towards the end of the trek up Everest.
The documentary describes how, three hours after reaching the summit, Michael became separated from the pack. He was following behind a guide on the way down, but at some point during the descent he disappeared, and his body has never been found, making him the 162nd person to die on Everest.
What happens in Finding Michael?
Finding Michael sees Spencer Matthews travel to Everest base camp as part of a search and rescue mission to recover his brother's body. A team of experienced mountaineers scour the area where Michael is thought to have died, but unfortunately they were unable to find his body.
The documentary is executive produced by Bear Grylls, and the mission was led by Nims Purja, the world record holder for climbing all 14 mountains over 8,000 metres the fastest.
The expedition lasted a month in total, with Spencer departing just days after his wife Vogue Williams gave birth to their third child. Once on the mountain, at an altitude of over 8000m, the team relied on a 10-man search crew and drones to find Michael.
Though the mission was unsuccessful, Spencer decided to use their resource to allow another family to bring the body of a loved one home. He met with the brother and mother of Wong Dorchi Sherpa, who died on Everest in May 2021.
As the location of Wong Dorchi Sherpa's body was known, it was much easier for the team of mountaineers to find him and bring the body down the mountain to his family who lived locally.
How to watch Finding Michael
Finding Michael was released on Disney+ on Tuesday 7 March 2023. This was a delayed release from the original date of March 3.
Although no official statement explaining the delay has been released, reports have claimed that the streamer pulled the documentary for re-editing over fears that the footage of bodies might be deemed insensitive.
Taking to his Instagram Story to announce the news, Spencer said: "Apologies to everyone trying to view Finding Michael on Disney+."
He went on, "The debut date has shifted and we'll update you as soon as we have the new timings."
You can sign up to Disney+ (opens in new tab) for £7.99 per month, or save 16% with the annual subscription at £79.90 a year.
Video of the Week
Ellie joined Goodto as a Junior Features Writer in 2022 after finishing her Master's in Magazine Journalism at Nottingham Trent University. Previously, she completed successful work experience placements with BBC Good Food, The Big Issue and the Nottingham Post, and freelanced as an arts and entertainment writer alongside her studies. In 2021, Ellie graduated from Cardiff University with a first-class degree in Journalism.