What did George Michael do and why was he arrested? Channel 4 documentary Outed looks at the late singer's public coming out
He was outed in a very unfair way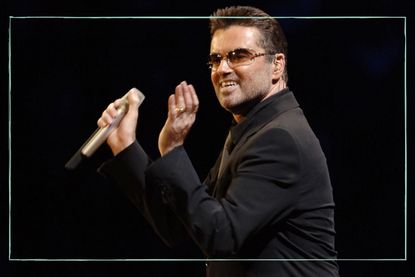 (Image credit: PA Images/Alamy)
George Michael managed to turn around a moment in his life that could have destroyed him, to create something positive.
When George Michael was arrested in Los Angeles in 1998, it appeared that his career could certainly falter. However, new Channel 4 documentary George Michael: Outed, takes look at aftermath of the event, and how "a potentially career-crushing event became a defining moment for gay liberation." Part 1 of the 2-part factual account airs on Monday, March 6 and is set to feature previously unheard audio footage of the late singer. With interest piqued in the legendary icon, we take a look at exactly what George Michael did on that fateful 1998 night, and why he was arrested.
For those asking what did Charles Bronson go to prison for (opens in new tab), Channel 4 documentary Bronson: Fit to be Free? looks at the infamous inmate's current quest to be released. Factual drama on the channel Consent (opens in new tab), took the accounts of hundreds of school aged pupils and their experience of consent, and turned them into a must-watch. Documentary In The Footsteps of Killers looked at what happened to Deborah Wood (opens in new tab) - investigators have never found the young woman's murderer.
What did George Michael do?
In 1998, George Michael allegedly performed a lewd sexual act on a plainclothes undercover police officer in Los Angeles public toilet. The singer later described a feeling that he'd been deliberately trapped by the incident.
According to Far Out Magazine (opens in new tab), the singer later spoke on David Letterman about what exactly happened. Michael said "I have no problem talking about it; I'm just trying to work it out. I'm very good at embarrassing myself. What happened was kind of vaguely, slightly inebriated popstar on a lovely summer's day, and I went into the restroom. I was followed in."
In his own words, the singer continued to describe the incident, saying "It's a very classy restaurant, directly opposite the Beverley Hills Hotel. Basically, I was followed into the toilet by a man well over six foot. Fairly attractive. The official word is entrapped, I suppose; I was coaxed fairly directly."
Trying to find the words to say exactly what happened without being too graphic, Michael explained "What did the guy do? This is the nicest way I can put it; I don't want to be graphic and nasty. He played a game called 'I'll show you mine, you show me yours and then I'll take you down the police station'."
"He didn't have to drop his pants. I'm not allowed to say the words, am I? I'm a bit stuck here. He had the important equipment [out]. The police report said that he was simulating urination. I'm sorry, excuse me, but how do you simulate urination and make no noise? If you tried to simulate urination doing that with your hands, I'm sorry, but you'd get wee all over the shop, is all I can say. Don't try it at home – no, actually, do try it at home because you're safe there."
Michael was only 34-years-old at the time of the incident, and only close friends knew he was homosexual. He had chosen not to make the information public, not even telling his mother. He spoke of the outing in 2007, saying "Understand how much I love my family and that Aids was the predominant feature of being gay in the 1980s and early 90s as far as any parent was concerned. My mother was still alive and every single day would have been a nightmare for her thinking what I might have been subjected to."
Why was George Michael arrested?
George Michael was arrested for reportedly performing a lewd act in public in 1998, something serious enough to warrant an arrest.
According to Law Insider (opens in new tab), the definition of a lewd act is "any physical activity of the human body, whether carried out alone or with other persons, including singing, talking, dancing, acting, simulating or pantomiming, which as a whole is considered by the average person and according to contemporary community standards, to appeal to lustful interests, that is, a morbid interest in nudity, sexuality or physiological functions and which represents or depicts in an overtly offensive manner any sexual conduct and lacks any serious literary artistic, political, religious, scientific or educational value."
After the undercover officer exposed himself to Michael and he'd returned the gesture, the officer immediately left the toilet block. On the return to his nearby car, he was arrested - officers claimed they didn't know he was a celebrity at the time. He pleaded "no contest," receiving a $810 fine and sentenced to complete 80 hours of community service.
How did George Michael die?
George Michael died from complications relating to dilated cardiomyopathy and fatty liver. He passed away on Christmas Day, 2016, at the age of 53 at his home in Goring-on-Thames.
According to Mayo Clinic (opens in new tab), dilated cardiomyopathy is a form of heart muscle disease that causes the heart chambers to thin, stretch, and grow larger. It usually begins in the heart's main pumping chamber, or left ventricle. Dilated cardiomyopathy makes it difficult for the heart to pump blood around the body.
More common in men than women, symptoms generally include fatigue and shortness of breath. As these can mimic other health conditions, symptoms can often be missed and the condition becomes life-threatening - it is a common cause of heart failure.
According to Cleveland Clinic (opens in new tab), fatty liver disease or steatosis, is a common condition caused by too much fat building up in the liver. This becomes a problem when fat reaches 5% to 10% of your liver's weight. In most cases this isn't a problem, but in 7% to 30% of cases, fatty liver disease gets worse over time and can result in the serious condition of liver cirrhosis.
Did George Michael have a partner?
George Michael's partner of 13 years was Kenny Goss. At the time of his death, his partner was Fadi Fawaz.
Kenny Goss is an art dealer, and his relationship with Michael lasted from 1996 to 2009. Goss participates in the documentary, with director Michael Ogden speaking to Esquire (opens in new tab) about his part in it. Of Goss, he said "He was so genuinely brilliant and nice and, actually, here's a man who loves George to this very day and I don't think he's ever had the chance to sit down and talk on camera in the way he did.
I have so much respect for him, and I think he is a man who was devastated by his death, he was still in love with him, still loved him. He hinted a little bit about never being able to live in the moment; always worrying about George and that relationship, he was the grounded one, and worrying about this person who was in the public eye, this swirling world."
Michael and Goss were together at the time of the singer's arrest, with Goss telling Radio Times (opens in new tab) "We met for lunch. We had this favourite place that George loved called Cynthia's, which had this afrocado [avocado with ice cream]. George had a bottle of wine, maybe a bottle and a half, and I went off to do other things. Later, I went home. And that's when I got the call…"
"I went down to the police station and they told me how much money I had to go and get [for bail]. I had to run around a lot. It was past opening time for banks, and those days you had to go to a lot of cash machines to get even a thousand dollars. I got George out, but he didn't want to talk about it. We had to stop by the park to get his car, then we drove home. I wasn't bugging him, but he told me an hour or so later. It did come as a surprise to me, but I didn't get upset with him. He seemed very stressed out."
He continued "From the moment he was arrested, when he wasn't with me, there was always a little bit of me, thinking, is he going to be OK? I was always worried about what might happen, that he might get into trouble again." The pair eventually split due to struggles with individual addictions, although Goss concluded "We kept the foundation we had built together, and I never stopped checking on him."
Related Channel 4 Features:
Video of the Week
Lucy is a multi-award nominated writer and blogger with six years' experience writing about entertainment, parenting and family life. Lucy has contributed content to PopSugar and moms.com. In the last three years, she has transformed her passion for streaming countless hours of television into specialising in entertainment writing. There is now nothing she loves more than watching the best shows on television and telling you why you should watch them.