Gogglebox star Evie Woerdenweber announces engagement after three-year romance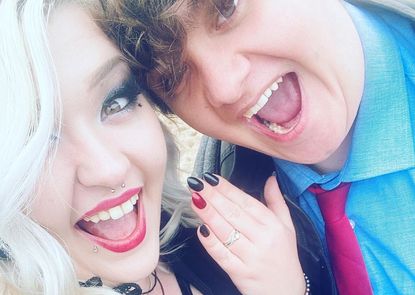 It has been a very memorable weekend for TV star Evie Woerdenweber, who announced her engagement on Friday.
Gogglebox star Evie, who has appeared on the show with her parents Viv and Ralph, revealed on social media that she is set to wed her partner of three-years, Alex.
The fan-favourite shared an elated post on Instagram and Twitter announcing her joyous news, writing, '3 wonderful years together. He proposed and I said yes! Bring on the wedding planning.'
Evie's parents were quick to respond to their daughter's wedding news in a Twitter post.
They wrote, 'We are delighted that after 3 years together our lovely daughter @GoggleboxEve & Alex have announced their engagement.
'We are all very happy for them as they are made for each other. Now on to wedding planning. #wedding #weddingplanning.'
Fans of the reality TV star were quick to send messages of congratulations, with one writing, 'Congratulations to you both, good luck with the planning.'
Another said, 'Fab news! Congratulations to you both xx.'
While a third added, 'Congratulations to you both, nice to hear some positive happy words for a change. Enjoy and best wishes fir your future happiness.'
Evie first appeared on the hit Channel 4 show with her parents and ex-boyfriend Jay Makin.
Jay soon became a favourite with viewers because of his dry and lacklustre responses on the show, earning him the nickname of 'Silent Jay'.
MORE: Gogglebox star Shaun Malone reveals he almost died and suffered brain damage after traumatic health scare
However, he left the show because the pair decided to go their separate ways, but they still remain friends.
There's been plenty of good news from the Gogglebox cast lately.
Izzi Warner, who is usually joined on the sofa by her sister Ellie, welcomed a little girl in February, Bessie Rose.
And Shaun Malone became a dad for the first time earlier this month. Sharing his happy news on Twitter, he wrote, 'Super happy to announce the birth of my son Louis Malone.'
A Freelance Writer and Content Editor, Jenni has been working on the women's lifestyle team at TI-Media on and off for over three years. She writes about your favourite celebrities and TV shows so you never miss an update. Jenni also writes beauty news and features - so for all of your skincare and make-up needs, drop her a line.