Great British Bake Off contestant makes emotional tribute on this week's show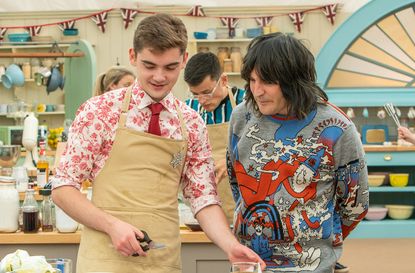 (Image credit: Channel 4)
This week's Great British Bake Off saw one contestant make a sweet tribute.
The Great British Bake Off (opens in new tab) has been providing us all with our weekly dose of baking excitement.
However, fans were outraged last week when the show saw not just one but two contestants eliminated.
Viewers were in shock to see that popular contestants Helena Garcia and Michelle Evans-Fecci faced a double elimination.
MORE: Great British Bake Off star Helena Garcia opens up on breastfeeding during filming
And when forlorn fans tuned in to enjoy this week's show, it turns out that the viewers weren't the only ones who couldn't handle the missing contestants.
Show favourite Henry Bird, who is known for his polite demeanour and spotless knotted tie in the kitchen, made a sweet tribute the two newly-eliminated contestants Helena and Michelle.
The Durham University student added to his outfit in the form of a brooch and pin.
In tribute to Helena, who was known for her gothic style bakes, Henry wore a spider's web brooch.
And fans couldn't contain their excitement.
'IS HENRY WEARING A SPIDER WEB PIN AS HOMAGE TO HELENA?!? 😭🕸🕷 #GBBO #bakeoff,' wrote on fan.
While another wrote, 'Looking sharp Henry. Let's take a moment to appreciate his little web brooch. Anyone else think it's a sweet nod to Helena? 🕸️❤️ #GBBO2019 #bakeoff'.
Another viewer commented, 'Henry having a spiders web broach on his apron in honour of Helena being booted off is the cutest,most wholesome thing I've ever seen on Bake off (along with Hawaiian shirts from last year)😭honestly the bake off contestants are the cutest people ever. #GBBO2019 @BritishBakeOff'.
Others added, 'Omg! I noticed Henry's spider web and wondered if that was bc of Helena! Bake off has definitely the nicest people 🙂 #GBBO2019', 'on bake off is Henry wearing those pins on his apron for Helena and Michelle leaving last week? how cute' and 'Henry's spider web on the apron in tribute to Helena 🕸️ 🎃🦇 #GBBO2019 #GBBO #BAKEOFF'.
One eagle-eyed fan even spotted that the dedicated contestant was another addition to his outfit in honour of contestant Michelle, writing, 'Great British Bake Off Henry wearing a sparkly spiderweb brooch and a Welsh flag pin for Helena and Michelle is super cute #GBBO2019'.
Alongside the spider's web brooch, viewers were able to see a small Welsh flag pin as a tribute to Michelle. How cute!
We wonder if we'll see any other adorable gestures!
Aleesha Badkar is a lifestyle writer who specialises in health, beauty - and the royals. After completing her MA in Magazine Journalism at the City, the University of London in 2017, she interned at Women's Health, Stylist, and Harper's Bazaar, creating features and news pieces on health, beauty, and fitness, wellbeing, and food. She loves to practice what she preaches in her everyday life with copious amounts of herbal tea, Pilates, and hyaluronic acid.