The Great British Bake Off 2019: Everything we know so far!
We can't wait for this!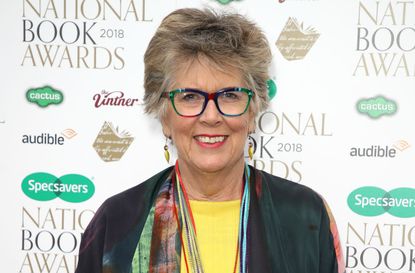 (Image credit: Mike Marsland)
Yes, it's the moment we've all been waiting for ever since last year - the return of The Great British Bake Off (opens in new tab) 2019! And, as Channel 4 series returns, Paul Hollywood and Prue Leith reveal what we can expect from the new series.
Over the past decade, he's gained a reputation as one of the toughest judges on TV, but Paul Hollywood isn't really a pantomime villain, says his co-star, Prue Leith, who replaced Mary Berry three years ago on The Great British Bake Off.
In fact, the 79-year-old thinks he is actually a great big softie.
Likening Paul, 53, to one of the world's most famous treat cakes, a doughnut, Prue laughs told Woman;s Weekly (our sister site): 'He has this hardman stuff of, "It's a competition, it's about the baking," but I don't think that is so. Paul is like a doughnut – he is hard on the outside and squishy in the middle!'
As Paul and Prue chat together ahead of the new series of Bake Off, they are in very jovial spirits. Smiling, joking and taking the mickey out of each other regularly, it's clear they have developed a great friendship both on and off screen.
[apester id="5d5fc304a809d4564dc53f30"]
And while Prue credits Paul for helping her so much at the start in making her feel at ease on set, he says she has brought a lot of fun to the proceedings.
So what is the funniest question she gets asked about Paul? Smiling, Prue replies that whenever she travels the country at book festivals to promote her other big passion – romantic novels – it is not whether Paul's bark is bigger than his bite that she gets asked, but about his good looks.
'"Are Paul Hollywood's eyes really blue?"' she chuckles. '"Or are they contact lenses?" The next one is, "Is the suntan fake?" I spend half the time defending Paul's perfectly real eyes and suntan!'
Both roaring with laughter, Paul and Prue say they still love everything there is to love about Bake Off.
And it would seem celebrities can't get enough of the iconic tent and awe-inspiring showstoppers either. 'Jennifer Garner was doing a recipe and following mine,' says Paul. 'She messed up and said, "I hope he's not watching." Keira Knightley is a big fan of the show too.'
Rest assured, however, Paul has not gone totally gooey-eyed over this year's crop of bakers as he insists he never tires of telling them what's what.
'You can rule with a pat on the back or you can rule with a whip. I don't necessarily rule with a whip,' he jokes, before adding, 'But I was hard this year. When they are younger, they have to start somewhere. But they are all very keen to learn. They pick up little nuggets every week and get better and better. They are like sponges.'
He says he never tires of the viewers getting angry when they think the wrong person has been sent home and he admits it is 'invariably him' who gets the flack.
And, as Prue reveals, their decision-making can lead to some very surreal moments when she is out and about.
'I remember when someone was telling me in a supermarket we had got it completely wrong,' she chuckles. 'I said, "It did look very good, but it didn't taste very good." And she said, "But no, it was perfect." She even said, "I think it was delicious." There was nowhere to go with this conversation!'
Admitting this year's contest will be very 'closely fought', Paul thinks there are a lot more highs and lows than in previous years.
He explains, 'We had to look at more detail this year on all the bakes than we ever have to split them up. It became, not difficult, but a bit more challenging for us to pinpoint what we were looking for and why we were looking for certain things.
'But the bakers have also got better. In the first series, they didn't know what they were getting into. Now they are more aware of what the challenges are going to be.'
'Everyone knows it's a kind show,' adds Prue. 'They are not going to be humiliated. The whole atmosphere in the tent is to try and make it possible for the bakers to do their very best.'
And the fact the show is so gentle is one of the many reasons why the programme is still so widely regarded 10 years after it first graced our screens. It is a landmark that Paul, who stayed with the show when it moved from the BBC to C4 while his fellow stars all quit, is understandably very proud of.
'To see how much the show has grown has been incredible,' he says. 'We are now getting 12, 13, 14 million viewers. Cottage industries have begun too. Whether you are a bloke or a girl, baking is cool and when the show starts, you see the frenzy. It creates an emotion and focus. It's a nice, comfortable way of setting off the school year.'
This above interview was originally published in Woman's Weekly.
What else to do we know about The Great British Bake Off 2019? GoodtoKnow writer Amy Hunt, reveals all...
Great British Bake Off advert
With the very first trailer for the Great British Bake Off 2019 released online, it's time to get ready for chocolate cake (opens in new tab), biscuits (opens in new tab), and pies (opens in new tab) galore!
Every year, about a month before the show returns to our screens, a Great British Bake Off advert is released to whet our appetites - literally!
Last year, the show's very memorable trailer - which featured baked good singing along to Christina Aguilera's hit song Beautiful - became an instant hit on social media.
And this year, fans have been loving the rather zany trailer, which sees the UK preparing for the next few weeks of baking excitement.
The Great British Bake Off 2019 trailer starts with a 'news report' showing shoppers going crazy whilst out hunting down baking supplies, and continues to show everyone at home cooking and sharing their creations.
It's a slightly bizarre trailer, with one scene showing some coal miners enjoying pasties inside an oven - and it even features an appearance from the Cookie Monster! The end shot shows the programme's stars, Noel, Prue, Sandi and Paul, as faces on some cupcakes, singing the song of the trailer.
It has to be seen to be believed - so watch the minute-long clip below...
https://www.youtube.com/watch?v=xzSTqVUWEzU
So while the trailer doesn't really tell us much about the new series, it's certainly got everyone excited.
When does the Great British Bake Off start?
The air date for the first episode of the series has finally been announced by Channel 4's official twitter account. The show will return to our screens on Tuesday 27th of August at 8pm.
Alongside a fabulous picture of the Bake Off's judges Paul Hollywood and Prue Leith, and hosts Noel Fielding and Sandi Toksvig, dining at an afternoon tea (opens in new tab) party, the channel wrote: 'There ain't no party like a Mad Hatter's tea party. #GBBO returns Tuesday 27th of August at 8pm.'
Read more: Great British Bake Off contestants: Where are they now? (opens in new tab)
As with every series, the show will run for 10 weeks, where the winner will then be announced. This means that the final usually takes place at in October, and it should be the same this year.
Who are the bakers on the Great British Bake Off 2019?
This year's Great British Bake Off line up was revealed on the British Bake Off's official Instagram account on Tuesday.
This year's line up consists of 13 brand new bakers - rather than the usual dozen.
Last year, audiences fell in love with the 2018 winner, Rahul Mandal - so who might win this year?
Is Bake Off: An Extra Slice coming back?
It's been confirmed that Jo Brand's GBBO spin-off show will be returning, with a recent post on the official Instagram account.
They also revealed that Tom Allen, comedian and co-host of Bake Off: The Professionals, will be joining Jo. He was an occasional guest on Extra Slice last year, but it's not clear yet if his role will be more regular this year.
Will the Great British Bake Off be back next year?
There's happy news for fans, as Channel 4 confirmed a few months ago that the show will continue until at least 2021 - which is another three series, including the one coming up! It's not clear where GBBO's future lies beyond that, but it means we've got a good dose of baking to look forward to for a while yet.