Holly Willoughby reveals exciting baby news on This Morning
Holly Willoughby had two sets of very exciting baby news to share with This Morning viewers this week.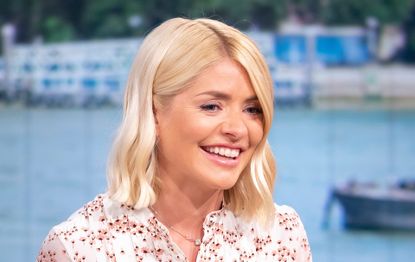 (Image credit: Ken McKay/ITV/Shutterstock)
Holly Willoughby had two sets of very exciting baby news to share with This Morning viewers this week.
Earlier on in the week, the mum-of-three had shared the heart warming news that This Morning's floor manager Alex had given birth to her first baby with cameraman Steve, a little boy called Max. But on yesterday's show, Holly had a double announcement to make: Sarah, the show's publicity manager, had given birth to not just one, but two babies!
'We have had some very special news this morning,' Holly revealed. 'Just a few weeks ago, our publicity manager Sarah went off on maternity leave and we are very pleased to announce that she has given birth to twin girls.'
Phillip Schofield went on to reassure This Morning viewers that although little Ava Violet and Emily Ivy had come six weeks early, both had arrived safely and mother and daughters were all doing well, thanks to 'a little extra hospital care'.
Holly paid tribute to the hospital staff caring for the new mum and her new arrivals, adding: 'Sarah and her husband Chris wanted to pass on their thanks to all the staff on the neonatal ward at St Peter's Hospital in Chertsey for taking very good care of them.'
On Monday, after the birth of the first new addition to the This Morning clan was announced, Holly revealed that she had correctly predicted that Alex and Steve's son Max would be a boy before he was born. And it was all down to how Alex cradled her bump.
'I have this way to predict what baby you are having and I am quite successful,' Holly revealed. 'If you hold your hands like this on your bump – where your hands bend – if it goes in that's a boy and if it goes out it's a girl.'
Astonishingly, Phillip added that his co-presenter had a '100 per cent' success rate with her gender predictions. Impressive...
Samantha is a freelance writer at Goodto who has been with team since 2019. Initially trained in psychology, she specialises in health and wellbeing and has additionally written for magazines such as Women's Health, Health & Wellbeing, Top Santé, Healthy, Refinery29, Cosmopolitan, Yahoo, CelebsNow, Good Housekeeping and Woman&Home.