Nadia Sawalha opens up on morning anxiety in candid video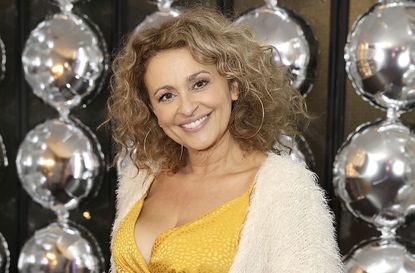 (Image credit: Getty)
Nadia Sawalha has opened up anxiety to her fans.
The Loose Women star is known to be candid about her personal life, sharing open and inspiration stories and image with her fans via her social media pages.
And now she has opened up about anxiety (opens in new tab).
The 54-year-old took to her Instagram to share her thoughts on morning anxiety.
More: Nadia Sawalha reveals struggles with 'menopausal binges' (opens in new tab)
Speaking to her 187K followers in a video via on her Instagram stories, the mum-of-two said: 'I'm having one of those really annoying mornings this morning, where I woke up just so anxious and stressed about everything.
'And then what happens to me is I then feel guilty,' continued the former EastEnders star, 'because I think: 'My god look at your bloody life, what do you feel stressed about? What do you feel anxious about?' Thought I'd share with you how I'm feeling much better than I did when I first woke up.'
Revealing how she dealt with her anxiety, the TV presenter added: 'So I did a really good meditation by Jonathan Lehmann, just a ten minute one. Then I had a little stretch, and now I'm out with my dogs!'.
The ITV star took her Instagram feed earlier in the week to share a candid post about body confidence, posting an image of her skinny dipping in a swimming pool.
'Whole next level in body confidence for me!!!' wrote Nadia alongside the image in which she is completely naked. 'I can't believe it but I only swam flaming naked in the flaming pool today!!! This has never happened!!!'.
Adding the hashtag 'liberating', Nadia continued: 'God it felt good to swim totally free!! I'm not going to lie I would love to say I leapt out and pranced around the pool but in truth I nearly drowned trying to get my bikini back on IN the pool!! Not quite ready to haul myself up the steps in my birthday suit!!! Maybe next year eh girls!!'.
Aleesha Badkar is a lifestyle writer who specialises in health, beauty - and the royals. After completing her MA in Magazine Journalism at the City, the University of London in 2017, she interned at Women's Health, Stylist, and Harper's Bazaar, creating features and news pieces on health, beauty, and fitness, wellbeing, and food. She loves to practice what she preaches in her everyday life with copious amounts of herbal tea, Pilates, and hyaluronic acid.