Nadiya Hussain opens up on suicide, revealing how her mum stopped her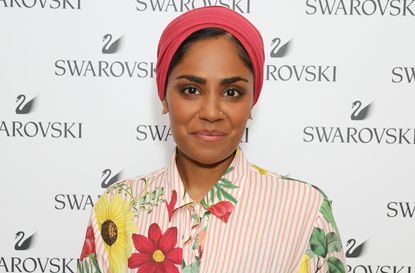 (Image credit: Getty)
GoodTo newsletter
Sign up to the GoodTo Newsletter. You can unsubscribe at any time. For more information about how to do this, and how we hold your data, please see our privacy policy
Thank you for signing up to . You will receive a verification email shortly.
There was a problem. Please refresh the page and try again.
Nadiya Hussain has opened up on suicide.
The former Great British Bake Off (opens in new tab) winner has released a new autobiography Finding My Voice, where she opens up about contemplating suicide, revealing how her mum stopped her from going through with it.
Speaking to You magazine about how she was bullied at school as well as being sexually abused as a child by a distant family member, Nadiya (opens in new tab) said that she remembers hearing about suicide on the TV at ten-year-old, saying, "I can only equate it to a feeling similar to being able to buy a bus ticket."
"It was, like, 'What? I can buy this ticket and I can just go and I'd never get bullied again?'"
In an excerpt from her book, Nadiya revealed that she tried to commit suicide one day after school by taking an overdose of tablets.
However, she said that she was interrupted when she found out that her mother was expecting another baby.
Explaining that she got out a packet of tablets and started to swallow the first one, the Bake Off star wrote, 'I didn't know what death was. All I knew was that it meant not living the life I had now – and I didn't like my life.'
Adding that she ran out of water to swallow the next pill, she wrote, 'I was excited that I was going to do this. I was not going to get bullied tomorrow, but first I had to go downstairs to get some water.'
MORE: Nadiya Hussain fights back tears as she reveals adorable 'get well soon' gift from her son (opens in new tab)
But she then continued that a family occurrence stopped her from carrying on, 'As I walked across the living room, everyone was huddled around my mum.
'"Tell them!" Dad said.
'"Mum's having another baby!'".'
After heading back to her room with her full glass of water to carry on her task at hand, Nadiya said that she paused and decided to go through with after the baby was born.
MORE: Bake Off's Nadiya Hussain reveals her secret to a happy marriage
'I had to meet this new baby who was either my brother or sister,' she wrote.
However, after meeting her baby brother she said that she fell so in love with him that she couldn't go through with taking her life.
'"I can't go anywhere,' she wrote, 'I have to stay for him. He will need me."
'So I stayed. The epitome of a new life in more ways than one.'