Friends fear for 'lonely' Phillip Schofield after he celebrates his birthday 'alone'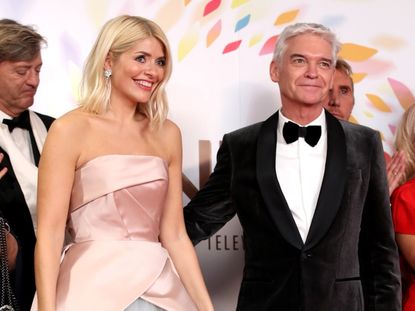 Lockdown birthdays aren't fun for anyone, but spare a thought for Phillip Schofield, who reportedly spent his 59th birthday alone.
It's been a roller- coaster ride of a year for Phillip, who – just weeks before the world went into lockdown because of the global pandemic – came out as gay, having been married to his wife Stephanie for 27 years.
While this wasn't Phil's first birthday since the big announcement last February, it's the first milestone he's marked while living alone in his new bachelor pad in London.
And sources tell Woman's Own magazine that he's understandably feeling heavy-hearted about it.
Moving on
After making the admission that he is gay live on This Morning with best pal Holly Willoughby by his side, Phil left the family home he shared with Stephanie and their two children, Molly, 27, and Ruby, 25.
But his plans to embark on a new chapter in London were rocked when the country was plunged into lockdown.
Suddenly Phil's fresh start felt more like a bad dream when he was left isolated and living alone.
Our source tells us, 'Phillip is human and, like many of us over the last year, has felt lonely at times – it's only natural. It's a new chapter in his life, but you could argue it's not how he expected it to be right now.'
Close friends
While Phil and Holly's very close friendship has been a rock for both of them throughout the pandemic, restrictions mean he still won't be able to celebrate his birthday properly with her.
Because although he organised some thoughtful surprises for her 40th birthday – which was also during the lockdown, back in February – they can only really mingle when at work, hosting This Morning.
With Phil's family miles away in Oxfordshire, those close to him have concerns. 'Phil's friends and family worry about him being alone,' says Woman's Own's source.
'When he got his new place in London it was supposed to be a fresh start, but things haven't quite gone to plan.'
Support network
Fans of This Morning might remember Phil getting visibly upset during a phone-in with a 'lonely' pensioner, who was desperate to see her family.
Could this have been a sign her struggle resonated with him? He recently confessed, '2020 has been a difficult year to say the least – that's why a little act of kindness can mean more than ever.'
Thankfully, Phil and Stephanie are still on good terms and the former couple haven't even contemplated divorce.
They even recently purchased another property together through their company, Fistral Properties, though it's unclear whether it's for Phil to live in or simply an investment.
Our source adds, 'Even when he is feeling lonely, Phil has a great support network around him. So he's never really alone and he knows that.'
He's made no secret of how supportive his family are, despite the ups and downs of the last year.
'We are a loving family, that hasn't changed,' he says. 'It's us four, but different. We're a work in progress.'
Entertainment writer - contributor
Robyn is a freelance celebrity journalist with ten years experience in the industry. While studying for a degree in Media and Cultural Studies at London College of Communication, she did internships at Now and Heat magazines. After graduating, she landed a job at Star magazine, where she worked her way up to features editor. She then worked at Future as Deputy Celebrity Content Director across Woman, Woman's Own, Woman's Weekly and Woman & Home magazines.