What does a white poppy mean and why are people wearing them ahead of Remembrance Day 2022
Some people choose them over the traditional red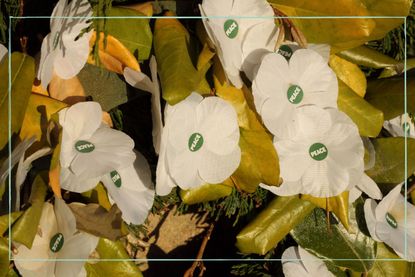 (Image credit: Alamy)
Both red poppies and white poppies can be seen in the run-up to Remembrance Day and Remembrance Sunday - but what does a white poppy mean?
Each year in the run up to Remembrance Day, people start wearing poppies (opens in new tab), with most following tradition by wearing their poppy on the left (opens in new tab) - though the late Queen wore five poppies, with each one holding a special meaning.
It is a tribute to those soldiers who have died fighting to protect the nation and millions of people are expected to mark the historical service, which this year will be held on Sunday 13th November. Ahead of the event, we look at what does the white poppy mean and why do people wear it...
What does a white poppy mean?
According to the Peace Pledge Union (opens in new tab) (PPU), white poppies represent three things: remembrance for all victims of war, commitment to peace, and a challenge to the glamorisation of conflict.
The white poppy was first introduced by the Co-operative Women's Guild - a national organisation set up to provide women in co-operatives a voice in 1933 - and soon became used by non-violent and faith organisations and were also frequently worn by the widows and children of dead soldiers.
Today, we're launching this year's #WhitePoppy campaign! #WhitePoppies stand for remembrance for all victims of war, a commitment to peace and a rejection of militarism. Find out more at https://t.co/6mf8nvYsjF. #RememberThemAll pic.twitter.com/5rqtOWh4cFOctober 24, 2022
See more
On the PPU website they write: "There are three elements to the meaning of white poppies: they represent remembrance for all victims of war, a commitment to peace and a challenge to attempts to glamorise or celebrate war.
"White poppies symbolise the conviction that there are better ways to resolve conflict than through the use of violence. They embody values that reject killing fellow human beings for whatever reason.
"Nearly 100 years after the end of the "war to end all wars" we still have a long way to go to put an end to a social institution that even in the last decade has contributed to the killing of millions."
They are also worn to remember those killed or imprisoned for refusing to fight and for resisting war.
White poppies have been distributed for Remembrance Day since 1936 and the white poppy wreath was laid from 1937 as a pledge to peace that war must not happen again. It's understood that anti-war organisations such as the Anglican Pacifist Fellowship now support the White Poppy Movement.
Who wears a white poppy?
People who choose to wear a white poppy are often pacifists, and do so because they feel the red poppy glorifies war and conflict.
Just like the red poppy, the white version is still a mark of respect to those who have lost their lives in war, however it serves as a commitment to peace as well as a tribute to all victims of war, while the red poppy traditionally represents remembrance associated with the British Armed Forces.
I wear a #WhitePoppy because remembering the losses of war must lead us to work to create peace in the future. @PPUToday pic.twitter.com/CZLKUmJ5VrNovember 3, 2016
See more
Some people also choose to wear white poppy instead of the red poppy because they believe the red poppy has become politicised. For example, the far-right political party Britain First has previously been accused of 'hijacking' the poppy, and using it in their social media posts to promote their own agenda.
The PPU adds: "In Northern Ireland, for example, [the red poppy] became regarded as a Protestant Loyalist symbol because of its connection with British patriotism."
The white poppy has caused some controversy in the past, with Conservative MP Johnny Mercer (opens in new tab) calling them "attention seeking rubbish" in a tweet (opens in new tab), adding "If you don't want to wear a poppy don't bother; they fought and died so you could choose. But don't deliberately try and hijack it's symbolism for your own ends".
The Royal British Legion (opens in new tab), however, which runs the official Poppy Appeal (opens in new tab) has said that it "defends the right to wear different poppies" but that it will not sell red poppies alongside other colours to avoid confusion.
Hi Toby, We believe how someone decides to pay respects at Remembrance time is a personal choice. Poppies are also not compulsory and nobody should be targeted for not wearing one, or for wearing it differently. 1/2October 8, 2020
See more
Where does the money go from white poppies?
Any profits from the sale of white poppies go towards promoting peaceful alternatives to war, campaigning against militarism, and the PPU's peace education work.
While far fewer white poppies are currently sold than red poppies, the PPU says more than 100,000 white poppies are sold each year. White poppies can be purchased form their online shop (opens in new tab), or you can use their white poppies outlet map (opens in new tab) to find shops, cafes and other public places that sell white poppies.
The PPU adds that the white poppy design is plastic-free, biodegradable and recyclable, to minimise the environmental impact.
Video of the Week
Ellie joined Goodto as a Junior Features Writer in 2022 after finishing her Master's in Magazine Journalism at Nottingham Trent University. Previously, she completed successful work experience placements with BBC Good Food, The Big Issue and the Nottingham Post, and freelanced as an arts and entertainment writer alongside her studies. In 2021, Ellie graduated from Cardiff University with a first-class degree in Journalism.