Geri Horner makes honest revelation about what she's struggled with the most when it comes to joint parenting, and we're all ears
The former Spice Girl has lifted the lid on her different parenting styles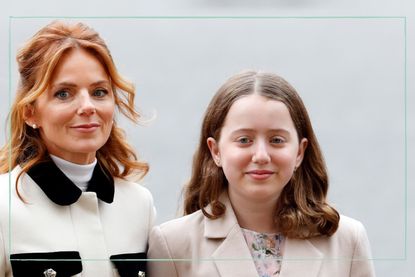 (Image credit: Getty Images)
Geri Horner has opened up on her different parenting styles as a single parent and as one-half of a married team, as she reveals what's been challenging with in an honest revelation.
Whether you're married with kids, co-parenting or bringing them up single-handedly, parenting is no easy feat. And Spice Girl Geri Horner, formerly Geri Halliwell,has experienced both. Her first child, daughter Bluebell, 17, was born to her ex Sacha Gervasi but the couple split after just six weeks of dating, leaving her to face the birth alone in 2006.
And after a tough IVF struggle in her 40's, Geri fell pregnant naturally and has son Monty, six, with her now husband Christian Horner and she is also stepmother to Christian's daughter Olivia, eight.
Speaking on Giovanna Fletcher's Happy Mum, Happy Baby podcast, she recalled how she felt about being pregnant. "I was frightened, because I think you're out of control..." Geri said. "I can remember being in the back of a black cab and everyone's got an opinion on parenting. I heard so many horror stories and I was like 'oh my goodness'."
Geri had her children 10 years apart, and she admitted that it wasn't any easier the second time round.
She said, "The same lady midwife that was with me for Bluebell was the same midwife, Joan, for my son - even though it was 10 years later, so that was really nice and I still looked terrified."
Geri did yoga to help with her pregnancy but she had no choice other than having a caesarean section with both births as Bluebell was a "small" baby and Monty was a "big" baby and whether you have a natural labour or a C-section, she said, "There is no easy way out."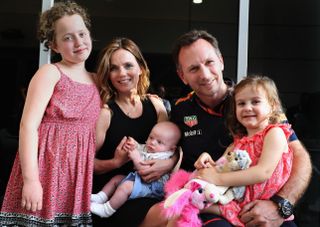 One of the main differences between her two pregnancy's is that for Bluebell, Geri was largely a single parent doing things on her own, and for Monty she is with her husband Christian.
Geri revealed, "I've experienced both and I can tell you, I had my mum to help me with Blue (Bluebell) so I was very grateful and her granddad is gorgeous so he was a fantastic role model for her and he takes her to football, which is amazing. I think they both have their blessings and challenges - being a single parent/ mother you don't have to answer to anyone but it's all on you."
She went on to explain, "And that can be quite stressful and all the responsibilities are on you in every way, broad shoulders are needed and sometimes it's lonely."
"Having the blessing of having a lovely husband or partner, which I've experienced, that's amazing so it's not all on you but then you've got to compromise. We're all different in the way we think things should be done, so learning to be a team, which has been a challenge for me."
Speaking about their different parenting styles, Geri admits, "I'm miss safety conscious. I am so safety conscious, I am that woman that says can you make sure that.... put a helmet on when you walk down the street, no I'm not as bad as that but you see what I mean, I am that."
And if you're wondering where her concerns have come from, she admits Bluebell went through the toddler phase of hurting herself. She explained, "She ran into a piano, she hurt her finger, little accidents that are just awful so I'm much more, like 'I really don't want that to happen again', it's a lot. Anyone who's experienced it, it's not nice."
Meanwhile, Geri revealed that, aside from running around in the garden, son Monty is into engineering. "I'm basically his LEGO assistant. If I showed you what he does with Lego, it's quite impressive and so all I do is the colour coding. He gets the manual out and let's just say I'm his little b**ch! It's quite therapeutic."
And we're not surprised as Lego is still one of the best toys of 2023, it remains a timeless activity that even parents who hate playing with their kids can enjoy. And if you've always wondered when was Lego invented, we have all you need to know.