How many episodes of Daisy Jones and the Six and when are they released?
There's plenty of action to come!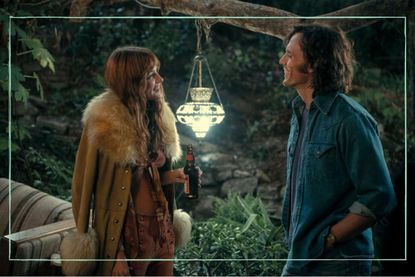 (Image credit: Future/Amazon Prime Video)
We've shared details on episodes and when the next instalment of Daisy Jones and the Six comes out (opens in new tab) on Amazon Prime.
Fashion, fall-outs and rock 'n' roll - Daisy Jones and the Six has all the ingredients to be a big TV hit. Add to that the fact it's co-executively produced by Reese Witherspoon and her company Hello Sunshine (who brought recent books Where the Crawdad Sings (opens in new tab) and From Scratch (opens in new tab) to screens) and we're confident it's a show not to be missed.
Arriving on Amazon Prime across March, anticipation is high, which is why the streaming giant is probably staggering the release of episodes - to keep momentum and fan interest high. As viewers await the second instalment, many want to know how many episodes of Daisy Jones and the Six there are to look forward to. We've shared details on this and what's been said of a season 2 too.
How many episodes of Daisy Jones and the Six are there?
Daisy Jones and the Six is made up of 10 episodes in total - each one lasting approximately 45 minutes. The series airs on Amazon Prime in four instalments, with the first three episodes being released on March 3.
Episodes 4, 5 and 6 follow on March 10, with episodes 7 and 8 arriving a week later on March 17. The last two episodes of Daisy Jones and the Six are released on March 24.
Daisy Jones and the Six - episode guide
Episode 1 - Come and Get It: "Daisy Jones is a disaffected teenager who finds meaning in the Sunset Strip rock scene. In suburban Pennsylvania, Billy Dunne, his brother Graham, and their best friends Eddie and Warren form a band, desperate to escape their surroundings. When Billy and Daisy meet, her talent and his ambition will combine to change all of their lives, for better and worse. This is the story of what happened."
Episode 2 - I'll Take You There: "Having found her voice, Daisy navigates the LA music scene–with the guidance of her close friend Simone and legendary producer Teddy Price. Now in LA and with keyboardist Karen Sirko, the Dunne Brothers band experience their own challenges trying to make it. After a chance encounter with Teddy offers hope, the band is heartbroken to find Billy's demons threatening to overpower his potential."
Episode 3 - Someone Saved My Life Tonight: "A newly-sober Billy tries to balance his artistic calling with his familial responsibility as the rest of the band pick up the pieces in the wake of a disastrous tour. Meanwhile Daisy finds it far more difficult to write music when there are expectations. When Billy writes a new song, Teddy realises that a collaboration between the two songwriters might just be the answer to all of their problems."
Episode 4 - I Saw The Light: "The Six get a taste of the life they've been working towards when their collaboration with Daisy becomes a hit. Rather than defuse the friction between co-songwriters, this only exacerbates it — until Camila negotiates peace. Meanwhile, Graham wrestles with whether to profess his feelings for Karen at a house party in the Canyon, knowing that a wrong move could threaten the survival of the band."
Episode 5 - Fire: "Fresh off their newly-acquired fame and success, Daisy Jones & The Six gear up to record their first album together. However, when Billy and Daisy prove unwilling to collaborate on each other's material, they have no choice but to try and write something from the ground up together. This proves more challenging than either expected. Meanwhile, Karen sees a new side of Graham during a beach trip."
Episode 6 - Whatever Gets You Thru The Night: "The band records their seminal album "Aurora," the heart of which is the always complicated but typically fruitful collaboration between Billy and Daisy. As their working relationship intensifies, their personal relationship threatens to completely implode, causing Daisy to make an impulsive decision. Meanwhile, Camila harbours a secret of her own."
Episode 7 - She's Gone: "As her relationship with Bernie deepens, Simone struggles to come to terms with her identity while finding her voice in the nascent disco scene of New York City. A telegram from Daisy suggests she's in trouble and Simone drops everything to rescue her. What she finds isn't exactly what she expected."
Episode 8 - Looks Like We Made It: "As the Aurora tour begins, the band — now reunited with Daisy Jones — must come to terms with their meteoric rise to superstardom. With tension between Billy and Daisy at an all-time high, Billy's frustration simmers to a boil while Daisy's self-destructive habits turn tragic. Meanwhile Karen and Graham's secret is revealed."
Episode 9 - Feels Like the First Time: "Her spirit broken, Daisy struggles to perform during their appearance on SNL, finding comfort in the last person she expects. After a triumphant return to their hometown Pittsburgh, the band is given a heroes' welcome. But antipathy among the members clouds their performance and threatens their future. Meanwhile, Graham and Karen's romance is threatened when Karen must make a difficult decision."
Episode 10 - Rock 'n' Roll Suicide: "In what will become their final performance, Daisy Jones & The Six perform to a sold-out crowd at Soldier Field in Chicago, Illinois. This is the story of that fateful day — and how their lives were forever changed as a result."
What is Daisy Jones and the Six about?
Daisy Jones and the Six is based on the New York Times best-selling novel of the same name by author Taylor Jenkins-Reid. It tells the story of a fictional 1970s band made up of lead singers Daisy Jones and Billy Dunne and how their electric chemistry led to fame and fortune publicly and falling outs privately.
The Amazon Prime series looks to follow the book's narrative, showing the band's humble beginnings, meteoric rise and shock ending - when the pair called it quits after a sold-out show at Chicago's Soldier Field stadium.
The book's style follows an interview structure. Band members and family members reflect and recollect the events of being part of the Daisy Jones and the Six story decades later.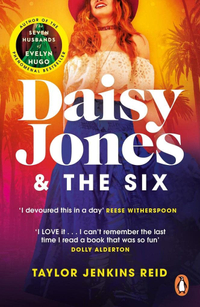 (opens in new tab)
Daisy Jones and the Six (Paperback) by Taylor Jenkins Reid - £5.00 | Amazon (opens in new tab)
From the best-selling author of Seven Husbands of Evelyn Hugo and Malibu Rising, comes Daisy Jones and the Six.
"They were lovers and friends and brothers and rivals. They couldn't believe their luck, until it ran out. This is their story of the early days and the wild nights, but everyone remembers the truth differently. The only thing they all know for sure is that from the moment Daisy Jones walked barefoot onstage at the Whisky, their lives were irrevocably changed. Making music is never just about the music. And sometimes it can be hard to tell where the sound stops and the feelings begin."
"Set to the soundtrack of original music from the Daisy Jones & the Six—this is the story of how an iconic band imploded at the height of its powers," reads the official synopsis.
Fans who have read the book on which it's based on have been quick to compare the story with that of real-life band Fleetwood Mac. Many believe Daisy Jones represents musician Stevie Knicks, with Billy Dunne suggestive of Lindsay Buckingham. Author Taylor Jenkins Reid herself has even cited the two as her inspiration in a Hello Sunshine blog post (opens in new tab). Whilst comparisons and interpretations are welcomed, the author has confirmed that the story and the band itself are both fictional.
Is there a season 2 of Daisy Jones and the Six?
No, there are currently no plans for a season 2 of Daisy Jones and the Six. Amazon Prime Video have confirmed that the show is a limited series, which means a sequel is not likely.
It also makes sense that Daisy Jones and the Six isn't back for a second season, seeing as the story is based on a book - and one book at that. Author Taylor Jenkins Reid has shared no plans to write a sequel to her best-seller, so there's no material currently that could be used to make a second series of the show.
But as they say - never say never. If Daisy Jones and the Six proves to be an overwhelming success, then Amazon Prime and Taylor Jenkins Reid may change their minds...
Video of the Week
Emily Stedman is the Features Editor for GoodTo covering all things TV, entertainment, royal, lifestyle, health and wellbeing. Boasting an encyclopaedic knowledge on all things TV, celebrity and royals, career highlights include working at HELLO! Magazine and as a royal researcher to Diana biographer Andrew Morton on his book Meghan: A Hollywood Princess. In her spare time, Emily can be found eating her way around London, swimming at her local Lido or curled up on the sofa binging the next best Netflix show.