Kim Kardashian opens up about the 'chaos' of parenting four kids as a single mum
"There are nights I cry myself to sleep"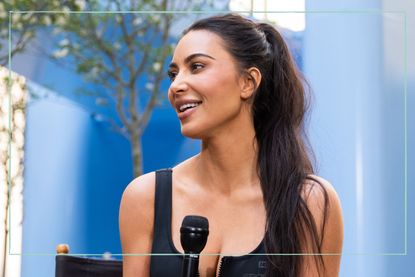 (Image credit: Nathan Congleton/NBC via Getty Images)
Kim Kardashian has spoken candidly about the struggles of parenting four kids as a single mum, saying that while it's 'chaos' dealing with the children alone 'parenting is the thing that has taught her the most about herself.'
The reality TV star, 42, opened up about life raising her four kids, daughters North, 9, and Chicago, 5, and sons Saint, 7, and Psalm, 4, on the On Purpose with Jay Shetty podcast, sharing the ups and downs she has encountered since her split with the kids' father Kanye West last year.
The mum of four married her now ex-husband Kanye West back in 2014, with the couple officially divorcing in November of 2022 after Kim filed the motion in February 2021. The pair were reportedly having troubles as early as 2016 due to, as People reports, Kanye's 'erratic behaviour' which likely stemmed from his struggles with his mental health.
The split left Kim and Kanye with joint custody and 'equal access,' to the four children, according to court documents first obtained by TMZ. But The Kardashians star has now seemingly admitted that the pair are not co-parenting and that she is the children's sole care giver - though she has said she would never talk badly of their father.
Following the divorce, Kim revealed in an interview with Vogue, "For so long, I did what made other people happy. And I think in the last two years I decided, I'm going to make myself happy. And that feels really good. And even if that created changes and caused my divorce, I think it's important to be honest with yourself about what really makes you happy. I've chosen myself.
"You could be so hurt or angry at your ex, but I think in front of the kids, it always has to be 'Your dad's the best.' "
Speaking on the On Purpose with Jay Shetty podcast, Kim revealed what life as a parent is like for her now, revealing, "Everyone says the days are long and the years are short, and that couldn't be like a more true statement. So, like, when you're in it, I mean, especially when they're babies and you're feeding. There's madness going on. It's like full madness. It's the best chaos though.
"It's like I always have to do one of my daughter's hair — and it has to be perfect and it has to be a certain way — and then this one needs me to put his shoes on and they all need you. It's like full crazy madness, cooking, running around. Like, it's wild."
But despite the chaos, of perhaps because of it, Kardashian says that 'parenting is the thing that has taught' her 'the most about' herself. She shared, "It has been the most challenging thing. There are nights I cry myself to sleep. Like, what just happened?
"You know, with all the moods and the personalities and sometimes they're fighting, and you know, there's no one there. Like, it's [just] me to play good police officer and bad cop."
After she shared that she is currently "being a little bit firmer" as a parent, Kim admitted, as many parents across the globe will know, "Parenting is really hard."
She continued, "That's the only way I can describe it. It is the most rewarding job in the entire world. It is. There is nothing that can prepare you. ... I don't care how long you wait. I don't care what you're waiting for. You are never prepared."
But she did offer a slither of hope, saying, "You will figure it out, and it will make you so proud of yourself that you figured it out and that you got through the day."
The star also opened up about how difficult she finds parenting during the night, sharing that, once the sun sets, she is preparing for the worst. "We are going hour by hour to see if we're gonna survive night by night," she said candidly.
"If a tantrum comes in, oh my God, your life is completely upside down. But it teaches you so much more about yourself than I think anyone, any parent, could have ever anticipated."
"I mean, there's nights when you don't wash your hair for days as a mom and you have spit up all over you and you're wearing the same pyjamas, especially in COVID. It was insane, you know?"
For all the rollercoaster emotions she admitted she goes through, Kim still shared that she wouldn't change her life as a mum for anything in the world. "There's just nothing that can prepare you for this experience," she said. "It is the most challenging, rewarding job on this planet."
Royal News and Entertainment writer
Charlie Elizabeth Culverhouse is royal news and entertainment writer for Goodto.com. She began her freelance journalism career after graduating from Nottingham Trent University with an MA in Magazine Journalism, receiving an NCTJ diploma, and earning a First Class BA (Hons) in Journalism at the British and Irish Modern Music Institute. She has also worked with BBC Good Food and The Independent.