Meghan Markle's surprising remark about Kate Middleton and Prince William's wedding years before she met Harry
Meghan Markle made a surprising remark about Kate Middleton becoming a Princess on her old blog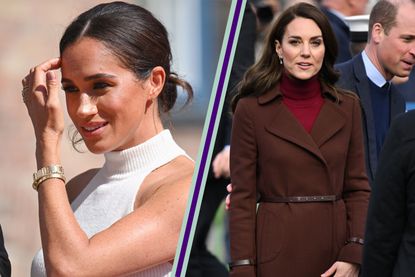 (Image credit: Getty)
Meghan Markle made a surprising remark about Kate Middleton and Prince William's wedding back in 2011, way before she got together with Prince Harry and met the Royal Family.
---
Prince William and Kate's love story (opens in new tab)is one that has captured the hearts of many - but clearly not Meghan Markle, who shared her thoughts on the famous wedding of Kate and William in her blog.
The royal couple married at Westminster Abbey in April 2011 and an incredible 26 million people in the UK tuned in to see the second in line to the throne (opens in new tab)wed his future Queen of England (opens in new tab). And that's not including the thousands of royal fans who descended on London's Mall, hoping to catch a glimpse of the happy couple.
But in her blog post, a less-than impressed Meghan wrote, "Little girls dream of being princesses. I, for one, was all about She-Ra, Princess of Power.
"For those of you unfamiliar with the '80s cartoon reference, She-Ra is the twin sister of He-Man and a sword-wielding royal rebel known for her strength. We're definitely not talking about Cinderella here."
She added of the Princess of Wales, "Grown women seem to retain this childhood fantasy. Just look at the pomp and circumstance surrounding the royal wedding and endless conversation about Princess Kate."
Little did Meghan know that she would go on to meet Prince Harry just five years later in 2016, and later marry him in a wedding not too dissimilar from Kate and William's in 2018.
Their wedding was watched by a record 27.7 million people - more than Kate and William's - as they tied the knot at St George's Chapel in Windsor Castle.
Not long after they married, rumours started swirling about a feud between the two royal ladies.
Most recently, last week's royal engagements saw hugging more and more fans, with some speculating she is subtly pushing back at Meghan's previous claim she is not a 'hugger'.
In her and Prince Harry's Netflix docuseries, Meghan recalled the first time that she met Kate. Speaking about the meeting, where Meghan said she was "in ripped jeans and barefoot," Meghan said, "Like I was a hugger, always been a hugger. I didn't realise that that is really jarring for a lot of Brits."
"I guess I'd start to understand very quickly that the formality on the outside, carried through on the inside," she continued. "There is a forward-facing way of being and then you close the door and you relax now. But that formality carries over on both sides. And that was surprising to me."
Despite Meghan's claims, a friend of Kate's recently told People that she does not see how Meghan got that impression from the "warm and friendly" Kate.
She told the publication, "Kate's a big hugger. She is warm and friendly and greets everyone with a big hug and kiss. It comes naturally to her to be like that."
Entertainment writer - contributor
Robyn is a freelance celebrity journalist with ten years experience in the industry. While studying for a degree in Media and Cultural Studies at London College of Communication, she did internships at Now and Heat magazines. After graduating, she landed a job at Star magazine, where she worked her way up to features editor. She then worked at Future as Deputy Celebrity Content Director across Woman, Woman's Own, Woman's Weekly and Woman & Home magazines.