The reason Prince William and Kate Middleton have missed the BAFTAs for two years
Prince William and Princess Kate are attending the BAFTA Awards for the first time since 2020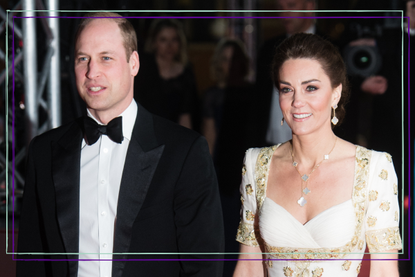 (Image credit: Getty Images)
The Prince and Princess of Wales will be attending the BAFTAs for the first time sine 2020 on Sunday, February 19.
Prince William and Kate Middleton will be attending the BAFTA Awards for the first time in two years.
The couple have previously declined invitations to go to the glitzy award ceremonies due to diary constraints and family emergencies.
Prince William and Kate Middleton have been confirmed to be attending this year's BAFTA Film Awards.
But this is the first time since 2020 the pair have accepted their invitation for the big night out, as they were previously missing from the award ceremony.
In 2022, Kensington Palace confirmed the pair had "diary constraints" and William left a message instead, while in 2021 the ceremony was held virtually.
After being appointed as president of the British Academy of Film & Television Arts in 2010, William was supposed to record a video message.

But he was forced to pull out after the death of his grandfather, Prince Philip, the Duke of Edinburgh.
This year, William and Kate will watch the ceremony before meeting category winners and the EE Rising Star Award nominees after the show
The BAFTA ceremony is set to take place tonight (February 19) at the Southbank Centre's Royal Festival Hall in London and will be broadcast on BBC One and iPlayer in the UK.
Actor Richard E. Grant is hosting, while Alison Hammond will be fronting a new behind-the-scenes stream called the BAFTA Studio which has been launched for this year's ceremony.
This is the first time it has been held at the Southbank Centre, as it has previously taken place at London's Royal Albert Hall.

It's also the first year the ceremony will be shown live, as usually it is pre-recorded.
Some of the nominations include Netflix's German-language World War I drama All Quiet on the Western Front which is up for 14 awards including Best Film, Director, and Adapted Screenplay nods.
The Banshees of Inisherin and Everything Everywhere All at Once have also each landed 10 nominations each.
Meanwhile, Prince William and Kate Middleton have made a number of public appearances this year, but they are yet to acknowledge Prince Harry's bombshell accusations in his memoir Spare, which was published in early January.
Senior Digital Writer covering all celebrity news and features for CelebsNow and Woman. As well as breaking all major stories from the entertainment world, Naomi also chats to TV and music stars to deliver exclusives. When she's not watching Love Island, she's wishing she had Victoria Beckham's wardrobe and obsessing over Little Mix's latest album.