Where is Mohamed Al Fayed now? Plus, what was his net worth
We share what we know about Mohamed Al Fayed now - the billionaire businessman whose son died alongside Princess Diana in a fatal car crash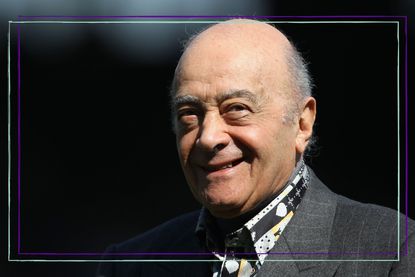 (Image credit: Getty Images)
Royal fans tuning in to The Crown season 6 might be wondering where Mohamed Al Fayed is now. Here's what we know about the Egyptian-born businessman whose son dated Princess Diana.
The world was in shock at the tragic events that occurred in Paris when Princess Diana died, and 26 years after her death, her legacy lives on in her two sons, Prince William and Prince Harry. But it's safe to say that following the confirmed release date of The Crown season six - with part one landing on Netflix on November 16 and part two on December 14 2023 - there is a renewed curiosity in the life of the People's Princess.
But it wasn't just the Princess of Wales whose loss was mourned after the fatal car crash back in 1997. Her boyfriend, Dodi Fayed, and their driver Henri Paul, also lost their lives that night. And just like people want to know what happened to Trevor Rees-Jones - Princess Diana's bodyguard - and some are asking who was Dodi Fayed's girlfriend before Diana, many also want to know more about Dodi's father, Mohamed Al Fayed.
Where is Mohamed Al Fayed now?
Mohamed Al Fayed died on 30th August 2023 aged 94. His cause of death was listed as old age and was announced on 1 September.
A statement released by his family at the time reads, "Mrs Mohamed Al Fayed, her children and grandchildren wish to confirm that her beloved husband, their father and their grandfather, Mohamed, has passed away peacefully of old age on Wednesday August 30, 2023,"
At the time of his death, Al Fayed had already sold two of the biggest brands he owned - Harrods and London football club Fulham FC. He still owned The Ritz Paris hotel which he and his brother, Ali, bought from the Ritz family in 1979 for $30million.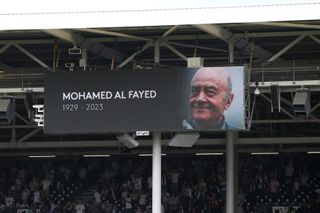 Little was known about the billionaire businessman's private life, as when he was alive he preferred to fly under the radar. However, his children are less concerned about keeping their affairs private and the Mail Online reported a rift between Al Fayed's youngest son, Omar, and his daughter, Camilla, after the former filed a case against Camilla at the High Court, seeking £100,000 in damages after accusing her and her husband Mohamed Esreb of sending bodyguards to accost him during one of his visits to the estate.
However, the case did not progress after a judge told them to settle their differences in private. According to his wife, Mohamed Al Fayed was unaware of the court battle at the time.
In 2018, three women accused Mohamed Al Fayed of sexual assault following a Channel 4 Dispatches documentary which alleged the billionaire businessman sexually harassed and groomed female employees. Mr Al-Fayed has always maintained his innocence.
Where is Mohamed Al Fayed buried?
Mohamed Al Fayed is buried at his family estate, Barrow Green Court in Surrey. The grade I listed house near Oxted was one he shared with his wife Heini Wathen.
A Muslim funeral was held the day after his death at the London Central Mosque in Regent's Park. He was then laid to rest at the family mausoleum next to his son, Dodi Fayed, almost 26 years to they day after his untimely passing.
What happened to Mohamed Al Fayed's son, Dodi Fayed?
Mohamed Al Fayed's son Dodi Fayed died in 1997, at the age of 42, in a car crash in Paris. It was the same crash that killed Princess Diana, who was his girlfriend at the time.
Dodi was born in Egypt in 1955 to Mohamed Al Fayed and his then wife, Samira Khashoggi. After moving to London, he joined the United Arab Emirates air force stationed in London and earned a reputation as a playboy in the 80s.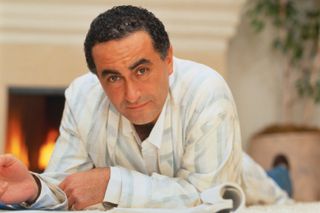 Dodi met Princess Diana in 1986 at a polo match in Windsor, but their relationship didn't begin until 1997, just after Mohamed Al Fayed invited the Princess of Wales and her children to St Tropez.
Before the night they tragically died, the pair had been on holiday together and stopped over in Paris on their way back to London. It was here that the fatal crash happened, as their car collided with a pillar at the entrance to the Pont de l'Alma - a road bridge in Paris, France, across the Seine.
Dodi, Princess Diana and their driver, Henri Paul, all died as a result of the crash. During the 2008 inquest into the death of the Princess of Wales, Mohamed Al Fayed made a number of claims, including that Diana, Dodi and Henri Paul were "murdered" in an act orchestrated by MI6 on the instructions of a member of the Royal Family - a claim dismissed by the coroner Lord Justice Scott Baker as having "not a shred of evidence" to support it.
Where did Mohamed Al Fayed get his money?
Mohamed Al Fayed made his money through his acquisition of a number of businesses, including the Ritz Paris Hotel, the London Knightsbridge department store Harrods and London football club Fulham F.C.
However, he first got a thirst for business by selling lemonade and sewing machines on the street of Alexandria, Egypt, before he met businessman Adnan Khashoggi, who employed him in his Saudi Arabian import business. Fayed founded his own shipping company before becoming an adviser to one of the world's richest men, the Sultan of Brunei, in 1966, and moving to London. Along with his brothers, he later bought House of Fraser, which owned Harrods at the time, in what the BBC reports was a £615m takeover bid.
In 1997, Mohamed Al Fayed bought Fulham F.C. for £6.25million. He also revived the satirical magazine Punch in 1996, and according The Guardian spent £14m bankrolling it until he pulled the plug on the publication in 2002.
Other projects Al Fayed has been involved in include funding the Oscar-winning film Chariots of Fire and renovating the Duke and Duchess of Windsor's French home.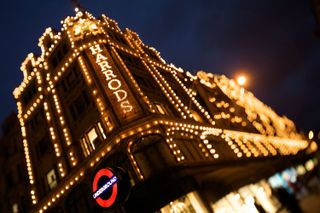 Does Mohamed Al Fayed still own Harrods?
No, Mohamed Al Fayed sold Harrods in 2010 for $2.4 billion (£1.96 billion). He sold the department store to the Qatari royal family's Qatar Holding group.
After months of speculation around the fate of the store, the deal was signed by Fayed and Qatar Holding's chief executive, Ahmad Al-Sayed, at the Qatari embassy in Mayfair.
A statement from Lazard, the asset management firm that brokered the deal, said Fayed was retiring "to spend more time with his children and grandchildren", but will take on the role of honorary chairman following the sale.
Speaking to the Evening Standard at the time, Mohamed Al Fayed said: "Of course it makes me sad ... you can go ask everyone, people don't want me to go. But first of all I can't take this. I am 77 years old, right. I have children, I have grandchildren, you know ... I have done it. And time for me now to rest. And enjoy."
Mohamed Al Fayed also no longer owns Fulham F.C., after selling the club to Shahid Khan, who owns the American football team Jacksonville Jaguars, for a reported $300 million.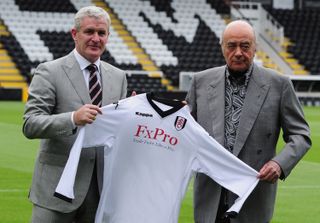 At the time of his death, Al Fayed still owned the Ritz Paris Hotel, however, it underwent a refurb in 2016 that cost hundreds of millions of dollars - though speculations as to the exact figure vary. New additions included a summer restaurant under a movable glass canopy, a larger ballroom and the latest technology in the hotel's rooms.
Who is Mohamed Al Fayed's wife?
Mohamed Al-Fayed's wife is Heini Wathen, and the pair were married in 1985.
The 67-year-old Wathen is a Finnish-born former model and actress and the pair have four children together: Jasmine, Karim, Camilla, and Omar. Dodi was Mohamed's son from his previous marriage to Samira Khashoggi - sister of the arms dealer Adnan Khashoggi.
Most recently, Wathen has been in the headlines for launching a High Court bid to stop the construction of a crematorium near the couple's Grade I listed Surrey mansion.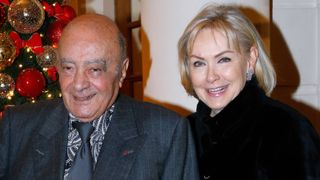 Who plays Mohamed Al Fayed in The Crown?
Mohamed Al Fayed is played by two different actors in The Crown. Amir El-Masry portrays him in 1946 and in his younger years, while Salim Daw portrays Al Fayed from 1979 onwards.
El-Masry has made appearances on a number of high-profile shows before his time on The Crown, including Star Wars: The Rise of Skywalker, and series including SAS Rogue Heroes and Industry. Meanwhile, Daw has appeared in French spy thriller The Bureau and FX's Tyrant.
In an interview with The Telegraph, Daw said playing Al Fayed was "the role of [his] life." He added: "He is like a myth in the Middle East: he is so rich, such a big businessman, so successful. So the challenge of playing him was enormous.
"It's particularly important when, as a Palestinian, I present someone who is Arab, and who is also so mythic. It's important for everyone in the Arab world that I get him right."
Following news of Al Fayed's death in real-life, Mr Daw spoke of "deep sadness" and in an Instagram post he wrote, "I was deeply saddened to hear about Mohamed Al Fayed's passing. A giant, who came from nothing and became everything. For two years I portrayed him on "The Crown".
"Such a rare and a distinctive character. I can only hope my portrayal of him did him justice. I feel that I knew him, even though we have never met. It is no coincidence that he passed on my birthday.
"My heartfelt condolences to his family. May his soul rest in peace."
Mr Daw, 73, is set to return to his Mohamed Al Fayed role in season six of The Crown, which is expected to depict the Paris tunnel car crash.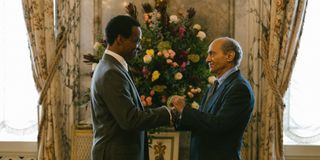 What was Mohamed Al Fayed's net worth?
According to Forbes, Mohamed Al Fayed's net worth was $2billion (£1.63 billion) by the time of his passing in August 2023. As well as his multi-million dollar business investments, he set up the Al Fayed foundation in 1987 to help children suffering with life-limiting conditions and living in poverty.
If you're looking for more information about the characters who appear in The Crown, we've taken a look at The Crown cast - including who plays Princess Diana and who plays Kate Middleton.
Parenting advice, hot topics, best buys and family finance tips delivered straight to your inbox.