Who plays Princess Diana in The Crown? Season 4 and 5 actresses
Both have been praised for their portrayals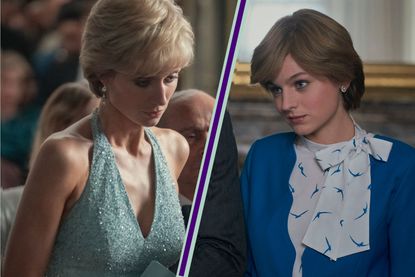 (Image credit: Netflix)
As excitement for the fifth series builds ahead of its release next month, the story of Princess Diana's life has once again hit headlines. But who plays the late royal icon in the upcoming series, and what happened to Emma Corrin from Season 4?
The Crown season 5 release date (opens in new tab) arrived in early November, much to the delight of audiences across the globe. And the next chapter of the Emmy-award-winning drama has certainly not held back, with it's focus on Diana and Charles certainly leading some to call it the most intense season yet.
The cast of The Crown Season 5 have all helped to recreate Queen Elizabeth II's brutal 'annus horribilis' (opens in new tab) and it's quickly established that the Royal Family is in crisis, with the first few scenes depicting Her Majesty (Imelda Staunton) facing the PR nightmare of scandals that rocked the British monarchy in 1992. For those who haven't been following The Crown's filming (opens in new tab)updates, it might come as a surprise to see the Princess of Wales has changed quite drastically to how she looked in Season 4. Previously played by Emma Corrin, producers recast the iconic royal for the fifth season in light of her older age.
Who plays Princess Diana in The Crown Season 5?
Princess Diana is portrayed by Elizabeth Debicki in The Crown Season 5, with the talented Australian actor succeeding Emma Corrin as the royal icon in the later stages of her time in the British monarchy.
Best known for her roles in The Great Gatsby and Tenet, the 32-year-old said in 2020 that it was her "true privilege" to accept the role, adding, "Princess Diana's spirit, her words and her actions live in the hearts of so many."
Multiple photos of Elizabeth as Diana have circulated in recent months, including ones of her filming scenes in Mallorca and Scotland and wearing the iconic Princess Diana revenge dress (opens in new tab). And her tall frame has certainly had some viewers asking about Princess Diana's height (opens in new tab) compared to Charles.
She's kept fairly hush-hush about the upcoming season, but when asked about the controversy surrounding The Crown's representation of the Royal Family, she was quick to defend its writers.
"I'll say that Peter and the entire crew of this job do their utmost to really handle everything with such sensitivity and truth and complexity, as do actors," Elizabeth told Entertainment Weekly. "The amount of research and care and conversations and dialogue that happen over, from a viewer's perspective, something probably that you would never ever notice is just immense. From that very first meeting [with] Peter, I knew that I'd entered into this space where this was taken seriously [in] a deeply caring way. So that's my experience of the show."
Debicki's character is likely to take centre stage in The Crown Season 5. The late royal appears in the first half of the trailer, looking tragically despaired as she struggles to uphold her glossy public persona whilst also battling severe mental anguish.
"I never a stood a chance," she whispers at one point, before a dramatisation of Princess Diana's Panorama interview (opens in new tab) with Martin Bashir (opens in new tab) flash on the screen. The aftershock of the BBC special, which Prince William later condemned for making his parents' relationship 'significantly worse', is then conveyed by a sequence of explosive clips highlighting the perilous future of the British monarchy (plus THAT Windsor Castle fire (opens in new tab))
Prince Charles' extramarital relationship with Camilla Parker Bowles and his subsequent conflict with his mother over the affair are also teased in the clip, with Bitter Sweet Symphony by The Verve playing aptly in the background.
Who is Elizabeth Debicki?
Arguably the most talked-about star of The Crown Season 5, Elizabeth Debicki has quickly risen to A-list status since landing the role as the new Princess Diana last year. The Australian actor is no newbie to the entertainment industry, however, bringing with her a wealth of experience to the royal series.
Born in Paris in 1990 to a Polish father and an Australian mother, Debicki was exposed to the world of the performance arts from a young age. The 32-year-old followed in her parents' footsteps by training to be a ballet dancer, only to switch careers to pursue acting instead. She enrolled in the Victorian College of the Arts in 2008, graduating with a degree in drama in 2010.
In 2011, she made her first film debut, starring in the Australian comedy, A Few Best Men, as a secretary. It was 2012, however, that truly catapulted Debicki to stardom. The talented actor was cast in Baz Luhrmann's The Great Gatsby, appearing alongside Tobey MacGuire, Carey Mulligan, and Leonardo DiCaprio in the historical romantic drama. Her portrayal of the mysterious Jordan Baker earned Debicki an abundance of positive reviews, with many critics hailing her performance as one of the best to feature in the movie. She even won an AACTA Award for Best Actress in a Supporting Role, solidifying her as one-to-watch at the awards circuit.
After her breakthrough role in The Great Gatsby, Debicki was (understandably) in high demand on the Hollywood scene. She went on to star in Guy Ritchie's The Man from U.N.C.L.E. and The Burnt Orange Heresy with Mick Jagger, as well as the Guardian of the Galaxy film series. In 2018, she appeared on-screen in a whopping 4 films, including The Tale, The Cloverfield Paradise, Widows, Vita & Virginia, and lent her voice to the character of Mopsy Rabbit in the animated 3D movie, Peter Rabbit. Before landing the role of Princess Diana in The Crown Season 5, she starred in Christopher Nolan's Tenet alongside Robert Pattison.
Who is Emma Corrin and where is she now?
Emma Corrin has become one of the UK's most famous young actors in the space of a few short years, but how did they rise to Hollywood stardom so quickly?
Born in Tunbridge Wells on December 13 of 1995, the Kent native found their love for the performing arts while studying at the private Woldingham School for girls in Surrey. They took a gap year after graduating to complete a Shakespeare course at the prestigious London Academy of Music and Dramatic Art (LAMDA) before heading to the University of Bristol to study drama. They decided to leave Bristol, however, after discovering its course was too focused on theory. Instead, they moved to Cambridge in 2015 to pursue a degree in Education, English, Drama, and the Arts, where they ended up feeling more comfortable despite having "never been the academic one" in their friendship group.
Emma made their film debut in 2017, playing Mica in the 40-minute-long digital flick, Cesare. They also starred in the ITV mystery series, Grantchester, before landing a more prominent role as nightclub dancer Esme Winikus in the US TV series, Pennyworth.
Emma first auditioned for the role of Princess Diana in The Crown when they were studying at Cambridge, after being asked to run lines for a "chemistry" reading to find the right actor to play Camilla Parker Bowles. After being impressed with their reading of Diana's lines, The Crown's creator, Peter Morgan, asked them to go away and work on developing the character further.
Eight months later, they received a call asking if she would like to audition for the role of Princess Diana in The Crown Season 4 - and this time, for real. As for how they prepared, Emma told Glamour in November 2020 that they 'only watched the documentary Diana: In Her Own Words.'
"I didn't watch another documentary. I don't think I would have got the part without it," they said. "Honestly. I watched it before I did any audition. I haven't watched it in about a year, but it still comes up every day on my Netflix: 'You wanna watch this again?' It's a phenomenal thing, and honestly, for research purposes, you don't need much more, because it is her, talking about her life, overlaid with footage. It's everything."
Emma received critical acclaim for their performance as Princess Diana in The Crown Season 4, winning a Golden Globe and gaining nominations for several other awards.
They have since starred as Marion Taylor in the American romantic film, My Policeman, and as Lady Chatterley in the upcoming 2022 film, Lady Chatterley's Lover.

Who played Princess Diana in The Crown season 4?
Emma Corrin played Princess Diana in the fourth series but won't be returning for The Crown Season 5. Though it's not because they didn't nail their performance as Diana in the last season.
As is tradition with the Netflix royal series, the characters are replaced as time moves on, to accurately reflect their appearances at an older age.
It seems Emma didn't exactly want to play Diana as her story became darker, telling the New Yorker in 2021 that they're "grateful" they don't have to film her tragic death scene.
"I know how attached I feel to the person I played," Emma admitted. "I feel very protective over her."
Related Netflix content:
Video of the week: