That '90s Show cast - Are Ashton Kutcher and Mila Kunis going to be in it?
Fans of That '70s Show are eager for cast details of the 2023 spin-off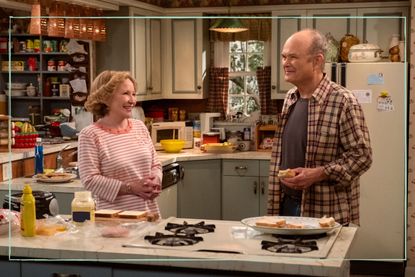 (Image credit: Future/Netflix)
As the sitcom spin-off gets ready to drop on Netflix, we share details of That '90s Show cast - including whether any of the '70s originals will be making a comeback.
It was the show that made stars of Ashton Kutcher, Mila Kunis, Laura Prepon and more. Plus who didn't enjoy the stylish Seventies outfits? Fans of That '70s Show were thrilled to learn the show was commissioned by Netflix for a spin-off in October 2021. Fast forward a year and a few months later and audiences are set to stream the 90s edition on screen this January.
Packed with nineties nostalgia and one or two familiar faces, we've delved into who makes up the That '90s Show cast - plus what the chances are of seeing the likes of Kutcher and Kunis return.
That '90s Show cast - Full list
Debra Jo Rupp returns as Kitty Forman (Leia's grandmother)
Kurtwood Smith returns as Red Forman (Leia's grandfather)
Callie Haverda as Leia Forman (daughter of Eric and Donna)
Ashley Aufderheide as Gwen Runck
Maxwell Acee Donovan as Nate Runck (Gwen's brother)
Mace Coronel as Jay Kelso (son of Michael and Jackie)
Reyn Doi as Ozzie
Sam Morelos as Nikki (Nate's girlfriend)
Debra Jo Rupp (Friends) and Kurtwood Smith (Robocop, Rambo III) reprise their roles as married couple Kitty and Red Forman in That '90s Show. Set two decades after That '70s Show, the plot centres around Leia Forman (aka the daughter of Topher Grace's Eric Forman and Laura Prepon's Donna Pinciotti) spending the summer of 1995 with her grandparents.
Talking to Entertainment Tonight (opens in new tab) about the new spin-off, Kurtwood Smith shared how it felt like he and Rupp had never been away: "When you have really good writers, like we do, they know how the characters speak. So it's pretty easy to slide back into it."
Rupp and Smith are the only two returning That '90s Show cast members who will feature in all episodes of the nineties spin-off. 15-year-old Callie Haverda who's had roles in The Lost Husband (2020) and Shut Eye (2016) heads up the teenage cast members as Leia Forman. She's joined by Ashley Aufderheide, Maxwell Acee Donovan, Mace Coronel, Reyn Doi and Sam Morelos who star as friends Leia makes whilst vacationing at her Grandparent's house.
In an interview with Coming Soon (opens in new tab), Haverda shared how she approached the character of Leia, given the audience's familiarity with her on-screen parents:
"I really wanted Leia to be her own character," she said. "I feel like we all take mannerisms from our parents and learn things from them. So I knew that she would obviously be a little bit like her parents. Honestly, I'm kind of naturally like both of them already.
"A lot of the things that you might see in the show is just how I performed Leia without really thinking about like, 'Oh, I'm trying to be Topher, I'm trying to be Laura'," she adds. "So that definitely helped in that regard. But yeah, I took some mannerisms but I didn't really want her to be a carbon copy of them."
In addition to the main cast are several That '70s Show original stars who will be dropping by for guest star appearances...
Are Ashton Kutcher and Mila Kunis going to be in That '90s Show?
Yes, Ashton Kutcher and Mila Kunis will appear in the first episode of That '90s show. The two - who are husband and wife in real life - met and starred on That '70s show and will guest star in the subsequent spin-off.
Kutcher and Kunis return alongside Wilmer Valderrama (opens in new tab), Topher Grace and Laura Prepon as their original characters from That '70s Show. Though they'll only appear in the odd episode.
All grown up now, Kutcher and Kunis's characters - Michael Kelso and Jackie Burkhart - are parents to son Jay Kelso (played by Mace Coronel). Jay is a main cast member on the show teased as "a charming, flirty young videographer" who just happens to be Leia's love interest.
That '90s Show - Guest stars
Ashton Kutcher as Michael Kelso
Mila Kunis as Jackie Burkhart
Topher Grace as Eric Forman
Laura Prepon as Donna Pinciotti
Wilmer Valderrama as Fez
Tommy Chong as Leo Chingkwake
Don Stark as Bob Pinciotti
In That '90s Show trailer, excited fans got a glimpse of the guest stars returning as their beloved characters. It turns out that Valderrama's Fez is now working as a hair stylist.
Meanwhile Kitty and Red's son Eric (Topher Grace) admits to wanting to be close to daughter Leia, as he and wife Donna (Laura Prepon) join his parents for dinner.
Debra Jo Rupp told E! news (opens in new tab) that it was a "gift" to reunite with both on-screen husband Kurtwood Smith and other members of the sitcom's original cast.
"I mean seeing all the kids come back, it was almost like no time passed," she said. "It was like a mini reunion every week. It's just been amazing."
One That '70s Show cast member who isn't returning for the reboot is Danny Masterson who played Steven Hyde. The 46-year-old actor stood trial in November 2022, accused of raping three women - including an ex-girlfriend at his Hollywood home between 2001 and 2003.
On December 1, Los Angeles Superior Court Judge Charlaine Olmedo declared a mistrial after jurors failed to reach a verdict after seven votes. Masterson denies the charges and maintains that the intercourse was consensual.
Video of the Week
Emily Stedman is the Features Editor for GoodTo covering all things TV, entertainment, royal, lifestyle, health and wellbeing. Boasting an encyclopaedic knowledge on all things TV, celebrity and royals, career highlights include working at HELLO! Magazine and as a royal researcher to Diana biographer Andrew Morton on his book Meghan: A Hollywood Princess. In her spare time, Emily can be found eating her way around London, swimming at her local Lido or curled up on the sofa binging the next best Netflix show.