Thomas Cashman prison sentence - how long did he get for the murder of Olivia Pratt-Korbel?
He's been found guilty of 5 charges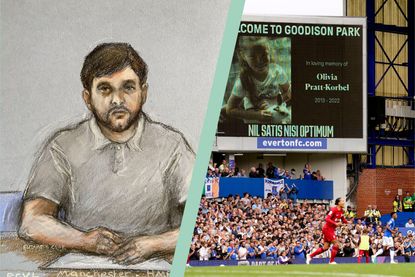 (Image credit: Future/PA Images/Alamy stock photo)
Thomas Cashman was sentenced for the murder of Olivia Pratt-Korbel on April 3, 2023.
People up and down the country were left shocked by the devastating death of Olivia Pratt-Korbel in August last year. The nine-year-old was in her family home at the time, in Dovecot, Liverpool, when a gunman began firing shots through the front door. Olivia sustained a gun shot wound to the chest and died in hospital.
Olivia's death was one of three fatal shootings in the area in a week and prompted an outpouring of grief and demand for change from the local community. Following a manhunt to find the gunman behind Olivia's death, drug dealer Thomas Cashman was arrested and stood trial for the crime in March this year. We share details of Thomas Cashman's prison sentence, after a jury found him guilty of Olivia's death.
Thomas Cashman prison sentence:
Olivia Pratt-Korbel's convicted killer Thomas Cashman has received a life sentence, with the expectation that he will serve a minimum of 42 years in prison.
The 34-year-old was found guilty of murder, attempted murder (of 'target' Joseph Nee), wounding with intent to do grievous bodily harm (to Olivia's mother) and an additional two charges for the possession of firearms.
Justice Amanda Yip passed down Cashman's prison sentence on April 3, after he was found guilty by a jury at Manchester Crown Court last week. "For the murder of Olivia there is only one sentence that can be passed. That is of mandatory life imprisonment," said the judge.
Cashman did not appear in court for the sentencing, with the convicted criminal telling his barrister that it was "turning into a circus". The judge decided that the sentencing would go ahead without his presence.
Reacting to the guilty verdict last Thursday, Cashman buried his head in his hands and started weeping. He previously told the court: "I'm not a killer, I'm a dad" and has always maintained his innocence.
Olivia's mother Cheryl Korbel also appeared in court last Thursday. Sat holding a teddy bear with Olivia's siblings, she told reporters she was "ecstatic" about the jury's verdict.
What happened to Olivia Pratt Korbel?
Nine-year-old Olivia Pratt-Korbel was shot and killed by Thomas Cashman on the evening of August 22, 2022. Cashman fired several shots into Olivia's family home in Dovecot, Liverpool, whilst pursuing convicted burglar Joseph Nee.
The court heard that Cashman had spent the day of the crime "scoping out" his intended target Joseph Nee, armed with two firearms.
CCTV footage was presented to the jury, showing Cashman chasing after Nee up Kingsheath Avenue and firing multiple gun shots. Hearing the disturbance outside, Olivia's mother opened the front door to see what was happening. Nee forced his way into the family home, seeing it as an opportunity to escape Cashman.
During this point, Olivia came running down the stairs, saying: "Mummy, I'm scared." Cashman then fired a shot as Olivia's mother tried to close the door, it hit Cheryl Korbel's hand before going on to hit her daughter, Olivia in the chest.
Olivia was rushed to hospital but was pronounced dead later.
A manhunt was launched by Merseyside Police following the event, with Cashman having fled the scene shortly after shooting Olivia. Authorities finally arrested the drug dealer on September 4, 2022.
Police have praised a key witness for providing "powerful and emotional" evidence during the trial, which helped secure Cashman's conviction. The woman - who cannot be named for legal reasons - was having an affair with Cashman, and told the court that on the night of the murder, she was woken up by Cashman in her bedroom. He arrived with another man and asked her for a change of clothes. The witness said she overheard Cashman talking about having "done Joey".
"'Lad, I've done Joey. I've done Joey' or, I dunno it was something along them lines," she told the court. "As he was outside in the front garden. He was very nervous, I never seen him like that. I felt like there was something wrong."
Paul Russell, a 41-year-old man who admitted to driving Cashman away from the family home after the shooting, and additionally passing his clothes over to another person, is expected to be sentenced separately at a later date.
"People's kids are dying for that money to go into their bank account"BBC Panorama investigates the human impact of organised crime in LiverpoolThe Drug Wars that Killed Olivia is on @BBCiPlayer nowhttps://t.co/cYvKS5RDTuApril 1, 2023
See more
Where to watch The Drug War that Killed Olivia
You can watch the Panarama programme The Drug War that Killed Olivia on BBC iPlayer now. The show also airs on BBC1 on Monday 3 April at 8pm.
The official synopsis reads: "When Olivia Pratt-Korbel was shot dead in her home, the nine-year-old became the youngest victim of Liverpool's drug wars. There have been dozens of deaths in the city as rival gangs fight for control of the lucrative drug trade. Reporter Bronagh Munro investigates how the city came to dominate the UK drug market and how organised crime brought death to Olivia's door."
Video of the Week
Emily Stedman is the former Features Editor for GoodTo covering all things TV, entertainment, royal, lifestyle, health and wellbeing. Boasting an encyclopaedic knowledge on all things TV, celebrity and royals, career highlights include working at HELLO! Magazine and as a royal researcher to Diana biographer Andrew Morton on his book Meghan: A Hollywood Princess. In her spare time, Emily can be found eating her way around London, swimming at her local Lido or curled up on the sofa binging the next best Netflix show.