Where are Gary Dobson and David Norris now? Stephen Lawrence killers
Your 2023 update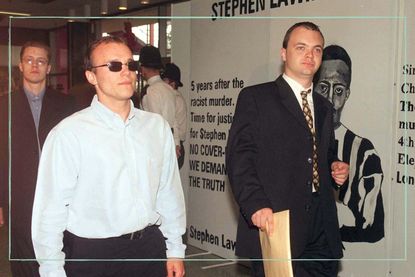 (Image credit: Future/Alamy/PA)
As a new ITV documentary looks into Stephen's murder 30 years on, we share where Gary Dobson and David Norris are now.
It was a case that was once dubbed "one of the highest-profile unsolved racially motivated murders". Two years on from The Independent's remark, two men were finally found guilty of the murder of 18-year-old Stephen Lawrence - following 19 years of trials, inquests, inquiries and family heartbreak.
Whilst 5 'gang members' were initially arrested for the Eltham-based murder, it was two that ended up behind bars - Gary Dobson and David Norris. Here's where they are in 2023 and what has happened since their sentencing.
Where is Gary Dobson now?
Gary Dobson is currently serving time in Gartree Prison, based in Leicestershire. The now 47-year-old was found guilty of Stephen Lawrence's murder and given a minimum life sentence of 15 years and two months.
Dobson has spent the whole of his sentence so far at the high security men's prison in the town of Market Harborough. He won't be eligible for release until 2027.
Gary Dobson and David Norris were convicted #OnThisDay in 2012 for the murder of Stephen Lawrence in 1993. Their retrial and subsequent convictions were a consequence of the reforms to the common law principle of "double jeopardy" under the Criminal Justice Act 2003. pic.twitter.com/iRM3w3xMIXJanuary 3, 2023
See more
Dobson was already in jail for drug offences when he was convicted of Stephen's murder on January 3, 2012. He had also served 18 months inside previously, having been found guilty of a racist attack against a black police officer in May 2002.
Dobson and convicted co-murder David Norris both attempted to appeal their convictions to the Court of Appeal in 2012. However, in August 2012 it was confirmed that both had lost the first round of their appeal. Dobson then decided to drop the appeal in March 2013.
Where is David Norris now?
David Norris is currently serving his sentence at HMP Exeter in Devon. The now 46-year-old was convicted of Stephen's murder in 2012 and given a minimum life sentence of 14 years and three months. He won't be eligible for release until 2026.
The inmate was previously serving time at category C prison Dartmoor - also in Devon - but was transferred to his new jail in December last year, after breaching security measures.
In September 2022, the Daily Mail (opens in new tab) reported that Norris had been sending 'selfies' of himself from his cell to friends on the outside world. The convicted criminal had been using a smartphone to call, text and login to Facebook. According to the publication, Norris had also updated his Whatsapp status to "coming home in 2 to liven you all up".
At the time, The Ministry of Justice said they would be investigating the alleged security breach. They stressed that prisoners found with phones behind bars can expect to receive longer jail terms. The outcome was a move to Exeter in December.
It's not the only time Norris has found himself making headlines - despite being behind bars. In November 2022, he was reportedly attacked by two other inmates. According to The Sun (opens in new tab), Norris wa slashed "from his forehead to his chin'" with a "shank" (a knife made from melting razor blades and a toothbrush together). The incident took place early in the morning and Norris was taken to hospital after. It's alleged the attack has left him "scarred for life".
#ICYMI: One of Stephen Lawrence's killers, David Norris, has been denied a request to move to an open prison - one with fewer restrictions - amid fears that he still poses a risk to the public. pic.twitter.com/9fLBIs3tyhMay 18, 2022
See more
In May 2022, it was reported that Norris had failed in an attempt to move to an open prison, as his minimum sentence draws to an end. The plea was made whilst the prisoner was still based at category C prison Dartmoor. Justice Secretary and Deputy Prime Minister Dominic Raab (opens in new tab) rejected the plea amid fears Norris still posed a threat to the public.
The journey to justice:
Gary Dobson was arrested alongside brothers Neil and Jamie Acourt on 7 May 1993. David Norris turned himself in three days later. Then June 3, 1993 saw the arrest of Luke Knight. Later that month, Neil Acourt and Knight had their murder charges dropped due to insufficient evidence.
Despite the initial arrests, it took 19 years for anyone to be convicted of Lawrence's murder. On 16 April 1994, the Crown Prosecution Service stated they did not have sufficient evidence to charge any of the remaining subjects with murder.
Lawrence's family went ahead with a private prosecution in September 1994 against all 5 initially arrested. However charges against Jamie Acourt and David Norris were dropped before the trial went ahead for lack of evidence. On 23 April 1996, the three remaining suspects - Dobson, Neil Acourt and Knight - were all acquitted of murder by a jury.
A year later, a public inquest into the death of Lawrence was launched in February 1997. All five suspects appeared but refused to answer any questions. A jury returned a verdict after 30 minutes that Stephen had been killed "in a completely unprovoked racist attack by five white youths".
In 2005, a change occured to the Double Jeopardy law (opens in new tab). The rule, previously in place, meant that once acquitted an accused person could not be tried a second time for the same crime. A year later, a full re-examination of forensic evidence from Stephen Lawrence's murder took place. Testing found a microscopic blood stain was on Dobson's jacket. Additional fibres and hairs - with 99.9% certainty of coming from Stephen - were also found on Dobson and Norris' clothes.
Gary Dobson and David Norris were then arrested and charged on 8 September 2010. Dobson's previous acquittal was quashed in a hearing in April 2011 and a jury for the trial selected in November. On January 3, 2012, it took the jury just over 8 hours to find the two guilty of Stephen's murder (opens in new tab).
Video of the Week
Emily Stedman is the Features Editor for GoodTo covering all things TV, entertainment, royal, lifestyle, health and wellbeing. Boasting an encyclopaedic knowledge on all things TV, celebrity and royals, career highlights include working at HELLO! Magazine and as a royal researcher to Diana biographer Andrew Morton on his book Meghan: A Hollywood Princess. In her spare time, Emily can be found eating her way around London, swimming at her local Lido or curled up on the sofa binging the next best Netflix show.