Where is Day Shift filmed? Real locations of the Jamie Foxx vampire film
The locations featured in the Netflix comedy horror vampire film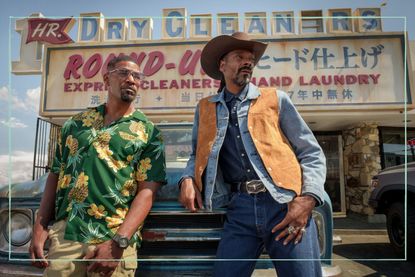 (Image credit: Netflix/Future)
Wondering where Day Shift was filmed? We've shared all of the hot and sunny locations acting as the backdrop for some serious vampire action.
Netflix continues to offer up new and exciting original content, and its latest film offering definitely fits the brief. Starring Jamie Foxx, Day Shift marks the directorial debut of former stunt co-ordinator J.J. Perry. In a film set to rocket up the Netflix film chart, Foxx stars as a hard working dad looking to provide a good life for his daughter. His job as a pool cleaner is a ruse for his real mission - hunting and killing vampires. Bringing plenty of vampire action thrills, the film also delivers on comedy value. With sunny sets and no shortage of Hawaiian shirts, we uncover the real locations of this vampire must-see.
Those seeking other feature-length entertainment on the streaming platform will find a gripping romance film currently holding the top spot in Netflix's top 10. Starring Sofia Carson, Purple Hearts is based on a book of the same name, telling the story of a complicated marriage of convenience - with the filming of Purple Hearts taking place in an actual military base. Ryan Gosling fans should also check out his new action caper that has had fans asking whether the Gray Man is a true story or not.
Where is Day Shift filmed?
Filming for Day Shift took place in Los Angeles, California, and Atlanta, Georgia. Specifically, the San Fernando Valley, and Duluth areas were used.
The majority of filming took place in San Fernando Valley. Stunts Unlimited who were involved in the stunt action for the film, shared snippets of the filming to their Instagram page. Tagging their location as San Fernando Valley, they shared a video of cars and motorbikes performing stunts by driving up ramps, for inclusion in the film.
In the final stages of preparing the film for release, Production Hub in West Hollywood was used. Director J. J. Perry shared pictures of himself and some of the cast members outside the studios. He captioned the pictures " @stevehowey @zionbroadnax and #davefranco with me at the ADR stages in West Hollywood wrapping up Day Shift!" ADR stands for automated dialogue replacement - the process of re-recording dialogue in a quiet environment. In the post-production ADR stage, the performer watches a scene featuring themselves, and new dialogue is dubbed over the top.
In Atlanta, some filming took place at Gwinnett Place Mall, Duluth. Some fans will be sure to recognise this iconic mall, as it is used for filming epic nostalgic fantasy show Stranger Things. Not only Stranger Things, but the mall has also hosted filming for 2020 film Holidate.
One fan shared a picture of himself with Jamie Foxx and Dave Franco, having witnessed some of the filming taking place at the mall. He said "a major shootout with Snoop happens at Gwinnett Place Mall", referring to Snoop Dogg's appearance in the film.
Interior scenes in Atlanta were filmed at OFS Norcross, part of the Gwinnett Filming Facilities. OFS is a 160-acre movie studio campus, situated 15-20 minutes from downtown Atlanta. The site offers warehouse and sound stage column-free space, and contains one of the largest green screens in the US. A fan of Jamie Foxx posted video footage of the actor filming a stunt in an interior set.
🎥 Behind the scenes clip of Jamie Foxx filming #DayShift pic.twitter.com/M5dsHTUPHAAugust 24, 2021
See more
When was Day Shift filmed?
Filming for Day Shift began on April 19, 2021, and wrapped on August 22, 2021.
What's On Netflix shared filming updates throughout the process, and shared pictures via Twitter of some of the cast members on set. The movie was first announced in 2020, before filming commenced mid 2021. Foxx and Franco were already attached to the film, and in April 2021, Netflix announced Natasha Liu Bordizzo, Oliver Masucci, Steve Howey, and C.S. Lee would be joining the cast.
Filming has commenced on Jamie Foxx's new Netflix movie, Day Shift.https://t.co/jdT9U1zAAv pic.twitter.com/JirYKZzflDJuly 13, 2021
See more
Day Shift: Behind the Scenes filming
In a behind the scenes video of the action, Foxx talks about how his character gets paid for fangs - he kills the vampires, and rips out their fangs for cash. The incredible scenes are shown mingling with traditional vampire mythology. Of director J. J. Perry, Foxx says "the way J.J uses all his stunt women and men is brilliant".
Throughout a backdrop of cars being blown up, and incredibly flexible actors bending into impossible positions, Foxx says "this is something you've never seen before." He adds that the level of action will see viewers experience many pauses in eating their popcorn while they're mesmerised by what they're seeing.
Where is Day Shift set?
Day Shift is set in San Fernando Valley, and this is where the majority of filming also took place.
Speaking to Looper, director J. J. Perry spoke about his inspiration for the film. Graduating school in the 80s, he grew up around films such as Big Trouble in Little China, The Lost Boys, and Evil Dead. He wanted the same action comedy horror feel for Day Shift. He also wanted an authentic feel that didn't rely on special effects.
He said "Everything in Day Shift was done in-camera, visual effects were used just to augment. There were never visual effects takeovers. I didn't want to make that movie". He spoke of not being a fan of "half cartoon" movies, concluding with "in about 10 years, they won't have to do car chases anymore. They'll animate them. But I'll be long gone by then, my brother. I'll be out fishing and playing golf!"
Video of the Week
Lucy is a multi-award nominated writer and blogger with six years' experience writing about entertainment, parenting and family life. Lucy has contributed content to PopSugar and moms.com. In the last three years, she has transformed her passion for streaming countless hours of television into specialising in entertainment writing. There is now nothing she loves more than watching the best shows on television and telling you why you should watch them.