Where to watch Billie Eilish in Swarm: The true stories that influenced Donald Glover's latest series
Fans are eager to watch Billie Eilish as she makes her acting debut in the new thriller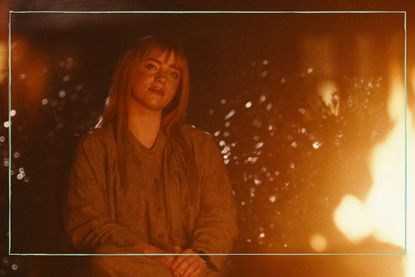 (Image credit: Courtesy of Prime Studios/Amazon studios/Future)
Billie Eilish has made her acting debut in Donald Glover's new horror thriller series, Swarm, delighting fans despite the story's dark storyline.
Fans of the musician were excited to learn that Eilish would be making her acting debut though, when many tuned in to watch the series, they were shocked by just how horrifying the horror truly was. With the show notes suggesting an innocent journey following the devoted fan of a fictional pop icon as she embarks on a cross-country journey, the manifestation of this was far more dark.
Despite Billie's lack of acting experience, the show's producers were keen to cast the musician. Janine Nabers, one of the show's writers, credits their casting director for Billie's involvement. "That's Carmen Cuba," she told Rolling Stone. "We were looking to cast the episode and she suggested Billie, and I said, 'Does she act?' And she said, 'Yeah.' And I said, 'What has she been in?' And she said, 'Nothing.'
"But what's so incredible about this process is that you have a lot of people that work on the show that are multi-hyphenate and people who have so many different passions. We gravitate toward people who are juggling multiple hats."
If horror is your kind of thing, or you're a big enough fan of Billie Eilish to sit and watch the show with your hands blocking most your vision, here we share where to watch Billie Eilish in Swarm and detail the true stories that influenced Donald Glover's latest series.
Where to watch Billie Eilish in Swarm
Swarm is an Amazon Prime Video exclusive series so is available to watch only on Prime Video. All seven episodes making up the show's first season were released on Friday 17 March and are available to stream at no additional charge for Prime members.
What is Swarm movie about?
Swarm follows the story of Dre, a super-fan of fictional pop icon Ni'Jah, as she embarks on a violent road trip, killing anyone who speaks bad words about her favourite singer. Dre, played by the amazing Dominique Fishback, is spurred into action after a tragic personal loss, meeting a bizarre cast of characters along her travels, played by names such as Rory Culkin, Byron Bowers, Kiersey Clemons, Paris Jackson, and Billie Eilish.
The show explores Dre's life, detailing how certain events have impacted her and influenced the choices, mostly the bad choices, she ends up making. The story uses her obsession with the pop star Ni'Jah and her place in the musician's fandom to explores the dark side of the culture surrounding celebrities with her love for the icon taking Dre's story into dark, unexpected places.
Is Swarm based on a true story?
Swarm's storyline is influenced by reality, though the exact storyline is fictional. Main character Dre's obsession with Ni'Jah, whose fans call themselves The Swarm, is an exaggerated reference to Beyoncé's fans who call themselves the BeyHive.
The title cards that appear before each of Swarm's episodes joke, "This is not a work of fiction. Any similarity to actual persons, living or dead, or actual events, is intentional."
The direct references to Beyoncé and her fans are impossible to ignore; Ni'Jah's talented younger sister, the elevator-attack security footage, the sound of Ni'Jah's music. Just to clear anything up, multiple members of the cast and crew have attested to the show's big Beyonce focus, with the creator, Donald Glover, saying they picked the BeyHive because Beyoncé and her fans are so culturally known.
What episode of Swarm is Billie Eilish in?
Billie Eilish makes her acting debut in episode four of Swarm, titled "Running Scared." The musician plays an extremely creepy character who is the leader of an all female coven that will haunt your nightmares.
The coven's members believe that Eilish has magical healing powers and is able to cure near every ailment a person could suffer from including alcoholism and stuttering. The character is based on the very real cult leader Keith Raniere who was the head of NXIVM.
The show's co-creator Janine Nabers, told Rolling Stone, "When you look at the time of the show's story, and the fact that there's a true-crime element of every episode, that element of Episode Four is NXIVM.
"They existed in New York — in Albany — and that was the period in our lives when they were preying on women. It's about the idea of a cult-like mentality of someone that can be your savior, and you see that reflected in music. That was always part of what that episode was going to be. We took the Keith Raniere character out of it because we really wanted to focus on the women."
Royal News and Entertainment writer
Charlie Elizabeth Culverhouse is royal news and entertainment writer for Goodto.com. She began her freelance journalism career after graduating from Nottingham Trent University with an MA in Magazine Journalism, receiving an NCTJ diploma, and earning a First Class BA (Hons) in Journalism at the British and Irish Modern Music Institute. She has also worked with BBC Good Food and The Independent.