Who are the Dragons on Dragons' Den and how much are they worth?
Meet the season 20 investors...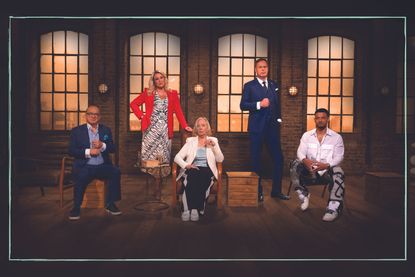 (Image credit: BBC)
Now that the show's newest series has arrived, we take a look at who are the Dragons on Dragons' Den...
The flagship BBC One show is back for it's 20th season, and just like viewers are keen to see the fates of budding entrepreneurs when The Apprentice is next on (opens in new tab), many of us are tuning in for Dragons' Den too. The show gives hopeful business owners just three minutes to pitch their business ideas to five multi-millionaires, in the hopes of securing an investment.
And while the pitches can be interesting, inspiring, or just downright weird, it's the Dragons that many viewers are intrigued by. We've delved into the business histories of this season's investors, so keep reading to find out who are the Dragons on Dragons' Den and what are they worth...
Who are the Dragons on Dragons' Den?
The Dragons on season 20 of Dragon's Den are Deborah Meaden, Peter Jones, Sara Davies, Steven Bartlett, and Touker Suleyman. Bartlett is the show's newest Dragon, having joined the show in 2021.
Meanwhile, Davies is also a relatively new addition, first appearing on Dragon's Den in 2019. Suleyman joined the panel of investors in 2015, while veteran Dragon's Deborah Meaden and Peter Jones joined the show in 2006 and 2005 respectively.
The Dragons are back with Business Thursdays! Catch @SaraDaviesCC,@DeborahMeaden,@SteveBartlettSC, @dragonjones & @ToukerSuleyman investing their money into a batch of new budding entrepreneurs 💵 Watch #DragonsDen on @BBCOne & @bbciplayer from 5 Jan. pic.twitter.com/IU4CBrBl0gDecember 6, 2022
See more
Peter Jones is now the only original Dragon remaining on the show, having appeared in the very first season alongside Duncan Bannatyne, Rachel Elnaugh, Doug Richard, Simon Woodroffe.
However, Jones was notably missing from a couple of episode in the eighteenth series of the show after he was forced to self-isolate following a business trip abroad. It was the first time the long-standing Dragon had been absent during filming of the show in its 18 year history.
How many different Dragon have been on Dragons' Den?
There have been a total of 19 Dragons on Dragons' Den since the series first began. Ahead of the newest series, the BBC has said that 350 deals have been secured in the Den to date and over £28,054,500 has been invested.
All the Dragons who have appeared on Dragons' Den:
Peter Jones (series 1 - present)
Duncan Bannatyne (series 1 - 12)
Rachel Elnaugh (series 1 - 2)
Doug Richard (series 1 - 2)
Simon Woodroffe (series 1)
Theo Paphitis (series 2 -10)
Deborah Meaden (series 3 - present)
Richard Farleigh (series 3 - 4)
James Caan (series 5 - 8)
Hilary Devey (series 9 - 10)
Kelly Hoppen (series 11 -12)
Piers Linney (series 11 - 12)
Touker Suleyman (series 13 - present)
Nick Jenkins (series 13 - 14)
Sarah Willingham (series 13 - 14)
Tej Lalvani (series 15 - 18)
Jenny Campbell (series 15 -16)
Sara Davies (series 17 - present)
Steven Bartlett (series 19 - 20)
How much are the Dragons worth?
1. How much is Deborah Meaden worth?
Deborah Meaden is reported to have a net worth of around £40 million. Her investments on Dragons' Den include Yee Kwan Ice Cream, Dock and Bay quick drying towel and Marxman, a DIY tool that can mark any surface.
Deborah Meaden launched her first business when she was 19 - a glass and ceramics import company, supplying stores including Harvey Nichols - and later set up one of the first Stefanel fashion franchises in the UK.
She later joined her family business, Weststar Holidays, where she became Managing Director.
Speaking ahead of the new series, Deborah Meaden said, "This season is definitely a vintage one! So many creative, innovative and really well thought out ideas and of course all those brave and brilliant entrepreneurs bold enough to bring their business into the Den. Every year I think 'surely I must have seen just about everything now' and then the lift doors open to reveal another cracking idea leaving me wondering why on earth nobody had thought of it before."
Deborah lives in Somerset with her husband, two cats, four dogs, six horses, three sheep, ten chickens, six ducks and three geese!
2. How much is Peter Jones worth?
Peter Jones' net worth has been estimated at around £1.157bn, when he appeared on the Sunday Times Rich List in 2021. His Dragons' Den investments include Levi Roots Reggae Reggae Sauce, Love da Popcorn, and low carb noodle alternatives Bare Naked Foods.
Peter's business career started out at a young age when he set up his own tennis coaching school, and he is now one of Britain's best-known entrepreneurs, owning a wide-ranging portfolio of businesses.
Reminiscing on his time on Dragons' Den as the show enters its 20th series, Peter said: "When I think of my favourite moments obviously I go back to Levi Roots and his Reggae Reggae sauce - it has been an outstanding success and it has been a joy to see his business grow and develop over the years. A major feature film telling Levi's rags to riches story is now in development which is very exciting."
In 2009, he was awarded a CBE for services to business, enterprise and young people.
3. How much is Touker Suleyman worth?
The Sunday Times Rich List estimates that Touker Suleyman's net worth is in excess of £200million. During his time on Dragons' Den he has invested in luxury brownie company Bad Brownie, wooden toy makers Timberkits and Collagin, the collagen infused gin.
Touker is the founder of quintessentially British menswear brand, Hawes & Curtis and the man credited with reinventing the seminal 90s womenswear label, Ghost. He has 40 years' retail and manufacturing experience and backs seven retail and commercial property businesses.
His rise to the top hasn't been easy, however. In the 1980s auditors identified significant debt behind one of his business ventures and he had six weeks to find £2 million pounds. After a potential investor pulled out at the last minute, the business went into liquidation and he was forced to start again from nothing.
Touker has two daughters, Tashia, 22, and Taya, 19.
4. How much is Sara Davies worth?
Sara Davies is reported to have a net worth of £37 million. Her investments on Dragons' Den include Malaysian chilli paste Mak Tok, Shower Gem, a storage solution for bathrooms, and Pipe Easy, a tool for cutting around pipes.
Sara founded Crafter's Companion from her university bedroom, and her big break came when she spotted a gap in the market for an envelope-making tool for card makers, prompting her to invent The Enveloper. She sold over 8,000 units of the product in the first 24 hours of it being debuted on shopping channel Ideal World.
Offering advice to young entrepreneurs ahead of the new series of Dragons' Den, Sara said: "Tell us your story, show us your passion for your business and clearly lay out your strategy for providing a return on investment."
5. How much is Steven Bartlett worth?
Steven Bartlett is the newest Dragon and just 30 years old, and he was the show's youngest ever Dragon when he joined at age 28. His net worth is estimated to be around £70 million.
Steven built social media marketing agency Social Chain at just 21 years old from his university bedroom in Manchester, and the company is now valued at over £400 million. In addition, he is a speaker, author, content creator and host of one of Europe's biggest podcasts, The Diary of a CEO.
Steven also sits on the board of Huel - one of the UK's fastest growing e-commerce companies - and is an investor in, and creative director of, Atai Life Sciences, a biopharmaceutical firm aiming to transform the treatment of mental health disorders.
Steven said: "The new series reflects the state of the world we live in; people are struggling, the tectonic plates underneath them have moved, but despite that there is a huge amount of entrepreneurial hope and optimism in the Den. As it relates to the Dragons, the temperature in the den is hotter than ever before - more fire, more fun and lots of businesses getting funded!"
Video of the Week
Ellie joined Goodto as a Junior Features Writer in 2022 after finishing her Master's in Magazine Journalism at Nottingham Trent University. Previously, she completed successful work experience placements with BBC Good Food, The Big Issue and the Nottingham Post, and freelanced as an arts and entertainment writer alongside her studies. In 2021, Ellie graduated from Cardiff University with a first-class degree in Journalism.