Why is Gwyneth Paltrow in court? The actress' ski crash explained
The actress is accused of colliding with a skier during a family holiday in 2016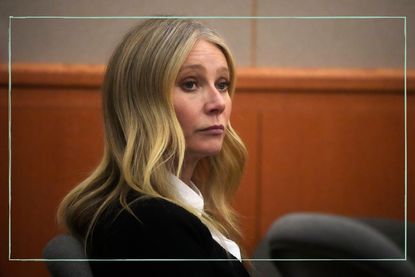 (Image credit: Getty Images)
The Oscar winning actress is currently facing trial, leading many to wonder why Gwyneth Paltrow is in court.
Goop CEO Gwyneth Paltrow has hit the headlines recently, after she appeared in court accused of crashing into a retired optometrist on a ski slope in 2016 - a claim which she denies. Terry Sanderson is seeking $300,000 in damages, while Paltrow is countersuing for $1.
Much like the Johnny Depp and Amber Heard trial that took place last summer, and the 'Wagatha Christie' trial that gave us Vardy v Rooney: A Courtroom Drama, this latest celebrity trial has caught the attention of the public, with clips of the live stream going viral on social media.
Why is Gwyneth Paltrow in court?
Gwyneth Paltrow is currently in court after being sued by Terry Sanderson, a man who has accused the Oscar-winning movie star of colliding with him in a skiing accident in February 2016.
The incident, which Sanderson has described as a "hit-and-run ski crash", took place on a beginner's course known as the Bandana Run, at the luxury Deer Valley Resort near Park City, Utah.
Sanderson alleges that Paltrow collided with him from behind with such force that he was left with "permanent traumatic brain injury, four broken ribs, pain, suffering, loss of enjoyment of life, emotional distress and disfigurement."
He first filed for damages in January 2019 and is seeking $300,000 in compensation - though he initially sought damages of $3million - for his injuries.
This prompted Paltrow to file a countersuit in which she is asking for a symbolic $1 and for her legal expenses to be covered.
Each side argues that the other is at fault for the collision.
Who is Terry Sanderson?
Terry Sanderson is a retired optometrist who first filed the lawsuit in 2019 - three years after the accident. He previously stated that he has been skiing for over 30 years, and that until the incident with Paltrow he had never been knocked down or knocked someone else over while skiing.
Sanderson claims that the movie star collided with him after skiing downhill in an "out-of-control" manner, and alleges that Paltrow turned her head to look at her children while skiing behind him, before crashing into with him and then skiing away.
Sanderson's lawyers said he experienced a change in personality following the collision, while radiologist Wendell Gibby and Sanderon's daughter Polly both testified that Sanderson's condition deteriorated in subsequent years.
Meanwhile, Gwyneth Paltrow has has accused Sanderson of suing to exploit her fame for money, calling the lawsuit "a meritless claim". She insists that she "remembers what happened very clearly".
Gwyneth Paltrow live stream
The trial began Tuesday in a courthouse in Park City, Utah, and can be watched live on Court TV, a US-based digital broadcast network. You can watch the trial via the Court TV YouTube channel.
The network also streamed coverage of the Johnny Depp v Amber Heard trial last summer, and when it existed as a cable channel it provided coverage of the OJ Simpson trial.
Gwyneth Paltrow trial so far
Gwyneth Paltrow has appeared in court over allegations she crashed into retired optometrist Terry Sanderson on a ski slope in Utah, causing permanent brain damage. Paltrow claims Sanderson is at fault for the collision, and filed a counterclaim seeking $1 in damages, plus legal fees.
Sanderson was questioned over an email he wrote to his daughter after the crash, with the subject line, "I'm famous". Sanderson's daughter said in a testimony that he was just making light of a serious situation, while Sanderson insisted that he was simply trying to "add some levity to a serious situation" and keep his daughters informed about what had happened to him.
Paltrow's lawyer, Stephen Owens, asked the judge if they could bring in "treats for the bailiffs for how helpful they've been." The judge denied the request.
Owens apologized after a cross examination with Sanderson's daughter, in which he asked if her sister, Jenny, who had claimed in a deposition that their dad was abusive, was a liar.
Sanderson's attorney Kristin VanOrman went viral following a cross examination in which she said she bet Paltrow's ski outfit looked better than everyone else's on the slope, that she was "jealous" of Paltrow's height, and called the actress "small but mighty" when asking about the collision.
VanOrman asked whether Paltrow had got the idea to countersue for $1 from singer Taylor Swift, who did the same in a 2017 sexual assault trial. Paltrow said she is not good friends with Swift, though she's taken her children to her concert.
Paltrow said when the collision occurred, she first thought was it was sexual assault. She said she had felt "a body pressing against me" and that she had heard "a strange grunting noise".
In a cross examination, Paltrow said, "Well, I lost half a day of skiing," when asked about how the incident prevented her from enjoying her skiing holiday.
Video of the Week
Ellie is Goodto's Feature Editor, having joined the team as a Junior Features Writer in 2022, and covers everything from wellbeing for parents to the latest TV and entertainment. Ellie has covered all the latest trends in the parenting world, including baby names, parenting hacks, and foodie tips for busy families. She has a distinction in MA Magazine Journalism from Nottingham Trent University and a first-class degree in Journalism from Cardiff University, and previously Ellie has worked with BBC Good Food, The Big Issue, and the Nottingham Post, as well as freelancing as an arts and entertainment writer alongside her studies.