Best reusable nappies of 2023 - top washables for all budgets
Which reusable nappies should you buy? Shop our pick of the best reusable nappies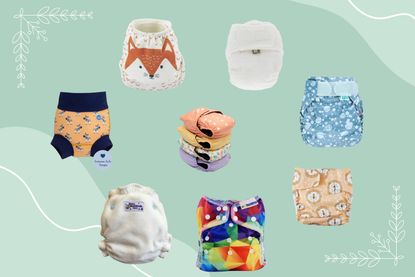 (Image credit: Future)
More and more parents are ditching disposable nappies in favour of reusable ones as the cost of living crisis soars and concern about climate change persists. But which are the best reusable nappies?
Disposable nappies account for around 2 to 3 percent of all household waste, with the UK disposing of around 3 billion of them each year. These nappies are rarely recyclable so most of them will end up in landfill where they'll take hundreds of years to decompose - releasing harmful greenhouse gases.
Not only are single-use nappies bad for the environment, but they're also a drain on your bank account. Since the average baby gets through around 4,000 disposable nappies by the time they're potty trained, relying on disposable nappies alone will set you back at least £400 per child. So, what's the solution? Simple: opt for reusable nappies instead.
You can read about how we test and review products (opens in new tab) to find out how we chose the best reusable nappies to feature in this guide.
How do resusable nappies work?
Reusable nappies get a bad rap for being messy and time-consuming. However, that's not actually the case. Allison Banfield, Parenting Blogger and owner of Proud Happy Mama (opens in new tab) said: "Reusable nappies have a few different elements. They vary by brand, but typically each one has a disposable or washable liner next to the baby's skin for catching the solids and keeping the baby's skin dry."
When shopping around for reusable nappies, you may find them referred to as one-part nappies and two-part nappies. One-part nappies are the most similar to regular disposable nappies, as they just have one layer that is fastened around the baby. Two-part nappies, on the other hand, usually involve a cloth nappy and a separate absorbent inner layer. When you take either reusable nappy off your baby, you'll need to flush any poo down the toilet, dispose of the nappy liner (if there is one, and it's not washable), and pop the remaining components in the washing machine.
Many brands sell specific detergents for washing reusable nappies. These will normally be powder detergents rather than liquid detergents, as powders are easier to rinse out and less likely to build up on the nappy's fibres and impact their absorbency. "If you live in a hard water area, you'll need to change the wash to avoid the nappy going hard and becoming unusable over time," advises Allison. "It helps if you keep your washing machine clean by running an 80-degree hot wash or a maintenance wash without any laundry every few months."
How often should you change reusable nappies?

How often you change and replace your baby's nappy depends mostly on age. Follow Allison's handy guide for starters:
Under one month - Change every 2 hours during the day and every night feed
Under six months - Every 2.5-3 hours during the day, at night when needed
Six - 12 months - Every 3 hours during the day, at night only if needed
1 year and over - Every 3-4 hours, approximately 4 or 5 changes within 24 hours
How many reusable nappies do I need?
How many nappies you need depends entirely on the child's age and how often you're able to wash them. For example, if you're buying reusable nappies for a newborn and you can only manage one wash a week, you'll need to buy far more than the parent of a one-year-old who can wash their nappies every other day.
While you might have found a great deal on a set of nappies, resist the urge to splurge straight away. It might make more sense to buy a few different single nappies and dip your toe in before making such a big investment. "Try a few different brands and styles before you go all in on one brand," Allison advises. "I tried a few different brands before I found the one that worked the best."
So, without further ado, here are the 10 best reusable nappies.
Best reusable nappies
1. Reusable Cloth Nappy, Kit & Kin
Best cloth nappy - our top pick
Reasons to buy
+
Made from plant-based materials
+
No liners required
+
Can be adjusted for a perfect fit
This nappy from Kit & Kin — the eco-friendly brand co-founded by Spice Girl Emma Bunton — has won awards for a reason. Made from plant-based and sustainable materials like Hemp and TENCEL™, this nappy is super soft to the touch and kind to your little one's skin. Fun fact: every Kit & Kin nappy rescues two plastic bottles from landfill, so they're definitely one of the most sustainable offerings.
These nappies aren't just eco-friendly though, they're highly effective too. The double gusset promises to prevent leaks and keep bottoms dry for up to 12 hours. You don't need any add ons either as the nappy is absorbent enough to be worn solo. If your baby is a heavy wetter or you want to make nappy changing slightly easier, Kit & Kin's liners are both disposable and biodegradable — helping you add an extra layer of security without harming the environment.
While the Kit & Kin nappy only comes in one size (8lbs and up), its handy poppers, hooks, and loop fastenings mean you can adjust the size to fit your baby perfectly.
---
2. Night Nappy, Baby BeeHinds
Best reusable nappies for heavy wetters
Reasons to buy
+
Organic cotton
+
Booster insert included
+
Clever design for night-time training
Some babies need a little more help in the absorbency department than others, and Baby BeeHinds' Night Nappy is one of the best in the biz. Designed with heavy wetters in mind, this bulky nappy comes with a booster insert for extra protection. The booster attaches at the back of the nappy by poppers so it can be removed to speed up the drying process. What's more, the booster can be folded and placed wherever your baby needs the most absorbency. So whether they're a front sleeper or back sleeper, you can customise it to their needs.
Although the nappy is made of mostly organic cotton, the booster has a fleece-topped layer to help babies feel dry at night. However, if you're trying to night-time train your baby, there is the option to fold the fleece back and expose the bamboo fabric to keep the child wet. Genius.
This nappy comes in three different sizes and will fit babies weighing anywhere from 4kg to more than 13kg. It also allows you to fasten the waist and thighs separately so you can ensure an exact fit.
---
3. Wizard Uno Staydry All-In-One Nappy, Mother-ease
Best reusable nappies for newborns
Reasons to buy
+
Ultra-slim design
+
Quick-drying
+
Easy to adjust
Reasons to avoid
-
Only available in two sizes
Newborn babies may be a little too small to fit into many reusable nappies, resulting in upset, leakage and discomfort. However, Mother-ease's Wizard Uno Staydry All-In-One Nappy is ultra slim and perfect for even the tiniest of tots. It comes in two sizes: newborn (6-12 lbs), and one size (7-35 lbs).
Made with an adjustable waist, elasticated waist and back, and two rows of vertical poppers, this nappy is the perfect combination of comfortable and secure.
If you're new to the reusable nappy world, this one is faff-free and as close to a disposable nappy as you can get. It has two separate lines of elastic in each leg for extra leakage protection, and a slot for extra absorbency pads between the diaper and cover should you need them. It also has unique EasyCare technology to allow water to flow easily between the cover and absorbent diaper in the wash, resulting in enhanced hygienic washability and fast drying.
---
4. Full Time Reusable Nappy Bundle, Modibodi
Reasons to buy
+
Leak-proof
+
Highly adjustable
+
Longevity
Buying in bulk is always cheaper, and Modibodi's Full Time Reusable Nappy Bundle allows you to buy 28 nappies for £420. That's more than enough to see your baby (or multiple babies) through until they're potty trained.
Modibodi is a brand that makes plastic-free leak proof underwear, including period knickers, swimwear, and activewear as well as nappies, so you can pick up some bits for yourself too while you're at it. These nappies are secure (thank you, press studs) but have adjustable waist tabs so they can stretch to fit your baby as they grow. In fact, they're intended to fit babies and toddlers from 5kg to 18kg, so you'll get years of use out of them.
If you're anxious about the mess involved with reusable nappies, these nappies make the transition a breeze. The clever black polybrush lining wicks away moisture, repels solids (so poo will easily slip off when it's changing time) and resist stains. And, they're laboratory tested to hold up to 1026ml, while the multiple layers lock fluid away and prevent leaks. You and your baby will love them.
---
5. Reusable Nappy Geometric Print, Little Stories
Best recyclable reusable nappies
Reasons to buy
+
100% recyclable
+
Compatible with plant-based liners
+
Highly adjustable
If sustainability is your main priority, opt for Boots' Washable Nappies. Made from viscose bamboo fibres and soft cotton, they're 100% recyclable while remaining comfortable and effective. This nappy uses an absorbent bamboo fibre core and stay-dry buffer zones to keep your baby dry, but if they need added protection, you can easily clip in nappy boosters or add a plant-based liner.
We particularly love the stretchy leg cuffs, stitch free seams, and adjustable popper fastenings on this nappy, as these features allow you to change the nappy to your baby's size and prevent leaks.
---
6. Night-Time Reusable Nappy Set, TotsBots
Best reusable night nappies
Reasons to buy
+
Great for heavy wetters
+
Fleece liner makes clean-up easy
+
Waterproof tummy section
Reasons to avoid
-
Less suited to daytime use
You don't want to be up all night changing nappies, so make sure you've got some powerful night nappies in your arsenal. The nappies included in this set from TotsBots will keep your baby dry for up to 12 hours, and even have a smart waterproof tummy area. If you've got a heavy wetter on your hands, you can simply pop in a few extra pads. The fleece liner aims to help you catch solids so they can easily be tipped into the toilet, resulting in a mess-free washing session.
---
7. Happy Nappy Zebra, Jojo Maman Bebe
Best reusable swim nappies
Reasons to buy
+
Affordable
+
Available in multiple sizes
+
Approved for pool use
Babies are officially old enough to go swimming at around two months old, but nappy accidents are a real risk. Fear not, that's where reusable swim nappies come into the picture. These ones from Jojo Maman Bebe are approved by swim schools, pool owners, and leisure facilities everywhere, and can be relied on by parents to protect other babies and swimmers from any unpleasant mishaps. Made from super soft neoprene and complete with a gusset and snug waist and leg grips, you can rest assured that there will be absolutely no gaping and embarrassing moments.
---
8. Mamia Reusable nappies
Best bargain reusable nappies
Reusable nappies are certainly an investment, even if they work out cheaper than disposable ones in the long run. If you're trying to cut down up-front costs as much as possible, go for Aldi's Mamia Reusable Nappies. While Aldi doesn't specify how long the nappy can be worn for, they're just £4.99 per nappy so it is definitely worth trying them out. These nappies are designed to fit all babies from birth to potty training age, are said to be easy to use, wash and dry, and have a snug fit. What a bargain.
8. Miosolo Classic Nappy Set, Bambino Mio
Best printed reusable nappies
Reasons to buy
+
Engaging, colourful prints
+
Liners included
+
Nappy guide included
If you want to inject a bit of fun into changing time, go for Bambino Mio's Reusable nappies. Each set of six nappies is available in colourful prints and themes, from safari to fruit designs. These nappies aren't just attractive, they're just as eco-friendly and affordable as the other nappies on this list. In fact, each of these nappies saves 250 nappies from landfill, and every box comes with 50 extra nappy liners, a baby laundry cleanser, and a nappy guide for just £87.99. They have adjustable fastenings, elasticated legs and waists, stretchy water-resistant fabric, and an inside pocket to add inserts and maximise absorbency when needed. The all-in-one design makes these ideal for quick changes, too.
9. Fitted Nappy, Little Lamb
Best fitted reusable nappy
Reasons to buy
+
Affordable
+
Well-fitting
+
Choice of fabrics
If gaping and bulkiness are your biggest issue, Little Lamb's fitted nappies are practically calling your name. They're super affordable at just £9.44, and create that cute 'fluffy bum' silhouette without unnecessary padding, bumps, and gaps. If you're new to the disposable nappy scene, these are a great choice since they come in three different fabrics: bamboo (very absorbent, but take a while to dry), bamboo without velcro (so more advanced toddlers can't easily remove, but needs to be paired with a nappy fastener instead), or cotton (comfortable, durable, and fast-drying). They are also available in four different sizes, to fit babies 2kg to more than 16kg.
Are reusable nappies cheaper?
Reusable nappies might seem like a false economy to begin with since you could end up paying over £200 for a full set - and once you factor in the cost of weekly or bi-weekly washes. However, it will be cheaper in the long run as you won't ever run out of nappies. Some experts estimate that reusable nappies can save parents between £200 and £500 over 2.5 years for their first baby - and even more if reused for subsequent children.
---
Related features:
Freelance Lifestyle, Fashion and Beauty Writer
Izzie has five years of experience writing for national newspapers and magazines like The Sun, The Daily Express, Cosmopolitan, Elle, Stylist and Refinery29. Specialising in fashion and beauty, Izzie knows just about everything about the latest fashion trends and the most effective skincare products on the market. However, you'll also find her writing about anything from parenting and houseplant tips to recipes and workout advice.
As a Gen Z person, Izzie is obsessed with all things social media and pop culture — from Harry Styles to astrology. Outside of work, Izzie loves singing, cats, travelling, shopping, and trying new food.