Best bedside cribs 2023: 8 top-rated cots for safe sleeping from birth
Keep your little one right by your side with the best bedside cribs and co-sleepers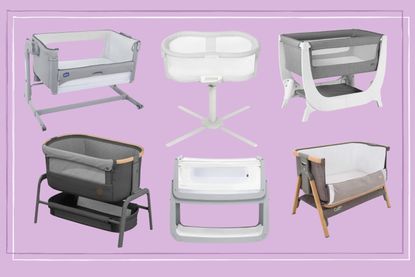 (Image credit: Future)
With the best bedside crib by your side, you (and your little one) can sleep easy. To find the most suitable option for you and your little dreamer, look no further than our parent-approved guide.
Looking for a stand-alone cot? Or one you can attach to your bed? No matter your preference for style, design or colour, the best bedside cribs will help to keep your newborn safe and secure.
If you're new to parenting, you might be wondering if you need a bedside crib or just one of the best cot beds. But with the night feeds and early morning nappy changes, those first few months of parenthood can be very tiring. But that's where the best bedside cribs can make life a little bit easier. Designed to fit by your bed, or even attach onto your bed, these handy accessories mean you can keep a watchful eye over your little one around the clock. No matter the time of the day (or night), you can keep your baby close to you and tend to all their needs.
On today's market, most bedside cribs do a whole lot more than provide a safe sleep space. Many include storage baskets for all your newborn essentials, others have sides that zip or flow down for easy access and some have the ability to rock in order to help soothe unsettled sleepers.
To help you find the best bedside crib for your sleep set-up, we tasked a panel of new parents to put eight of the best-selling options to the test, rating the cribs on everything from the value of money and comfort to the functionality and design appeal. Each new parent tried out the best bedside cribs with their babies, all aged between just a couple of weeks and five months old.
The best bedside crib 2023 - our top picks
The Silver Cross Voyager Co-Sleeper gets our vote as the best bedside crib overall. It offers excellent portability, an incline option, and a handy storage shelf. It also has wheels to help rock your baby to sleep.
Our parents crowned the HALO BassiNest the best premium bedside crib. It can spin 360 degrees to make life easier for tired parents, and it has sound, light, and vibration functionality to help soothe your baby to sleep. For those on a budget, our testers loved the Ickle Bubba Bubba&Me, which has beautiful aesthetics and handy extra features but without costing the earth.
The best bedside cribs 2023 - tried and tested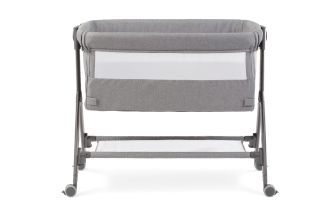 1. Silver Cross Voyager Co-Sleeper
Practical, stylish and portable, this co-sleeper is packed with additional features, making it the best bedside crib overall
Specifications
Weighs: 11kg
Suitability: From birth
RRP: £199
Reasons to buy
+
Portable
+
Incline for reflux
+
Wheels for rocking
Reasons to avoid
-
Only one colourway
-
Fiddly zip
-
Travel bag only has a short strap
Tried and tested by: Jo Adnitt, who is mum to Elara, 14 weeks
Established in 1877 in Yorkshire, the Silver Cross brand has been around for aeons, and it definitely knows how to produce a winning product. The Voyager Co-Sleeper is designed to make life significantly easier for parents. Not only is it incredible portable, coming with its very own travel bag, but it also offers seven adjustable height positions, an incline setting for babies prone to reflux, and a useful storage shelf too.
Voting for it as the best bedside crib overall, our tester says she was blown away by how practical and feature-packed this bedside crib is, all at an affordable price. The Voyager was tested by Jo Adnitt and baby Elara, 14 weeks, who were both big fans of the co-sleeper. Jo raved about the product's ease of use, high-quality composition and value for money.
'Its simple folding mechanism makes it genuinely portable for travel,' she explained. 'The frame, set on four solid wheels, allows for smooth rocking and simple manoeuvring between rooms, and the durable fabrics and luxurious deep foam mattress make for a comfortable but supportive sleep. This bedside crib offers excellent value for money for such a quality product, and I'd recommend it to anyone who prioritises stylish quality products that are practical and genuinely work.'
Our tester also loves how portable this bedside crib is, making it brilliant for travel use. 'Many co-sleepers claim to double as travel cots but most are so fiddly that parents just wouldn't bother,' added Jo. 'As a travel cot though, the Voyager is genuinely simple to construct and deconstruct - folding easily in on itself - and it fits neatly in the included waterproof black travel bag with short handles.'
---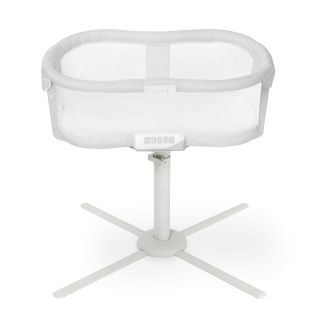 2. HALO BassiNest Swivel Sleeper Premiere
With sound and light features, vibrations and a 360-degree swivel, this is our pick of the best premium bedside crib
Specifications
Weighs: 14.8kg
Suitability: From birth
RRP: £249
Reasons to buy
+
360 degree spin
+
Soothing light and sound features
+
Sides are easy to lower
Reasons to avoid
-
Expensive
-
Heavy to lift
-
Only one colourway
Tried and tested by: Leya Goldsmith, who is mum to Eden, six weeks
The BassiNest, from the American safe sleep brand HALO, is a unique kind of bedside crib with additional features that truly do make life easier for exhausted new parents. It swivels 360-degrees, which is a godsend. This not only allows the baby to sleep even closer to you, while still absolutely safe but is also a much-needed feature for recovering mums. This makes it stand out as a winner among the best bedside cribs.
The BassiNest's bedside wall is also super-easy to lower, making bleary-eyed 3 am feeds much easier without too much manoeuvring. There's also a soothing centre, which includes sounds, night light and two levels of vibrations. This is especially helpful when trying to soothe your baby back to sleep.
Our tester Leya Goldsmith, who is mum to Eden, six weeks, was a huge fan of the HALO BassiNest. She commented: 'I've used a Moses basket and a bedside crib for my two other children but this bassinet has definitely been the best!'
Leya feels the bedside crib is designed with exactly what parents need for those exhausting first few months of parenthood. In particular, she found the swivelling feature incredibly helpful when recovering from birth. 'The overall design and features are great and I feel they have clearly been thought about for both parents and baby,' Leya added. 'One side can be let down which makes it easier to pick the baby up or put them back down again without having to get out of bed - ideal for mums who have had a Caesarean or need bed rest.
Due to the unique features, the innovative design and the high level of quality, this bedside crib stands out above its competitors.
---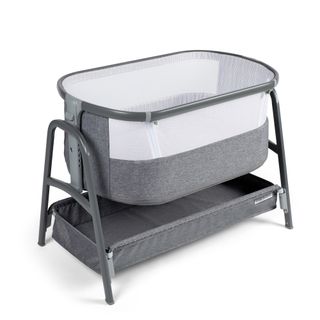 3. Ickle Bubba Bubba&Me Bedside Crib
A great value yet chic, minimalist crib with useful added extras - earning this 'best budget bedside crib' in our roundup
Specifications
Weighs: 5.5kg
Suitability: From birth
RRP: £139.99
Reasons to buy
+
Affordable
+
Includes travel bag
+
Lightweight