Snoo Smart Sleeper Black Friday deal: huge saving of £478
The Snoo Smart Sleeper Black Friday deal is one of the best baby deal savings we've found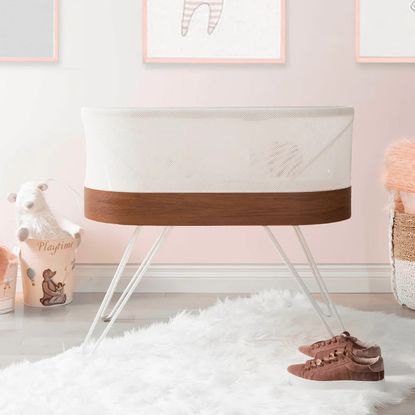 (Image credit: Vtech)
New parents, assemble! There's a whopping £478 off in this incredible SNOO Smart Sleeper Black Friday baby deal from Happiest Baby. We're not kidding: this could change your life.
This high-tech cot is an absolute game-changer when it comes to teaching a baby how to sleep - not to mention helping new parents get more shut-eye. You'd be mad not to snap up this Snoo Smart Sleeper Black Friday deal. If you're expecting a baby and bracing yourself for sleepless nights, this is one Black Friday baby deal you don't want to miss.
SNOO Smart Sleeper Black Friday deal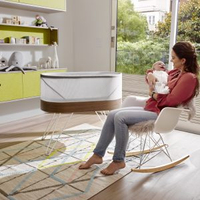 SNOO Smart Sleeper Baby Cot – WAS £1,1950 NOW £717 (SAVE £478) | Happiest Baby
Suitable from birth to six months, this clever techy baby cot responds to your baby's cues by soothing them back to sleep or settling them when they wake with five levels of sound and motion. You can control the Smart Sleeper Baby Cot via an app on your smartphone and seven set customisable settings and track your baby's sleep patterns.

Prior to Black Friday, we included the Snoo Smart Sleeper baby cot in our best Moses basket buying guide. We kid you not: our tester said it changed her life in her glowing Snoo Smart Sleeper Cot 5 star review. Her baby slept for longer and settled more easily at night, but also she and her husband told us that they started to enjoy parenthood at a deeper level, thanks to fewer broken nights and way less sleep deprivation. You can't put a price on that; this is definitely one of the very best Black Friday baby deals around this year.
The Snoo Smart Sleeper Baby Cot promises safer, longer, and happier sleep for both baby and parents. This is a premium baby product that normally costs £1,145 but with almost £500 knocked off the normal price for Black Friday, you'd be mad not to snap it up. Based on our exclusive mum tester's feedback, we're almost tempted to guarantee it'll improve your baby's sleep.
Happiest Baby, in tandem with Dr. Harvey Karp (author of Happiest Baby on the Block), say the Snoo Smart Sleeper can help reduce the impact of sleep issues such as sleep regression and even eliminate the need for controversial sleep training.
Read our Snoo Smart Sleeper Cot review to find out more - including how it changed our tester's life - or just take our word for it and bag yourself this bargain quick before the price shoots back up. Which it most definitely will. Happiest Baby do not drop the price all that often so this really is one of those rare Black Friday baby deals worth taking advantage of if your budget allows.
Parents have given the Snoo Smart Sleeper rave reviews online too. Out of 837 reviews over at Happiest Baby, 691 customers have given it four or five stars. 'A must have for every parent,' wrote one Snoo convert. 'The best thing I've ever bought in my life! It really is worth every single penny. My baby loves it as much as me.'
But, should you choose not to go for this cracking Snoo Black Friday deal, may we politely suggest you check out our Black Friday coffee machine deals instead?
What's included in this Snoo Smart Sleeper Black Friday deal:
The SNOO Smart Sleeper
Three organic cotton SNOO Sacks in small, medium and large
The SNOO cot sheet made using GOTS certified organic cotton
The cot mattress and water-resistant cover
Unlimited access to sleep consultants, 7 days/week
1-year limited warranty
Related features:
Video of the week:
As a parenting specialist for more than 15 years, Heidi has written for most national newspapers and for a wide range of consumer magazines, including Mother & Baby where she was the Shopping Editor for six years, looking after regular consumer features including buying guides and gift roundups.