Baby food meal planner: Weaning at 6 - 7 months
Stage 1 of baby weaning made easier with our baby food meal planner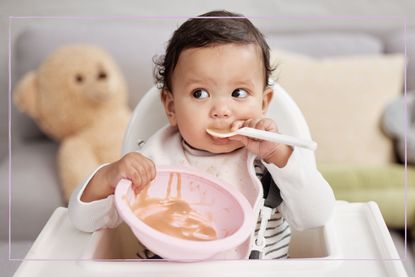 (Image credit: Getty Images)
Baby weaning is new and exciting for both you and baby - but be ready that it may take them a few weeks to get used to solids, so build up slowly.
If you've chosen weaning over baby-led weaning (opens in new tab) know that once baby becomes interested at around 6-and-a-half to 7 months, you may want to invest in a baby food maker and use this baby food meal planner to plan your baby's meals and feed them a variety of nutritious and tasty purees in addition to their usual milk feeds.
Some parents can find weaning intimidating (opens in new tab) so this plan also suggests finger foods for moms keen on getting their babies to feed themselves, so print it out and stick it on your fridge and you won't even need to think about which meal comes next. Our baby food meal planners are also designed to reassure you throughout each stage. Every baby is different and this meal planner should only be used as a guide. Always go at your baby's pace and never force-feed them. If you're worried about your baby's weight or have any questions, ask your health visitor.
Baby food meal planner weaning 6 - 7 months
Click to download, print and keep your meal planner (opens in new tab) - it'll look great on the fridge!
All of the recipes in the baby food meal planner weaning 6 - 7 months above can be found in our baby food recipes collection (opens in new tab) including apple sauce, pear puree, turkey puree, squash puree and more.
Other recipes featured in the meal plan:
Important: Offer cooled, boiled water with every meal and throughout the day. This meal plan has no measurements as it varies baby to baby. Feed according to your baby's needs and cues.
Your baby will eat as much solid foods as they need and at their own pace, so trust your little ones cues. Some babies are slow to the process, others will pick up it easily. Don't rush your child, take your time and pay attention to your baby's signs and reactions.
You should always feed your baby according to his needs and cues. Use this meal plan as a guideline and inspiration.
Related features:
Video of the Week