Baby-led weaning intimidated me - so here's everything I did to make it that little bit easier
Baby weaning can be a daunting time for some parents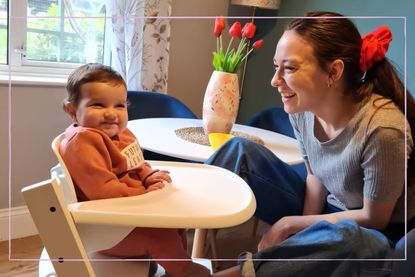 (Image credit: Grace Holliday)
When my daughter was a mewling newborn, I had no headspace for excitement for what might come next. I was a first-time mum and all I could do was live in the moment. But even as early as three months in I was looking forward to feeding her real food. I toyed with the various options that lay ahead - spoon-feeding purees, baby-led weaning, or a combination of both, and began to save recipes and ideas on Instagram. My husband and I decided that baby-led weaning, and the freedom it would give our daughter to take control and experiment, was the one for us. But as it got closer, reality - and by that I mean my anxieties - set in; how would I keep her safe? Can baby's choke on baked beans? How would I make sure she was eating enough? How would I keep tomato sauce off my walls? As it turned out, preparation was the key. Here is everything I did to get started on baby-led weaning.
I chose baby-led weaning - and here's why...
I found that as a new parent I was making a million (don't quote me here) decisions a day, but when the biggies came up - like choosing bottle or breast, going with baby-led weaning or spoon feeding, should we do reigns or no reigns, they would stop me in my tracks a bit - what's the best way? But the secret is this; there really is no 'best' way, it's just whatever is best for your baby, you and your family.
I found keeping this central to our decision-making really helped us to feel more relaxed and in control. And, while we chose baby-led weaning we also agreed a little wriggle room, that we could allow ourselves to spoon feed when necessary.
According to NHS Start4Life initiative, Baby-led weaning; "means offering your baby only finger foods and letting them feed themselves from the start (rather than spoon feeding them puréed or mashed foods). You can offer a range of small, finger-sized pieces of food." The term 'baby-led' weaning was actually only coined in 2005, indicating just how new this concept is.
When I asked my mum, my siblings and I, born in the 80s and 90s, were spoon-fed purees as was the norm back then. But research since suggests the newer alternatives offers various benefits. According to the National Childbirth Trust (NCT), these benefits include helping your child gain independence, getting used to different textures and less meal-prep for the whole family. They also nod to research which suggests baby-led weaning encourages children to eat at their own pace, and how picking up food is great fine motor skill practice.
I worked out when my baby was ready
As our daughter's six-month-birthday loomed, we then checked if she was actually about to be ready beyond the minimum recommended age for solid foods. According to Mini First Aid (more about them later!), there are three signs to look out for when considering if your baby is ready to transition from milk to solid food.
Sitting up unaided keeping head steady
Able to bring food to their mouth unaided
Swallow food, rather than push it out
The first is that your baby can sit up. They should be at least six-months-old and able to hold themselves steady in a highchair, or ideally, sit independently. Our daughter was fine with this, thanks to some early practice with the brilliantly supportive Mamas and Papas booster seat, check out the Goodto Mamas & Papas Bug 3-in-1 review.
We also had to check for the skill of bringing her hand up to her mouth. If a child is going to lead the way and feed themselves, this is of course an essential skill, and one that indicates readiness. Thanks to something close to an obsession with putting *everything* around her in her mouth, whether suitable or not, we were set here too!
Third, we knew to watch for her pushing food back out of her mouth when we got started. If a baby is doing this, it may mean they haven't yet lost their 'tongue thrust', which is needed to swallow food. My daughter could do all of these things, so I couldn't put off the least-fun part any longer. It was time to address my fears.
I armed myself with safety knowledge
One of the first things that came to mind when I thought about baby-led weaning was choking. I spoke to two friends who had given birth to daughters around the same time as I had, and felt reassured to hear that they felt the same way. I decided to be proactive about my fears, and sign up to a first aid course.
Remember Mini First Aid, who I mentioned earlier? They also offer 2-hour first aid classes across most UK regions (you might have seen founders Kate and Matt, who have 6 children, on Dragons' Den back in 2021!)
Their courses are designed with accessibility in mind, parents, carers and grandparents are all welcome, and the we found the vibe very relaxed and supportive. They also sell First Aid Kits, both online and at many of their classes for you to pick up with minimal effort!
Alternatively, Daisy First Aid have over 800 locations across the UK, and babies and breastfeeding are also very welcome. Returning home from a course, my husband and I both felt more at ease- even if the worst were to happen, and she were to have a choking incident, we knew the best way to deal with it now. One handy rhyme stuck in our heads. "Loud and red, let them go ahead. Silent and blue, they need help from you".
The next fear we felt we had to address was which foods we should and shouldn't feed her. Ensuring she was getting enough nutrients was important, as was whether or not foods were safe. The NHS Start For Life website has guidance separated out into age categories (you can find the around 6 months guidance right here), but I also wanted something I could access quickly and easily before every meal.
As such, I was so pleased (and relieved!) to receive the recommendation of the Solid Starts app from a friend who we'd met on our NCT course. It became an absolute must-have, and you can download it here). You can search for over 200 common foods and the app tells you how to serve it safely, its health and nutrition and any choking and allergy warnings. So handy- and best of all, it's free!
I gathered ideas and inspiration
We decided to get started with one item per meal, following this veg-led chart from child and baby nutritionist Charlotte Stirling Reed, but making adaptations where we saw fit (we skipped swede because our local Tesco didn't have any, and did courgette on day 2, for example!)
While we were going through the process of letting her pick up and eat safely-sized pieces as and when she pleased, without pressure from us, I began to gather recipe ideas from Instagram.
My three favourites to follow were Real Little Meals, Yummy Toddler Food and Yummy Little Belly - I still save and use recipes from them now, a whole year after we began baby-led weaning. I also popped to our local library and picked out a couple of baby-led weaning recipe books, and would definitely recommend going to take a look at your own! My mum-friends and I took inspiration from each other, too; my friend Ella, mum to Polly, creating her Instagram page her.plate helped me out with variety massively.
I bought these to make baby-led weaning easier
We were making progress in our journey to get started, and so it was time to invest in the essential items. Our priority was items that would make our lives easier, and would be useful in the long run, making the entire experience more pleasant for all involved.
The highchair
Firstly, of course, a high-chair. After seeing the Stokke Tripp Trapp High Chair at a friends house, I was impressed with how sleek a highchair could look and in a world of throwaway baby products, the Tripp Trapp's big selling point is that it can last a lifetime. Its solid construction means it can be reconfigured to make a chair suitable for an adult weighing up to 136 kgs. I found it easy to clean and fit in with my home and overall look.
VIEW STOKKE TRIPP TRAPP - AMAZON - £219
---
The bib
I also thought cover-all bibs would be a great way to combat the mess, so I went with these long-sleeved award-winning ones from Bibado. They're 100% waterproof, wipeable and dries quickly. It's also machine washable at 40 degrees and is resistant to stains – including spaghetti Bolognese. Plus, the clever design fits over any high chair and comes with adjustable sleeves and breathable neck design, works from 6 months to 3 years and is machine washable.
VIEW WEANING BIBS - AMAZON - £19.95
---
The cutlery
While baby-led weaning is with their hands, so they can get a real sensory experience of the food and it helps them get used to different foods and textures as well as great at developing their hand and eye co-ordination. We still picked up some double-ended spoons from Tommee Tippee for her to use when she was ready, we liked the Just dip, no scoop design. It helped Lila to learn to self-feed, the special slotted design of the Smushee weaning spoon means she could simply dunk the spoon in their bowl to grip the food and feel a sense of achievement each time.
VIEW TOMMEE TIPPEE SPOONS - AMAZON - £4.19
The cup
We had already had great success giving her an occasional few sips of boiled-then-cooled water using these clever 360 degree cups from Munchkin. Lila could easily 'drink' from any side of the cup - which, when she was getting used to it, made it so easy. Yet they never spilled as they automatically seal when child removes their lips.
VIEW 360 DEGREE MUNCHKIN CUPS - AMAZON - £12.58
---
The bowl
Munchkin also do brilliant bowls that are dishwasher and microwave safe, stackable and suction to a surface, so no matter how much she tried Lila couldn't pick up the bowl and launch it, reducing the chance of spillage; we picked up this 3-pack.
VIEW MUNCHKIN BOWLS - AMAZON - £8.50
---
The reusable wipes
As for the impending mess? Our essentials were these reusable wipes from Cheeky, I just couldn't bring myself to continually spend on wipes when reusable ones did the job too, plus they were great on Lila's skin, made from micro fibre - they're machine washable too.
VIEW CHEEKY REUSABLE WIPES - AMAZON - £39.95
---
The splash mat
This jungle-themed splash mat was really affordable and also came with the added bonus of being slip-proof and with a cool print. I got so sick of getting the hoover and mop out three times a day, I bought one of these, now I just pick this up shake it outside and wipe down - easy as.
VIEW SPLASH MAT - AMAZON - £17.99
---
My final advice...
I'm glad we went with baby-led weaning because my daughter now has a really varied palette - she'd pick vegetables and fruit over cake or chocolate any day, and will eat spicy curry made by her Nana.
Preparation - this was the key to make baby-led weaning as stress-free as possible; having everything to hand, really helped, as did keeping the Solid Starts app open and close by.
Positive attitude - Your baby looks to you to set the scene. So, staying really calm and positive even when things got messy and our daughter got a little overwhelmed was so important too. I felt like this definitely rubbed off on her. Maybe it's a coincidence that the very first thing she tried - broccoli- is at 18-months-old - still her favourite food in the whole world.
Proactive not reactive - In the end, we were able to calm a lot of our fears and worries by being proactive, following the rules and not cutting corners on any of the expert advice. And, in one year of solid food, our daughter has never had a choking incident.
So, if baby-led weaning appeals to you, go for it. Know that there is lots to get started on a month or so beforehand to make the process more successful for everyone. And be ready because, I'm not going to lie, our walls did get covered in tomato sauce…. many, many times and it was worth it.
Related features:
Video of the Week:
Grace Holliday is a freelance journalist specialising in pregnancy, parenting, and motherhood. She has written for a broad variety of newspapers and magazines, including the Guardian, the Independent, the Telegraph, Glamour, and Stylist. She is also a proud northerner and mum-of-one.